Britten V-1000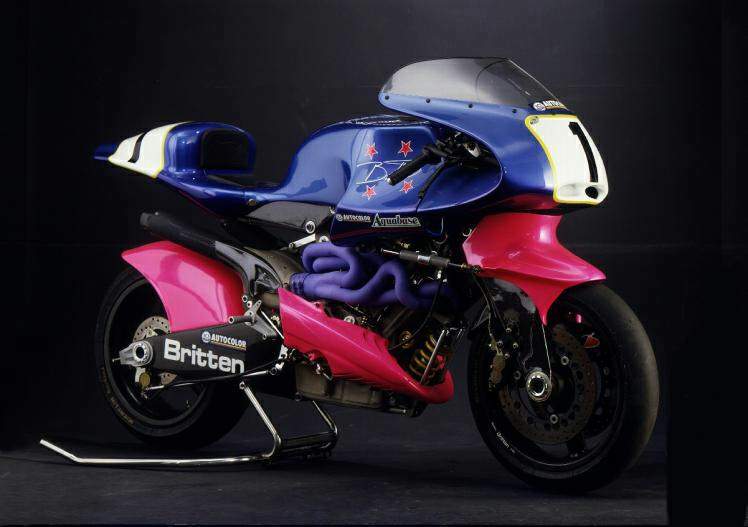 Make Model

Britten V-1000

Year

1991 - 95
Total Production
10 Units

Engine

Four stroke, 60 V-twin cylinder, DOHC, 4 valves per cylinder

Capacity

999 cc / 60.9 cu-in

Bore x Stroke

94 x 72 mm
Cooling System
Liquid cooled

Compression Ratio

13.5:1

Induction

Electronic fuel injection with 38 mm throttle bodies

Ignition

2 x Phelan flywheel magneto

Max power

165 hp / 123 kW @ 9500 rpm

Transmission

5 Speed (Suzuki)
Final Drive
Chain
Frame
Fully stressed engine with ducted under-seat radiator. Top chassis, girder & swing arm all constructed in carbon/Kevlar composites.

Front Suspension

Double wishbones with girder.

Rear Suspension

Swing arm with adjustable three bar linkage. √Ėhlins shock

Front Brakes

2 x 320mm discs 4 piston calipers

Rear Brakes

Single 210mm disc 2 piston caliper

Front Tyre

120/60 -17

Rear Tyre

180/60 -17
Rake
23į
Trail
98 mm / 3.8 in
Wheel base
1420 mm / 56.3 in

Weight

139 kg / 303.6

Fuel Capacity

24 Litres / 6.3 US gal
Reviews
John Britten / Cycle World
For Britten fans, a must-watch film is One Man's Dream - The Britten Bike Story. Buy the DVD here, or download the movie here. You can also watch the five-part film, Britten: Backyard Visionary, online here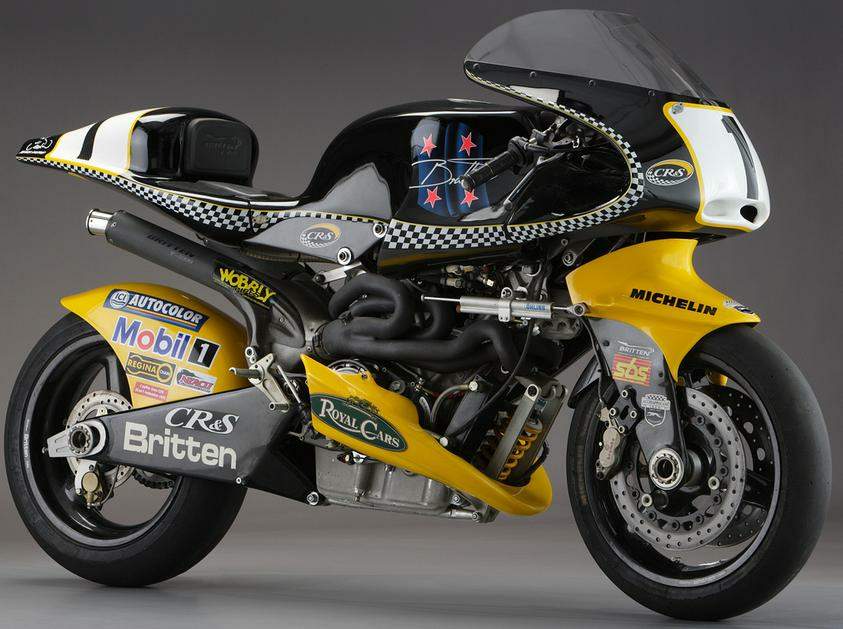 When New Zealander John Britten said he was popping down the shed to build a bike, he wasn't talking about some ropey special. What he made was a 155bhp 1000cc V-twin race winner and a future classic.
Dripping high tech finery, the Britten racer looks like a product of the huge expertise and endless resources of a major manufacturer. Even Ducati World Superbike racers, beautiful though they are, look low rent compared to the Britten. In fact the V-twin is the result of one man's vision and his and several friends' hard work and dedication.
Apart from components like conrods, pistons and valves, virtually everything on the bike is Britten designed and built. The only major non-Britten parts are a ZXR750 Kawasaki clutch basket and plates and a Yamaha five speed gearbox. A sophisticated engine management system allows settings such as fuel injection and ignition curve to be set by a few keystrokes on a laptop computer.
Two belt driven cams live in four valve cylinder heads. Being a V-twin the motor has a small frontal area, ideal for a racer. Setting the pots 60 degrees apart means wheelbase can be kept short for sharp Intricate exhaust system. It alone took 70 hours to make. No wonder Britten racers cost £60,000. Engine castings must be strong because they're a key part of the chassis.
The V-twin unit has to stay rigid under the forces of 155bhp pumping through the back wheel and the braking forces of twin Brembos coming from the front.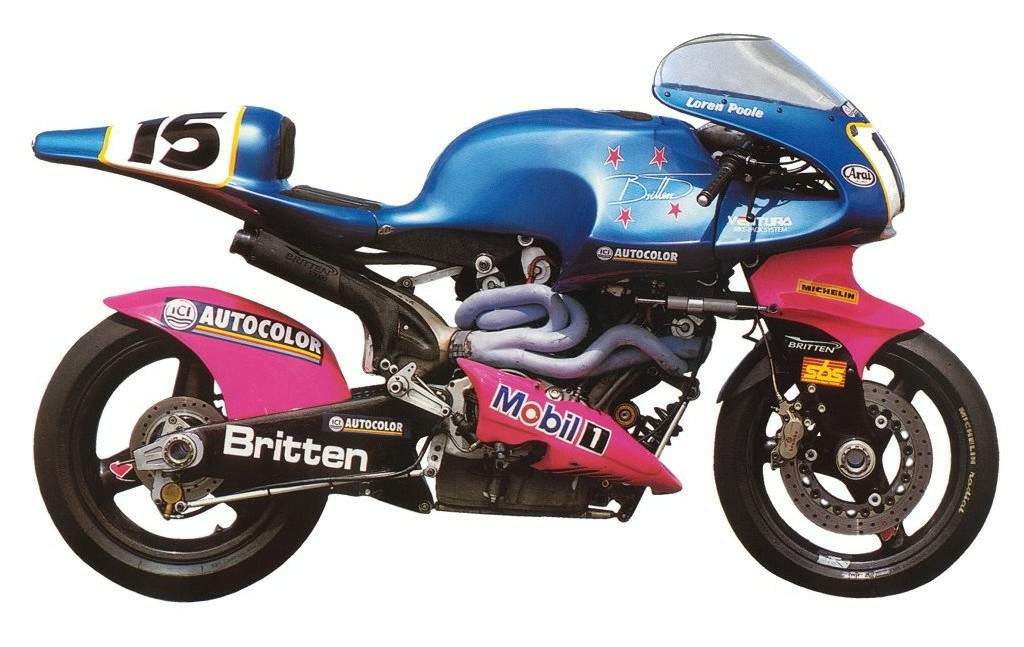 Steering and suspension lugs are cast on forward head while the rear supports the saddle and radiator beneath it. The carbon fibre swingarm pivots on the crankcase.
Carbon fibre is also used for the girder fork which unlike teles can tell the difference between braking forces and bumps. Different to a conventional girder, it can be adjusted to dive under braking, essential feedback for a racer.
Britten workers layup carbon fibre themselves, and it's used in parts as diverse as the carb bellmouths and wheels.
Yes, that is the rear shock ahead of the engine and like the front it's an ÷hlins. Both are sited away from heat traps that would cause damping to degenerate.
John Britten died in 1995 aged only 45, but he lived to see his creation win races. The Britten has won British, European and American Race Series (BEARS), now called Sound of Thunder, races at Daytona from 1994 to 1997.
In 1996 and '97 blistering New Zealand rider Andrew Stroud lapped all but the second and third placed racers. And to see and hear the awesome V-twin is one of motorcycling's classic sights and sounds. After each fantastic victory the Britten teamsters never miss the opportunity to give the crowds another thrill, pulling huge wheelies through the gears.
Unfortunately for race fans homologation rules limit the events the Britten can enter. For World Superbikes the company would have to build 200 bikes, a huge task for a small firm building machines that need thousands of hours of labour to produce.
A road going Britten is even less likely. There has been talk of a custom cruiser powered by a detuned Britten V-twin. But this wouldn't do the motor justice. If the fantasy of a Britten on the road could become reality it would have to be a sportster.
Phil McCallen: 'The Britten was a dark horse'
By Adam Child -

Nick Jefferies was the fastest man around the TT course on a Britten in 1994.

How did you come to race the Britten at the TT in 1994?
Iíd won the Formula One race in 1993 on the Honda RC30 and I knew there was a new bike coming, the RC45 but I also knew numbers were only small.

The Honda team was going to be Philip McCallen and Steve Hislop and obviously Joey got a bike too, which left me looking at alternatives.

Iíd raced at Macau and spoke to Andrew Stroud (multi NZ champion who was a Britten rider) who spoke about the Britten and said it was fast and a good bike, and it had done well at Daytona. I got the call from John Britten early in 1994, we worked out a deal, and it went from there.

When did you first ride the bike?
I met John along with the bike at a crappy Mallory Park in March í94. It wasnít the first time Iíd seen the bike as a single Britten had been at the TT in í93 with Shaun Harris.

We didnít really get to test the bike properly as the weather was a bit crap and I donít really like Mallory, but it showed potential at the North West.

How did it perform at the TT?
To be honest it was light and had so much power it would wheelie everywhere, which was great fun. You could just lift the front and put it where you wanted! It was a brilliant wheelie bike for showing off on.

Instead of loading the front over the bumps you could just wheelie it over the really bumpy bits. Iím from a trials background, so I could ride it on the back wheel all over the place.

Was it scary riding an unproven bike?
In many ways it was the scariest bike Iíve ever ridden as it was so new, powerful and using all this modern technology. After Markís death, everyone was worried about my safety. (Mark Farmer crashed at Black Dub on Thursday nightís practice in a racing incident.) Dunlop had the huge crash when his wheel collapsed, and we were running lightweight homemade carbon wheels and homemade parts.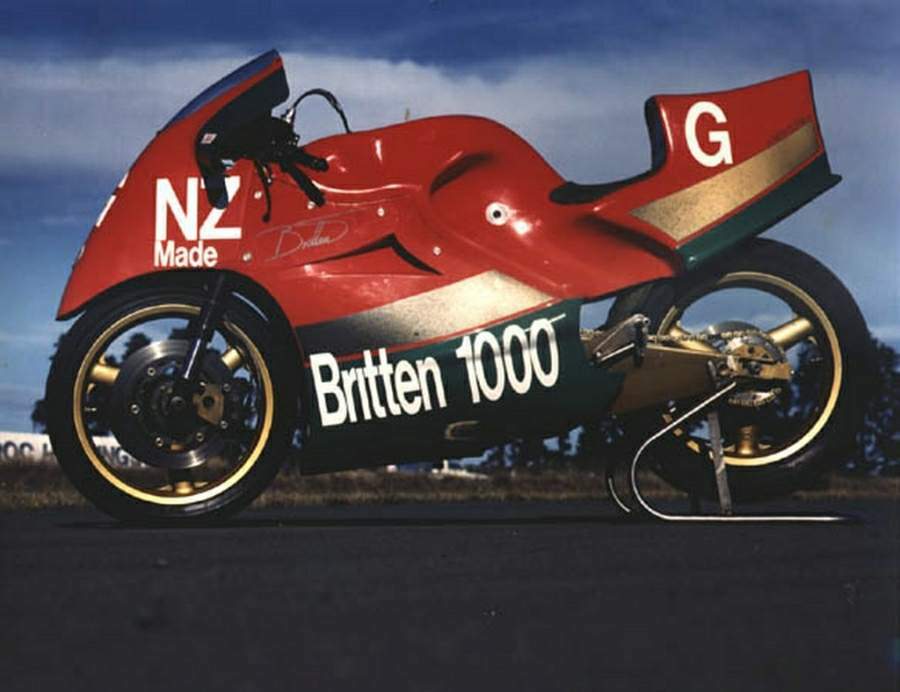 We had really poor reliability, it would over heat or something would break. People in the paddock would beg me not to ride the Britten as they thought it would snap in half or something.

But Iím a paid professional rider and I was there to do a job. When the bike went well it was good.

The Britten ending wasnít a happy oneÖ
No, John passed away the year after the TT, and he sent me a letter before his death, which Iíve kept. He was such a nice chap. He still felt bad about Mark.

He made a plaque for Mark in the same workshop the Britten came out of which I took to the TT in í95. John was such a gifted man, a true genius.

Can you imagine what type of bike we would be riding around on today if he were still alive? He was so far ahead of his time, a brilliant man.
II knew about the Britten, Iíd read about the bike and heard it was fast, it was clocked at 190mph at Daytona or something like that. I can remember following it at the North West before the TT and thought it looked quick.

IIn 1994 we had the new RC45 from Honda, one for me, one for Hizzy (Steve Hislop) and one for Joey (Dunlop) they were my main rivals in the factory team and I was so desperate to beat Hizzy.

The Britten was the dark horse - the one we kept an eye on. I can remember giving it a look over at the time as Iím an engineer and thought it looked a bit agricultural at first. But once you start to look closer it was a lovely piece of engineering.

During the first week of practice I was always looking at it out the corner of my eye, it certainly stood out.

Sadly Mark Farmer was killed on the Thursday practice at Black Dub. He was a good guy and a fast rider. I was the next bike through the wreckage after the crash. Itís an easy place to high side - I nearly crashed badly there in 97 on the power, huge slide on the factory Honda, still unsure how I saved that today.

After the crash, the spotlight on the Britten dimmed a little, nobody wanted to shout about how great a bike was with a rider who had been killed on it. It wasnít a great year for crashes as Farmer lost his life early on, and Robert (Dunlop) had the wheel break which was a real bad accident too.

Itís a shame nothing really came of the Britten as John passed away the year after. The potential was there, the bike was quick, and it was an outstanding piece of engineering and design.