MotoCzysz is a Portland, Oregon, based motorcycle company that intended to compete in the MotoGP.[1] The C1 prototype has an engine with perfect balance and does not need a balance shaft. Some of the patented innovations include a slipper clutch with twin clutches, a unique front suspension, and many others.
Remy International, a company known mainly for its work with electric motors, has teamed up with MotoCzysz, a leading innovator in the electric motorcycle industry, to develop an integrated electric drive system that will feature Remy's High Voltage Hairpin (HVH) electric motor technology, paired with MotoCzysz's patent-pending cooling and integration technology. Working together, both companies hope to introduce the integrated electric drive system, known as the D1g1tal Dr1ve.
MotoCzysz C1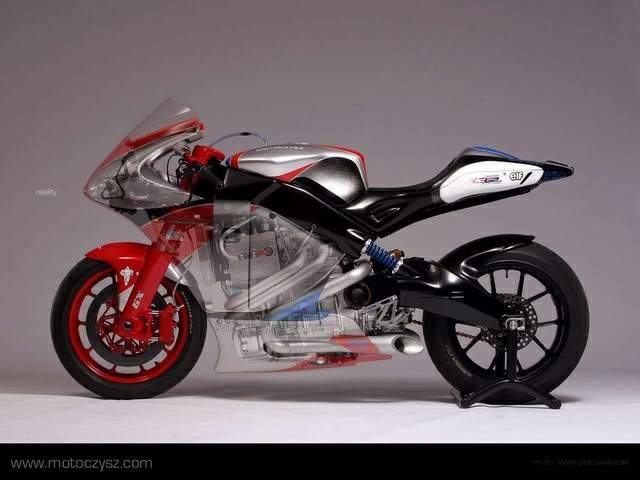 Jeremy McWilliams easily the most experienced test rider in the industry rode the MotoCzysz 07 C1-990 for the first time in a private test at the Miller Motorsports Park in Tooele, UT June 20, 2007. McWilliams, whose test and development experience includes the Aprilia cube MotoGP bike, both KR 3 cylinder 2-stroke and 5 cylinder 4-stroke machines, BMW's 990 and 800 MotoGP prototypes, the Buell XB9RR and the Ilmor 800 MotoGP machine.
Jeremy told a journalist after his ride that the C1 was "the best turning bike ever".
MotoCzysz has become increasingly confident that Czysz's theories were actually resulting in a better turning motorcycle.
"We can now consider the design the frozen for the first model and focus entirely on finial engine development and prepare the bike for production. Listening to Jeremy talk about how easy it was to turn or transition our bike in comparison with everything he has ridden was simply one of the best things I have ever heard" said Michael Czysz.
Jeremy went on to say;
"I thoroughly enjoyed my outing on MC's prototype, firstly I was surprised at how nimble the bike turned, steered and changed direction.My feeling was that this Motorcycle easily took the least amount of effort for a bike of this capacity to fire it into a turn, to steer into the apex of that turn needed little effort. It really came into its own when I was pushing through the Chicane at Miller, in this type of turn the MotoCzysz changes direction with minimal input and I always found that I had room to push harder."
"It was refreshing to work with such enthusiastic designers and the future has to be good for one of the best looking sport bikes I've hadthe pleasure to test..."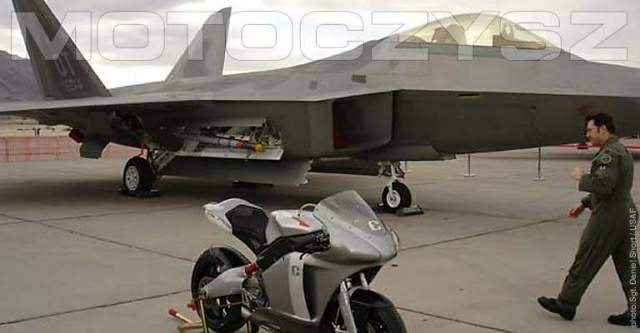 MotoCzysz E1pc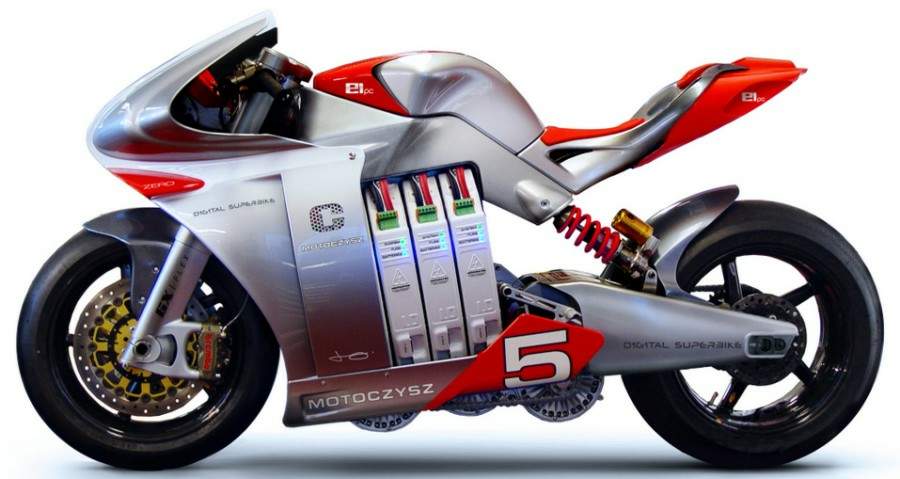 With its lithium-ion battery packs and three electric motors, the MotoCzysz E1pc 'digital superbike' can accelerate from zero to 192km/h in around 7-8 seconds, which really is quite phenomenal. 'A motorcycle that is unlike anything I have ever ridden. No gas, no oil, no clutch, no need to even warm up the engine – no engine. Gone is the age old ritual of rhythmical throttle blips that can audible seduce a motorcyclist into a pre ride trance – now your bike waits for you. Enter what may be the next big thing in motorcycles; invisible, nearly silent and magically linear po
With its lithium-ion battery packs and three electric motors, the MotoCzysz E1pc 'digital superbike' can accelerate from zero to 192km/h in around 7-8 seconds, which really is quite phenomenal. 'A motorcycle that is unlike anything I have ever ridden. No gas, no oil, no clutch, no need to even warm up the engine – no engine. Gone is the age old ritual of rhythmical throttle blips that can audible seduce a motorcyclist into a pre ride trance – now your bike waits for you. Enter what may be the next big thing in motorcycles; invisible, nearly silent and magically linear power,' says Mr Czysz.

We must say we are intrigued by the MotoCzysz E1pc. It looks good, goes fast and even sounds cool… in a different sort of way. 'The digital superbike, like your computer, has 'open architecture' and can be upgraded and reconfigured. This is definitely an industry first and may be a major paradigm shift in the way people buy and own motorcycles,' says Michael. Hmm… maybe the future of fast motorcycles is not going to be so bad after all…
wer,' says Mr Czysz.

We must say we are intrigued by the MotoCzysz E1pc. It looks good, goes fast and even sounds cool… in a different sort of way. 'The digital superbike, like your computer, has 'open architecture' and can be upgraded and reconfigured. This is definitely an industry first and may be a major paradigm shift in the way people buy and own motorcycles,' says Michael. Hmm… maybe the future of fast motorcycles is not going to be so bad after all…