Foggy Petronas FP1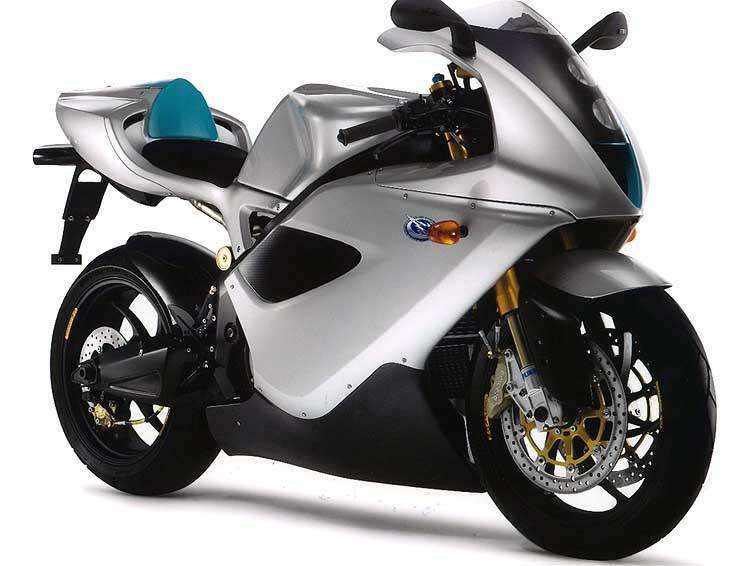 Make Model

Foggy Petronas FP1

Year

2004

Engine

Four stroke, parallel three cylinder. DOHC, 4 valve per cylinder, Liquid cooled

Capacity

899.5 cc / 54.8 cu-in

Bore x Stroke

88 x 49.3 mm

Compression Ratio

14:1

Induction

Electronic injection Marelli

Ignition

Digital

Starting

Electric

Max Power

95 kW / 129 hp @ 10000 rpm

Max Torque

92 Nm / 67.8 lb-ft @ 9750 rpm

Transmission

6 Speed

Final Drive

Chain

Front Suspension

Öhlins upside-down fork - 43mm Low Inverted Design: Multi Adjustable: compression, rebound, spring.

Front Wheel Travel

120 - 125 mm / 4.7 in - 4.9 in

Rear Suspension

Monoshock Low linkage, Aero Twin Spar Xylan coated Swingarm: Adjustable Ride Height: Öhlins Shock - adjustable compression and rebound damping, quick action spring preload adjuster.

Rear Wheel Travel
120 mm / 4.7 in

Front Brakes

2x 320mm discs

Rear Brakes

Single 220mm disc

Front Tyre

120/70ZR17

Rear Tyre

190/50ZR17
Rake
24°
Trail
105.4 mm / 4.15 in
Dimensions
Length 2050 mm / 81in
Width 680 mm / 27 in
Height 1135 mm / 44.7 in
Wheelbase
1420 mm / 56 in
Seat Height
800 mm / 31.4 in

Dry Weight

181 kg / 399 lbs

Fuel Capacity

18 Litres / 4.8 US gal
The FP1 was originally developed as a 998cc triple for entry into the MotoGP series by PETRONAS and Sauber. However in late 2001 PETRONAS decided that they would contest the world superbike series instead in conjunction with Team Foggy Racing Ltd,
Thereafter know as Foggy PETRONAS Racing. This change meant that a number of major changes had to be made to the machine for it to be eligible to race in 2002. The first and most important was the reverse in-line triple engine had to be reduced to 900cc to comply with the technical specifications for triples in the superbike class. This was then mated with a chassis that was designed and built in record time by the team. A state of the art exhaust system was developed which features a unique three into one into two into three arrangement which allows the engine to run at lower revs.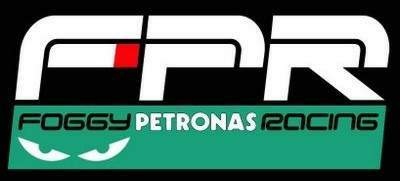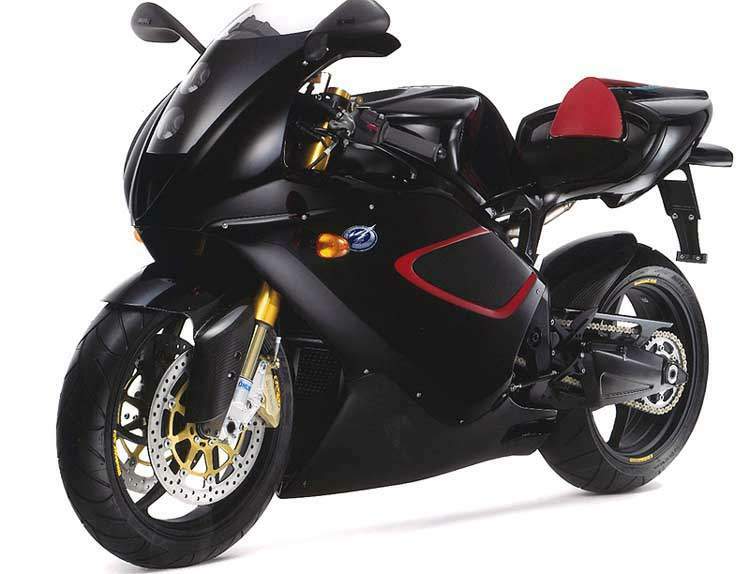 Foggy Petronas Racing FP1 must produce 150 to participate in the World Superbike Champion Chip. The 75 was first produced at the SFX in England and approved by the FIM in March, in July, is still 75 clear. These are produced in Modena, Malaysia's largest mc / scooter manufacturer.

Petronas FP1 is developed directly from racing bikes but there are savings both in terms of trim level and equipment. The effect, which is given to 185 hp for the racing bike is reduced to about 129 hp for the street version. The design is largely unchanged, and the front is mainly the two lights and turn indicators that reveal the street bike. But the brakes are somewhat easier, and superbikensradialkalipere on front wheel is reduced to the traditional four vote fur kalipere. Frame and swingarm are otherwise unchanged, and according to Petronas includes racing bike and road bike 80 percent common components. This includes a large part of the engine, even if the trimming factor is somewhat kinder. But even "only" 129 hp should keep dry weight for the street bike is in fact a modest 181 kg. With gasoline means that it weighs a little over 200 kg.
FP1 in the street version shows signs of his racing well also in terms of finish, and it may in some areas seem a little rough hewn. Among other things are the instrumentation a little elaborate, when, and the rest is detail finish only moderately. But the question of whether customers put so much emphasis on it. Driving ability is in fact compelling, and the tresylindrede engine has a wide and easily exploitable useful effect and torque registry that makes it efficient and easy to run.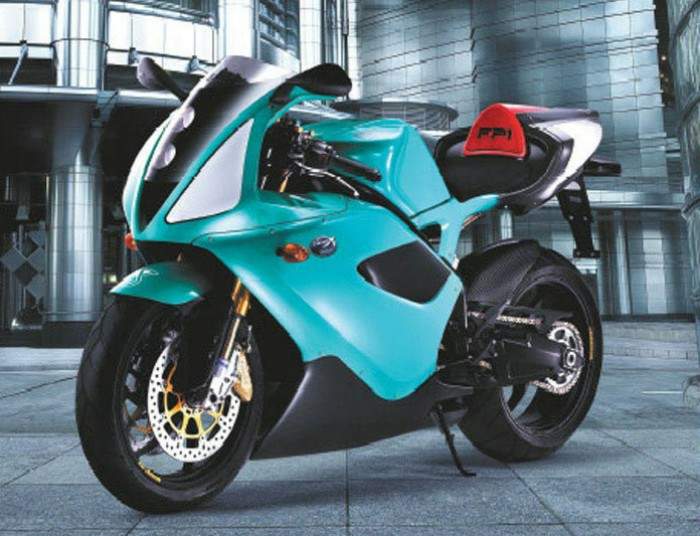 Some of the other technical changes made include:
- Changing the bore and stroke to increase drivability at the torque curve.
- Increasing the size of the gears to improve life.
- A redesign of the cylinder head and crank cases.
- A vertical split in the headstock of the air intake.
- A change of injector bodies and increase in powertrain weight to improve drivability.
- An improved lubrication circuit.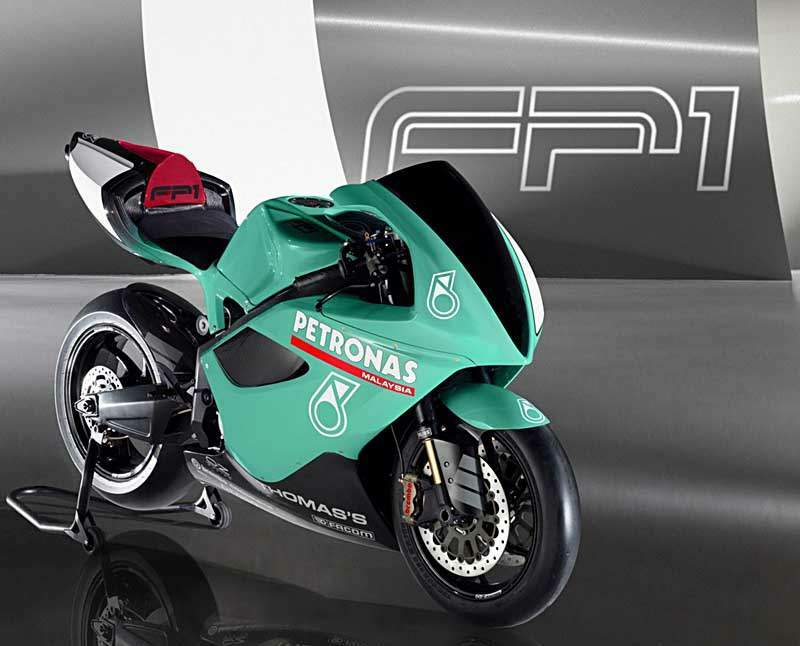 Where are they know?
Hoard of Foggy-Petronas FP1 road bikes found in Essex
MCN has discovered a secret hoard of 60 £25,000 Foggy-Petronas FP1 road bikes in a bunker in Essex.
Carl Fogarty – race team manager and figurehead of the ill-fated FP1 project – said when told the news: "You're joking – that's amazing!" It had been thought – and stated by the team – that the bikes were shipped to Malaysia five years ago and disposed of. But in fact virtually all the bikes initially produced to homologated the FP1 for WSB racing are still on UK soil.
The collection – worth around £2m – is held in a state of suspended animation awaiting, with the bikes' owner – Malaysian oil giant Petronas – keen to draw a veil over the whole episode. The firm burned £30m on a WSB program that was intended to kick-start a Ducati-sized bike manufacturing business in Malaysia, but in fact petered out with a 21st place championship finish in 2006.
The bikes were manufactured for Petronas by engineering firm MSX International in Basildon in Essex in record time in 2002, around engines designed by Austrian firm Suter Racing. The idea was that the production process would then be replicated in Malaysia and form the start of a range of higher and lower-spec bikes running to ten thousand and more. 75 road bikes were built in Essex, followed by another 75 in Malaysia six months later,
Though the business that produced this first batch has since changed hands the bikes are still there, now in possession of engineering firm Arrk R&D, which also retains key MSXI staff who worked on the FP1. Tony White is one of them: "They were perfect" is all he will say about the bikes, the existence of which Petronas gagging orders prevent him from acknowledging.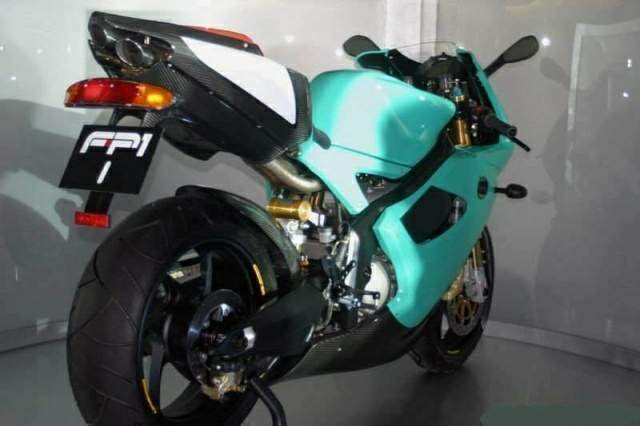 As chief executive of Foggy Petronas Racing, Murray Treece was the go-between for Petronas and the UK engineers who developed the road bike. He says: "Our staff developed the race bike and then were involved in transferring the design and supplier information over to the road bike team. Exactly what happened after that to the road bikes is unknown (by me at least)."
It was a transition in which the FP1 lost virtually none of its clean racing looks, but a fair chunk of its power – down to 127bhp from 185bhp. Even so, at 181kg it should still have been a competitive road bike – though it was never released for road test. Eight years later only the non-radial brakes date the stark, stylish lines of the turquoise triples.
Foggy said at the time: "There is no doubt that this will be the most beautiful bike on the roads. It combines cutting edge technology with real elegance and has set new standards at the top end of the road bike market". Treece echoes: "It was a beautiful looking and sounding machine. I wish I owned one".
Treece believes Petronas underestimated the challenge in bringing a bike to market in such a short time with no infrastructure.
Priceless or worthless?
What does eight years do to the value of a now-outdated but ultra-exclusive superbike that failed to launch? "It's tricky" says motorcycle valuation expert for auction house Bonhams Ben Whitworth. "The Petronas might be a bit long in the tooth compared to modern top-flight superbikes costing around £15,000, but the kudos of owning such a limited edition is certainly comparable to Ducati's Desmosedici at £40-45,000. Very broadly speaking I reckon an example would be between £15,000-25,000. But until one is actually sold at auction and sets a precedent that remains very much a guestimate. It would be fascinating to see."
Source MCN Feb 2010