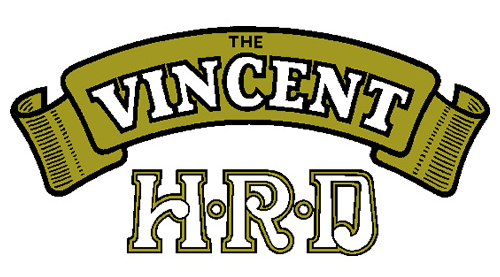 Vincent Motorcycles was a British manufacturer of motorcycles in the United Kingdom from 1928 to 1955. Their Black Shadow is one of the best known high performance motorcycles of the 1950s. In 1955 the company discontinued motorcycle production due to heavy financial losses.

Vincent Motorcycles, "the makers of the worlds' fastest motorcycles", began with the purchase of HRD Motorcycles, less the factory premises, by Phil Vincent in 1928.

HRD was founded by the British RAF pilot, Howard Raymond Davies, who was shot down and captured by the Germans in 1917. Legend has it that it was while a prisoner of war that he conceived the idea of building his own motorcycle, and contemplated how he might achieve that. It was not until 1924 that Davies entered into partnership with E J Massey, trading as HRD Motorcycles. Various models were produced, generally powered by JAP (J A Prestwich) engines.

Unfortunately, even though HRD motorcycles won races the company ran at a loss, and in January 1928 it went into voluntary liquidation. The company was initially bought by Ernest Humphries of OK-Supreme Motors for the factory space, and the HRD name, jigs, tools, patterns, and remaining components were subsequently offered for sale again.

Phil Vincent
The legend has it that Philip Vincent dreamt of building a quality motorcycle bearing his own name, just as Howard Davies had, but rather than start from scratch he wanted to start production under an established name. He had built a motorcycle of his own in 1924, and in 1928 had registered a patent for a cantilever rear suspension of his own design. In 1928 Philip Vincent left Cambridge University with an engineering degree and, with the backing of his family wealth, acquired the trademark, goodwill and remaining components of HRD from Humphries for £500.

The company was promptly renamed Vincent HRD Co., Ltd and production moved to Stevenage. The new trademark had "Vincent" in very small letters above "HRD" writ large. After World War 2 Britain had an export drive to repay its war debts, and the USA was the largest market for motorcycles, so in 1949 the HRD was dropped from the name to avoid any confusion with the "HD" of Harley Davidson, and the motorcycle became The Vincent.

In 1929 the first Vincent-HRD motorcycle used a JAP single-cylinder engine in a Vincent-designed cantilever frame. Some early bikes used Rudge-Python engines. But after a disastrous 1934 Isle of Man TT, with engine problems and all three entries failing to finish, Phil Vincent (with Phil Irving) decided to build their own engines.

Phil Vincent also experimented with three wheeled vehicles, amphibious vehicles, and automobiles. In 1932 the first 3-wheeler, "The Vincent Bantam" appeared, powered by a 293 cc SV JAP or 250 cc Villiers engine. It was a 2.5 cwt delivery van with a car seat and a steering wheel. The Bantam cost £57-10-0 and the windscreen and hood option cost £5-10-0. Production ceased in 1936.

Phil Irving
In 1931 Phil Irving joined Vincent as chief engineer.[2] His first engine design was an OHV 500 cc single-cylinder engine in 1934. The standard motor was known as the Meteor and the sports motor was the Comet; it was distinguished from earlier Vincent engines of that name by the "Series-A" prefix. There was a TT replica called the Comet Special, which used a bronze head. The Meteor motor produced 26 bhp @ 5300 rpm.

An unusual feature of the valve design for these motors was the double valve guides, and the attachment of the forked rocker arm to a shoulder between the guides, to eliminate side forces on the valve stem and ensure maximum valve life under racing conditions.

The Series-A Comet could do 90 mph, but Phil Vincent and his racing customers wanted more.

1936 Series A Rapide
Legend has it that Irving accidentally placed a wrong side up tracing of the Vincent 500 motor on top of an equally sized drawing of the same motor in such a manner that it formed a V Twin. Moving it so that it would fit resulted in the 47.5° V twin which appeared in 1936. (The single leaned forward 23.75°.) With 6.8:1 compression, it produced 45 bhp.

The Vincent V-twin motorcycle incorporated a number of new and innovative ideas, some of which were more successful than others.

The Vincent HRD Series A Rapide was introduced in October 1936. Its frame incorporated motorcycling's first "cantilever" rear suspension, which was used on all Vincents produced from 1936 through 1955. Other innovations included foot gearchange instead of hand-operated gearlever, a four-speed gearbox instead of two or three, and a side stand.

Pneumatic forks were not to be a Vincent innovation, with both Phils believing girder forks were superior at the time. The Series-A had external oil lines and a separate gearbox.

The 998 cc Series A Rapide Vincent cost about £300, produced 45 hp, and was capable of 110 miles per hour.

The high horsepower meant that the gearbox and clutch did not cope well.

Engine - 998 cc, 47.5 degree v-twin ohv four-stroke
Bore and Stroke - 84 x 90 mm
Compression Ratio - 6.8:1
Power - 45 bhp @ 5500 rpm
Produced - 1936-1939
Wheelbase - 58.5 inch
Dry Weight - 430 lb
Carburettor - 1.0625 inch Amal
Gearbox - Burman 4 speed, triplex chain primary, wet multiplate clutch
Frame - Brazed lug duplex tubular cradle. Cantilever rear springing
Front forks - Brampton girder forks
Top Speed - 110 mph

World War II
In 1937 Phil Irving went to work for Velocette but returned to Vincent Motorcycles in 1943. Vincent primarily made munitions, but Vincent engines were used in boats and portable pumps during the war, and the end of hostilities saw Vincent ready to return to motorcycle production.

Vincent already looked to America for sales, and in 1944 Eugene Aucott opened the first USA dealership in the city of Philadelphia. Others followed.

1946 Series B Rapide
The Series B Rapide designed during the war and released to the press before end of hostilities looked radically different to the A: now the oil pipes were internal, and the gearbox was part of the engine casting (Unit Construction). The angle between the cylinders was now 50° instead of the 47.5° of the Series A engine. This allowed the use of the engine as a stressed member of the frame, which consisted of an oil-tank spine with the engine hanging below, and the front and rear suspension attached at the ends: Vincent called it a diamond frame. This was considered sensational at the time, and the arrangement was not seen again till the late seventies. The cantilever rear became the most widely used form of rear suspension for motorcycles, and the use of the engine-gearbox unit as a stressed member became more usual. The Series B was also the first road bike to be equipped with twin carburettors. Brakes were dual single-leading shoe (SLS), front and rear. The 55.5 inch wheelbase was three inches shorter than the Series A, and its dimensions were more like a 500 cc bike of the time.

A more modern hydraulic shock absorber and spring assembly replaced the old twin springs and friction damper. The rear seat was supported by a sub-frame down to the rear frame pivot point, providing a semi-sprung seat with 6 inches of suspension. (Yamaha would rediscover this suspension system nearly 40 later.)

The Series B had a Feridax Dunlopillo Dualseat, with a concealed tyre pump stored in it, and a tool tray under the front, with each tool in its own rattle-proof, felt-lined pocket.

The Series B motor was the first to use oil and fuel filters.

Vincent used quickly detachable wheels, making wheel and tyre changes easier. The rear wheel was reversible, and different size rear sprockets could be fitted for quick final-drive ratio changes.

The fully adjustable control levers on the handlebars could be adjusted while riding.

These are things taken for granted on modern motorcycles whereas Vincent was a pioneer in their use.

From today's perspective, it seems incongruous that Vincent could see the need for, and design, a cantilever rear suspension, as well as incorporate so many other new ideas, yet use Brampton girder forks with friction dampers up front. The two Phils felt that the telescopic forks of the time were prone to lateral flex, so they persisted with girder forks, and did use hydraulic damping in the Series C "Girdraulic" forks.

Vincent had sold bikes through Indian Motorcycles dealers in the US and in 1948 an Indian Chief was sent to Stevenage to be fitted with a Vincent Rapide engine. The resulting hybrid Vindian did not go into production.

1948 Series C Vincents
The 1948 Series C Rapide differed from the Series B in having "Girdraulic" front forks – which were girder forks with hydraulic damping.[8]

The "Black Shadow", capable of 125 mph, and easily recognised by its black engine and gearbox unit, and large 150 mph speedometer, was introduced.The engine produced 55 bhp @ 5700 rpm in Black Shadow trim.

The Black Lightning was a racing version of the Black Shadow, with every necessary steel part on it that could be, remade in aluminium, and anything not essential removed altogether, reducing the weight from 458 lb to 380 lb. Every bit the racer, it had a single racing seat and rear-set footrests.

The 500 cc Meteor and Comet singles were introduced, along with a 500 cc racer, the Grey Flash. The Grey Flash racer used Albion gears, for the greater choice of ratios available.] The 500 cc bikes used a wet multiplate clutch, while the 998 cc V-twins used a dry, drum-type servo clutch.

Most Vincents were painted black. In 1949 a White Shadow was available, but only 15 were sold, and the option was dropped in 1952. In 1950 16 Red Comets were shipped to the United States. There were also 31 of the 1948 Grey Flash built. See production figures

In 1949 HRD was dropped from the name, and the logo now simply said "Vincent".

Specifications
Make: Vincent HRD
Model: 1948 Series C Black Shadow
Engine: 998 cc (84 x 90 mm bore and stroke) 50° OHV V Twin, 7.3:1 CR, polished conrods
Carburetor: 2 x 1.125 inch type 29 Amals
Ignition: Lucas Magneto (1955 models: Kettering ignition)
Electrics: 6v 45w dynamo
Lubrication: Dry sump, 3 US quarts
Gearbox: Integral Vincent four speed, triplex chain primary, dry servo - drum clutch
Final Drive: 530 chain, 46/21 sprockets
Tyres: 3 x 20 in front, 3.50 x 19 in rear
Wheels: Front: 1.65 x 20 in.steel rim; Rear: 1.65 x 19 in.steel rim.
Frame: "Diamond Frame".(Spine frame with engine as stressed member)
Rear Suspension: Cantilever rear springing
Front forks: Vincent Girdraulic forks, 3" travel
Brakes: Twin drums, 7 in diameter in front and rear, single leading shoe 7/8" wide.
Weight: 455 lb - 206 kg Wet - 500 lb (227 kg)
Wheelbase: 55.5 in. (1415 mm)
Seat height: 32.5 in. (826 mm)
Performance: 125 mph / 201 km/h - 55 bhp at 5500 rpm
Fuel Capacity 3.5 gallons / 16 litres
Manufacturer: The Vincent-HRD Co. Ltd., Great North Road, Stevenage, Herts.

1954 "Series D" Vincents
The term "Series D" was not used by the factory, but was taken as a natural progression by the motorcycling world. With sales falling, Vincent tried building two new high-speed touring models; the fully enclosed Vincent Victor (an upgraded Comet), the Black Knight (an upgraded Rapide) and the Black Prince (an upgraded Shadow). They were poorly received by the public. A short- lived unfaired version of the Black Prince was then produced. There was still a Series D Comet.

Sales declined further after the post war motorcycling boom owing to the availability of cheaper motor cars, so not many "Series D" models were made. A growing media association between motorcycles and motorcycle gangs in the late fifties was also giving motorcycling a bad name.

Black Lightning (1949 - 1952)
It was with the introduction in 1948 of the fully race-prepared Vincent Black Lightning that Vincent produced the most legendary motorcycle of its time. The Black Lightning was advertised as The World's Fastest Standard Motorcycle - This is a fact, not a slogan! - a claim it could have made right up until the release of the 900 cc Kawasaki Z1, 20 years later in 1972. (This same claim had been made in advertising before, for the earlier fastest Vincents)

Around 30 Vincent Black Lightnings were built during 1949-52. They were available on special order, selling for $1,500.

The Black Lighning had magnesium alloy brake backing plates, racing tires on lightweight alloy rims, rear-set pegs, a solo racing seat and aluminum fenders. All these helped trim the Lightning's weight to 380 lb. (The Black Shadow was 458 lb)

The Black Lightning had higher lift cams, stronger connecting rods, bigger inlet ports, polished rocker gear, steel idler gears, racing carburetors, a manual-advance magneto and could be ordered with compression ratios from 6.8:1 to 12.5:1. The engine was rated at 70 hp, and was said to propel the Black Lightning to 150 mph.

The proof came in 1948, when an Indian motorcycle dealer, Rollie Free , riding the very first Vincent-HRD Black Lightning built, raised the motorcycle speed record to 150.313 mph on Utah's Bonneville Salt Flats. Initially wearing full leathers, he could only achieve 147 mph, and his leathers had been flapping so violently at that speed as to tear. He removed his riding apparel, and wearing a bathing cap, "speedos", and a pair of sneakers, set out for another attempt, and set the new record. A fast car with photographer aboard followed, and took the famous "bathing suit bike" picture.

In the picture, Rollie Free puts new meaning into the term "laying down on the tank"! His arms are stretched straight back from the bars, with his body resting on the rear guard, and his legs and sneakers trail straight out into the empty air behind. It is as though the wind resistance is trying to tear him off the bike.

Russell Wright set a 1954 New Zealand speed record of 140 mph on a Black Lightning at the Tram Road Speed Trials. At the meet he met Rapide owner Robert (Bob) Burns who had built a streamliner shell for a sidecar record attempt. They formed a partnership for Bob to supply a streamliner shell for Russell's solo world record attempt, if Russell let him use the Black Lightning for his sidecar world record attempt.[13] In December 1954 Bob Burns went first and set a new F.I.M. World Sidecar record of 157 mph, up from 154 mph. On the 2nd of July 1955, Russell Wright set a new F.I.M. world speed record of 185 mph on the Tram Road at Swannanoa, near Christchurch, while Bob Burns upped his sidecar record to 163.06 mph.

Despite successful record attempts, other publicity relating to problems with the gearbox selector camplate damped America's buying enthusiasm. A new shifting mechanism was incorporated for 1953, but the sales damage had already been done.


Fireflies, Three Wheelers, and NSU
The Firefly was a 45 cc "clip on" engined bicycle built from 1953 to 1955 under licence from Miller, who were suppliers of electrical components to Vincent. It was also known as the Vincent Power Cycle. The Vincent Owners Club was predictably surprised by this new cheap entry level Vincent.

By 1954 Vincent motorcycles was in an increasingly difficult situation. In the quest for solvency, Vincent looked for ways to improve their position. The trike idea was revived.

In late 1954, or early 1955, a prototype 3-wheeler, nick-named "Polyphemus", with a Vincent Rapide 998 cc engine was built. It included parts from Vincent motorcycles, as well as wheels from a Morris Minor and a body based on materials used in the Black Knight/Prince. With the standard 1955 Rapide engine the prototype could reach 90 mph, and 117 mph, with a Black Lightning engine.

After development the new "Vincent 3-Wheeler" was offered to the public in 1955 for £500. This was a high price for the time (BMC's Mini sold for £100 six years later), especially for a vehicle with no reverse gear, self starter or hood. Vincent sold none.

Only forty of the two stroke 1955 NSU-Vincent Fox 123 cc were built. There was also an OHV four stroke NSU-Vincent 98 cc, and Vincent also sold the "NSU Quickly" moped; too well it appears, as NSU took control of its own sales after a year. These models were advertised with Vincent's Series D.

The Last Vincent Motorcycle
Unfortunately Vincent motorcycles were hand built and expensive. A total of 11,000 machines were sold post-war. A sales slump in 1954 forced the company to manufacture NSU mopeds (selling about 20,000 in one year – a foot note to how the market had changed again).

At a Vincent Owners' Club dinner in the summer of 1955, Phil Vincent announced that the company could no longer continue in the face of heavy losses and that production of motorcycles would cease almost immediately.

In 1955, one week before Christmas, the last Vincent came off the production line and was promptly labeled "The Last."
The factory then turned to general engineering, the manufacture of industrial engines, and there was the Amanda water scooter, possibly the first personal watercraft. A Vincent engineer lost his life testing it, drowning at sea.

Vincent tried for a government contract supplying motors for the ML Aviation U120D target aircraft. The motor had to be capable of passing prolonged full power operation tests. This was called the Picador project. The Vincent motor was upgraded with a better crankshaft, Scintilla magneto, double speed oil pump and fuel injection. They did not get a contract. (Russel Wright's record breaking bike was fitted with a Picador crank and oil pump, by Vincent, while in England for Earls Court, shortly after the 1955 record attempt.)

The company went into receivership in 1959. It has since been bought and sold by other engineering firms. In 1955 Phil Vincent declared that Vincent parts would always be available and indeed they are still available, through the Vincent Owners' Club, Vin Parts International and other sources.

Subsequent Developments
Vincents are mythic beasts. The Vincent Owners Club is the largest single-brand motorcycle club in the world. Vincents are among the most desirable of motorcycling classics. A Black Lightning, in immaculate condition, can bring £60.000.

Vincent engines have been fitted to other frames. The most obvious is the Norvin, using a Norton featherbed frame, with or without the lower frame tubes. Specialist frame manufacturers also made frames for the Vincent engine.

Fritz Egli, a specialist frame manufacturer based in Switzerland, produced an Egli Vincent, and around 100 were produced between 1967 and 1972. These are now being made by Paul Godet under licence. Replica Egli-Vincents have been built by other firms.

In 1996 a partnership was formed to launch the Australian RTV motorcycle. It used a slightly modernised reproduction Vincent engine in an Egli style frame in capacities of 1000 cc and 1200 cc. They had electric start. After four bikes were built the company went into voluntary liquidation towards the end of 1998.

Vincent Motors USA founder and president, Bernard Li acquired the Vincent trademarks in 1994 and formally launched Vincent Motors USA in 1998, spending about $2 million building prototypes that resemble the original Vincent but utilising modern components, like the Honda RC51 V twin engine. Vincent Motors is based in San Diego.

This article is licensed under the GNU Free Documentation License. It uses material from the Wikipedia article "Vincent Motorcycles".