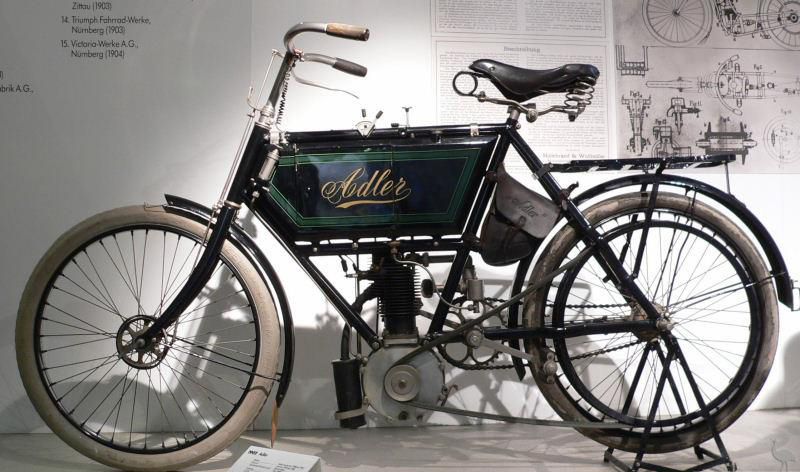 The Adler company built its first vehicle in the 1870s, a tricycle. Adler was well-known in the thirties for their fine cars and 3, 3.5 and 5 HP motorcycles. Adler 1902 moto was a very successful model with the characteristics to meet the requirements of the time.
It wasn't until 1902 the first motorcycle rolled off the plant floor. Unfortunately, the production of this motorcycle was short lived. Adler, always the progressive company, recognized the upcoming potential of the automobile, having already had the factory tooled to build the automobile (1900), Adler Manufacturing quit the motorcycle business in 1907…to build upon their autos, typewriters, and bicycles.
The Adler motorcycle engine actually was a brain child that sprouted forth from their automobile engine. The engine was a small 2.5HP single, with both valves side by side in the front of the cylinder block, whose breather inlet was opened by suction.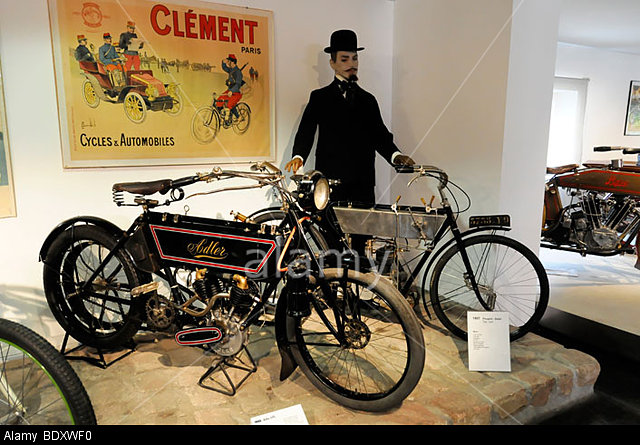 By 1907 the side by side valve design had been replaced by the wildly popular design of the day…the inlet over the exhaust valve layout (OHV)… but still using the suction automatic breather inlet. There were eight models in the 1907 catalog… You could still buy a 2.5 as well as the 3HP single, but the new V-Twin models boasted not only the 3HP…but a lively 4HP as well! You have heard of the Bosch ignition lineup right? Well Adler gave you the option of a Bosch Magneto or a standard coil ignition.
You could also order your bike to made with fore car attachments, a trades men's box, and a scary looking sidecar with a wicker seat.
Alas…by the end of 1907…Adler removed themselves from the motorcycle manufacturing business. Leaving only Wanderer and NSU as German Motorcycle makers.