Can-Am Spyder F3-S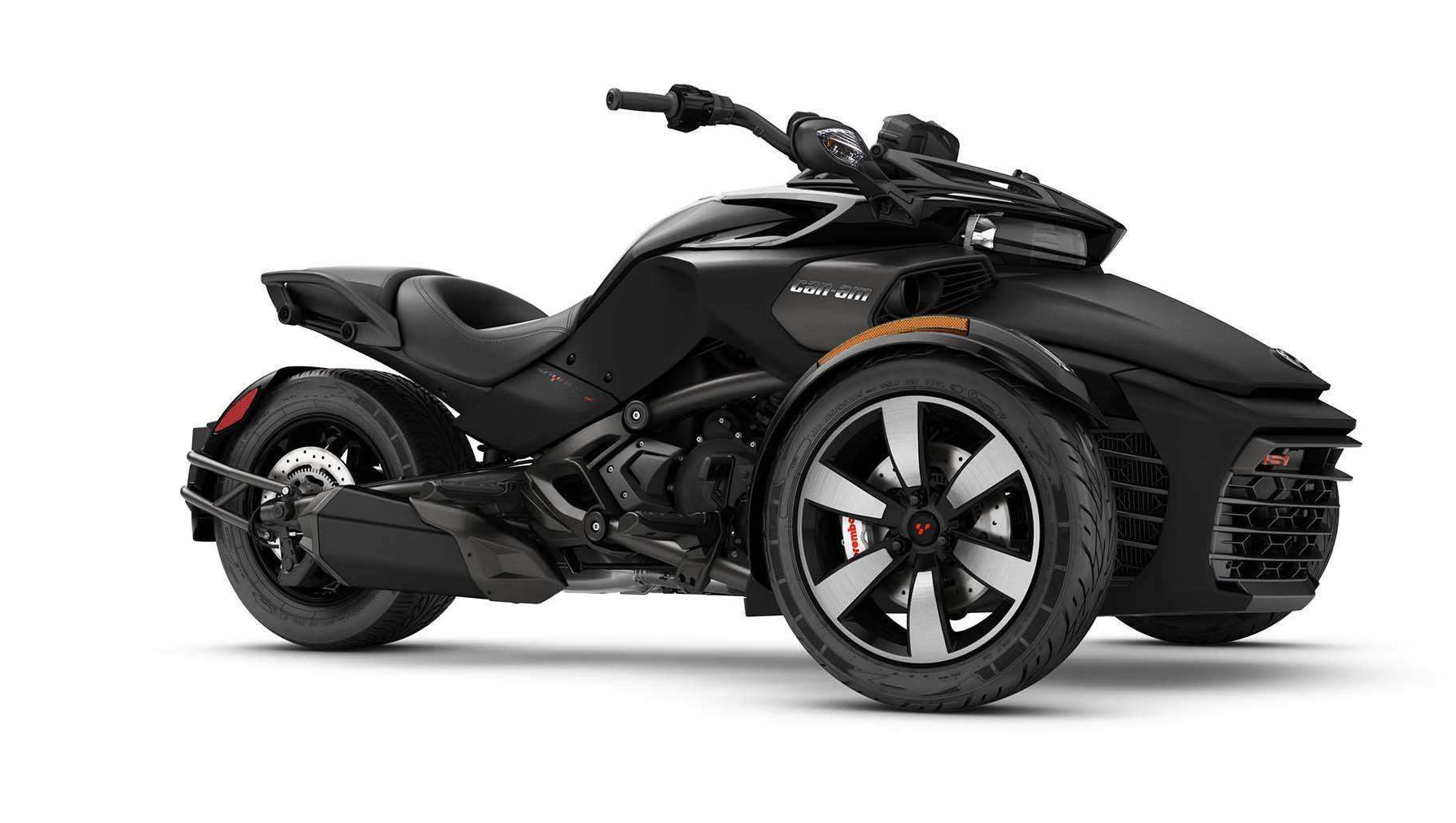 Make Model

BRP Can Am Spyder F3-S

Year

2017

Engine

Rotax 1330 ACE, four stroke, transverse three cylinder, DOHC, 4 valve per cylinder

Capacity

1330cc / 81.1 cu-in

Bore x Stroke

84 x 80 mm
Cooling System
Liquid cooled
Compression Ratio
12.2:1

Induction

Electronic fuel injection and electronic throttle control

Ignition

Electronic ignition with dual output coil
Starting
Electric

Max Power

115 hp / 83.9 kW @ 7250 rpm

Max Torque

130 Nm / 96 lb-ft. @ 5000 rpm
Clutch
Wet, multi-plate, manual or electronic operation through a hydraulic piston

Transmission

6 Speed (semi-automatic optional)

Final Drive
Belt

Front Suspension

Double A-arms with anti-roll bar, Gas-charged FOX† PODIUM† shocks

Front Wheel Travel
129 mm / 5.1 in

Rear Suspension

Swing-arm with basic monoshock SACHS† shock absorber

Rear Wheel Travel
132 mm / 5.2 in
Brakes
Foot-actuated, fully integrated hydraulic 3-wheel braking system

Front Brakes

Single 270mm discs 4 piston caliper per wheel

Rear Brakes

Single 270mm disc 2 piston caliper, with integrated parking brake

Parking Brake
Electrically actuated
Front Rim
Aluminium 6-spoke Metallic Silver, 15 x 5 in.
Rear Rim
Aluminium Metallic Silver, 15 x 7 in

Front Tyre

MC165 / 55R15 55H

Rear Tyre

MC225 / 50R15 76H

Dimensions
Length 2642 mm / 104 in
Width 1497 mm / 58.9 in
Height 1099 mm / 43.3 in.
Wheelbase
1709 mm / 67.3 in
Seat Height
675 mm / 26.6 in
Ground Clearance
115 mm / 4.6 in

Dry Weight

386 kg / 850 lbs

Fuel Capacity

27 Litres / 7.1 US gal

Maximum Vehicle Load
199 kg / 439 lbs

Storage Capacity

24.4 Litres / 6.5 US gal
Features
ALL SPYDER F3 FEATURES PLUS:
Cruise control
6-spoke, machined Deep Black high gloss front wheels
Refined front fenders with integrated LED lights
Black embossed suede seat with Red stitching and "S" tab
Deep Black high gloss rear wheel
Distinctive "S" trim signature
PEARL WHITE
CAN-AM RED
SOLID GLOSS
PURE MAGNESIUM METALLIC WITH CAN-AM RED FRAME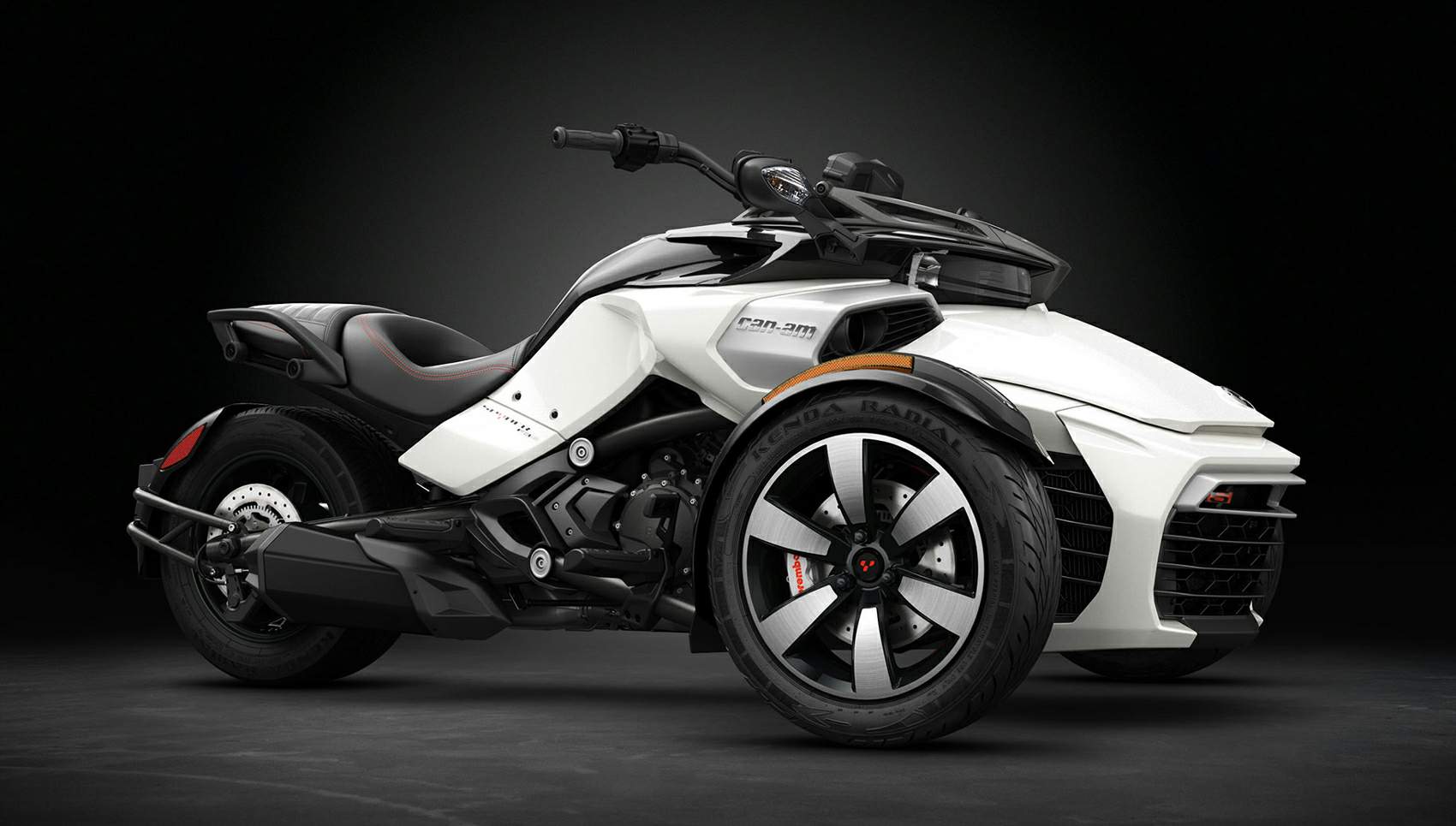 Review
I had to be convinced to test the 2015 Can-Am Spyder F3-S for this review. Normally, I'm eager to ride any form of motorcycle, but I had a bad introduction to the original Spyder back in 2007. I rode that one for just a few miles, not nearly enough time to get comfortable or familiar with the bike. All of my instincts as a motorcyclist felt wrong. I was concerned that if I needed to react quickly, I would do the wrong thing. I swore that I wouldn't ride a Spyder again unless I received some instruction.
With the release of the new F3 model, Can-Am's press office contacted me about riding. I expressed my concerns, and they promised to provide an instructor and ample riding time to get comfortable with the bike. True to their word, Can-Am delivered a 2015 F3-S to my house with a knowledgeable, experienced rider, and gave me detailed instruction about the proper operation of the vehicle for about an hour. They then left the bike with me for an extended test period – about a month, all told – during which I was able to get comfortable with the F3-S.
The Spyder is a three-wheeled vehicle with two wheels in the front and a single driven wheel in the rear. In most states, it is classified as a motorcycle for licensing purposes, but it is really more like a snowmobile with wheels than it is like a traditional motorcycle. It doesn't lean into turns, and steering it requires almost the reverse action of two-wheeled countersteering. The foot and hand controls on a Spyder are different than on most motorcycles, too. There's twist grip throttle on the right side, like a bike, but no hand brake lever. Linked front and rear braking is handled by a single brake pedal on the right side. My test bike was equipped with a 6-speed semi-automatic transmission with reverse, so there was no clutch lever – just a paddle shifter on the left handlebar, and a reverse button above the left grip. Seat height is a low 26.6" for the driver, a few inches higher for the passenger behind the driver.
irst things first. I geared up like I would for any motorcycle ride – full-face helmet and eye and ear protection, leather jacket with armor, Kevlar-lined jeans with hip and knee armor, over-the-ankle riding boots and riding gloves. ATGATT – All The Gear, All The Time. I hooked up my two-wheeled motorcycle to a battery tender, put a cover on it and tucked it away to sleep in my garage. I was committed to learning how to ride this Spyder.
My first rides were low speed tools around my suburban neighborhood, during the day when traffic was sparse. I spent a few hours just getting comfortable with the controls, and re-learning how to corner, swerve and stop. F3-S has dynamic power steering, which greatly aids in low-speed steering. When I finally felt like I had retrained myself for the Spyder, I ventured further from home onto the city streets and speeds up to 45 mph. I gained confidence with each ride, and began to trust the Spyder more and more. I got used to keeping my feet on the footpegs at traffic lights and intersections, and my foot began to automatically reach for the brake pedal when it came time to stop.
The F3-S model that I was riding attracted plenty of attention. I took it to my local ride-in car meet up at Bob's Big Boy in Toluca Lake, California, where hot rodders, car collectors and motorcyclists gather every Friday evening for an impromptu car show and tire kicking. The Pearl White F3-S drew a lot of questions and comments. Some fans compared its looks to a three-wheeled Ducati – probably because of the exposed bright red steel trellis frame that peeks out beneath the F3-S's bodywork. Others thought it looked like a vehicle that one of Darth Vader's Imperial Storm Troopers should ride. I think that was a compliment.
I took the F3-S for a jaunt along my favorite test road, Angeles Crest Highway. It's a great road with plenty of big and small curves, changes in altitude and often challenging conditions. The F3-S has a 1,330 cc inline three-cylinder Rotax engine that is rated to produce 115 hp and 96 lb-ft of torque, enough to deliver ripping acceleration to the 850-lb vehicle. The power seems to come on strong from the outset with good torque through the mid-range of revs and a deep, throaty exhaust note. I had fun on the Angeles Crest, and I felt pretty safe around the curves. The bike has anti-lock brakes, stability control and traction control, which kick in to prevent any wheel lift or sliding.
Source forbes.com