Can-Am Spyder RT-S Roadster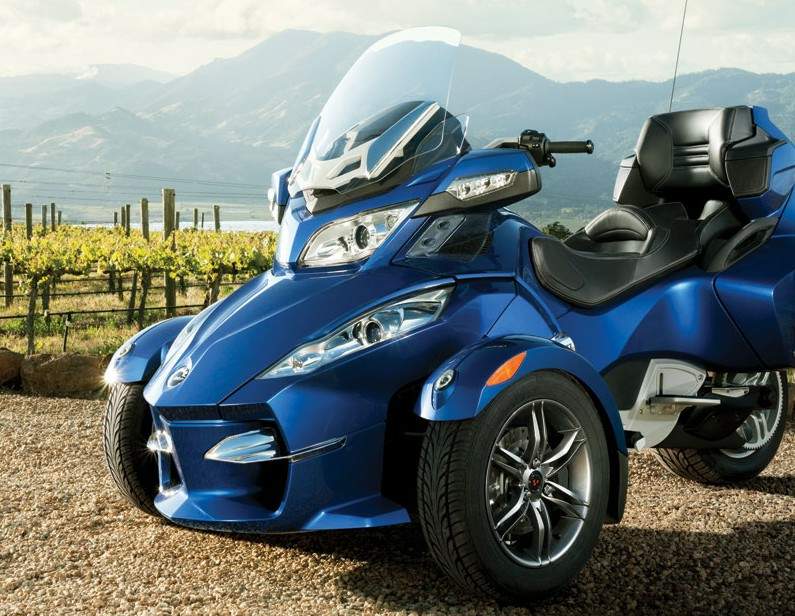 | | |
| --- | --- |
| Make Model | BRP Can Am Spyder RT-S Roadster |
| Year | 2012 - 13 |
| Engine | BRP-Rotax, Four stroke, V-Twin, DPHC, 4 valve per cylinder |
| Capacity | 998 cc / 61 cu-in |
| Bore x Stroke | 97 x 68 mm |
| Cooling System | Liquid cooled |
| Compression Ratio | 10.8:1 |
| Induction | Multi-point EFI with 57 mm diameter throttle bodies |
| Ignition | Electronic ignition with dual output coil |
| Starting | Electric |
| Exhaust | 2-into-1 with catalytic converter |
| Max Power | 106 hp / 79 kW @ 8500 rpm |
| Max Torque | 77 lb/ft / 104.3 Nm @ 6250 rpm |
| Clutch | Wet, multi-plate, manual or electronic operation through a hydraulic piston |
| Transmission | Sequential Manual 5-Speed (SM5) with transmission-based reverse |
| Final Drive | Belt |
| Front Suspension | Double A-Arm with anti-roll bar, .5.67 in 144 mm front suspension travel. with adjustable cam |
| Rear Suspension | Swing-arm with monoshock, 5.71 in 145 mm with adjustable cam rear suspension travel. |
| Brakes | Foot-actuated, fully integrated hydraulic 3-wheel braking system |
| Front Brakes | 260mm discs 4 piston caliper |
| Rear Brakes | Single 260mm disc 2 piston caliper |
| Front Tyre | 2x 165/65R14 |
| Rear Tyre | 225/50R15 |
| Seat Height | 737 mm / 29 in |
| Dry Weight | 421 kg / 929 lbs |
| Fuel Capacity | 25 Litres / 6.6 US gal |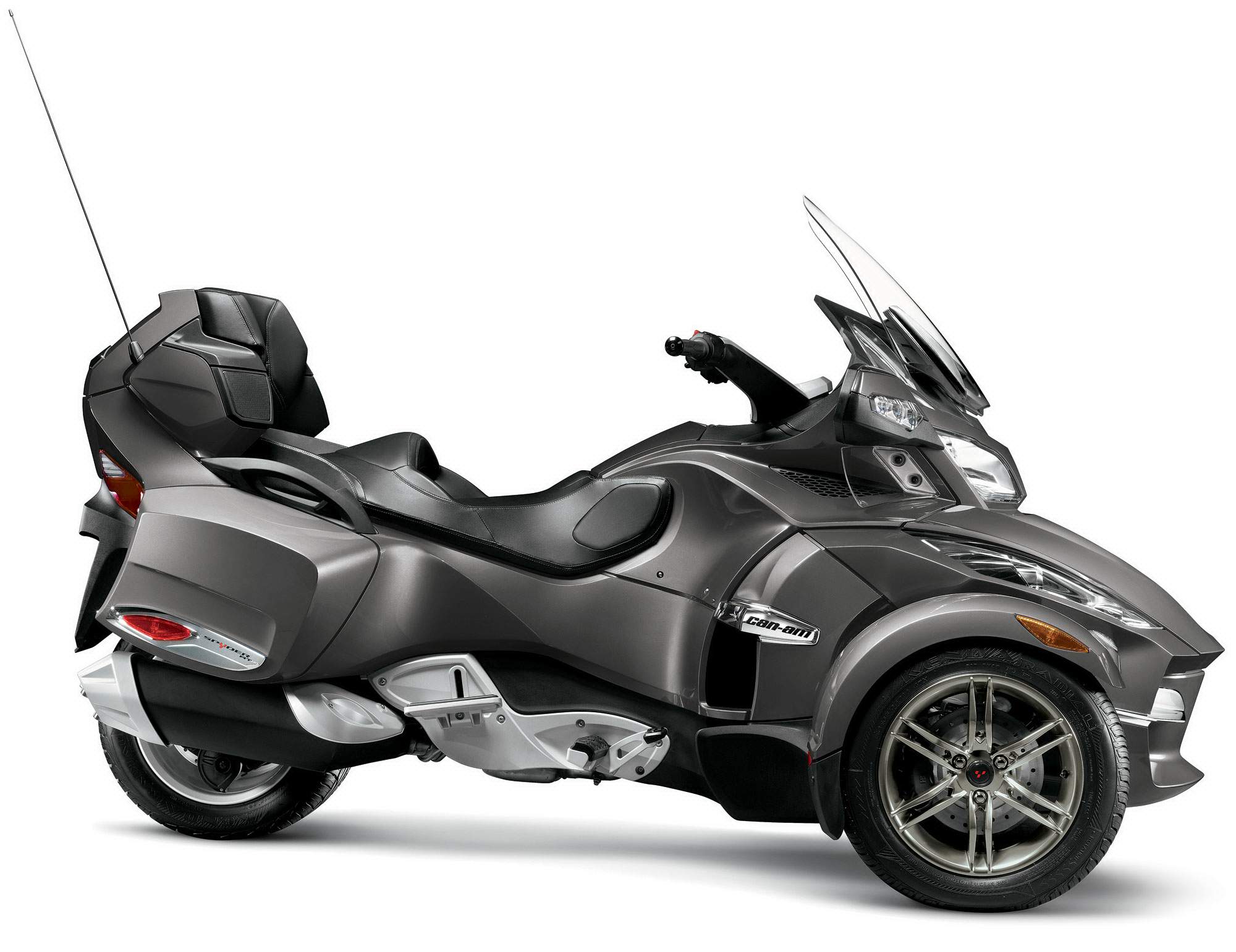 Take it to the next level.
Take your road trip to the next level with the 2012 Spyder RT-S. Complete with all the features of the 2012 Spyder RT Audio and Convenience package, plus adjustable rear air suspension and additional upgrades to make longer excursions even more comfortable for both rider and passenger.
From its electronically adjustable rear air-control suspension to its passenger accommodations and stellar fit-and-finish, the Can-Am Spyder RT-S makes long journeys very enjoyable. This touring roadster received ventilation updates and important front suspension changes a year ago for an improved riding experience. It also gets a few updates for the 2012 model year. Along with the new Dot-matrix display coloration, the Spyder RT-S roadster has a new front wheel coloration to give it a more unique and impressive look. The Spyder RT-S is available in three attractive color schemes, including a new Quantum Blue Metallic color. The highly popular Viper Red and Pure Magnesium Metallic also return for 2012.
Take your road trip to the next level with the Spyder RT-S. Complete with all the features of the Spyder RT Audio &
Convenience package, such as a Vehicle Stability System, cruise control and optional semi-automatic transmission.
Plus adjustable rear air suspension and additional upgrades to make longer excursions even more comfortable for
both rider and passenger.
Three wheels. Endless possibilities.
The Can-Am roadster's distinctive Y-shaped footprint certainly catches the eye. But its trademark stance also provides stability and control, inspiring a whole new kind of ride. Accelerate with authority. Corner with confidence. Reinvent your ride.
Technologies like a car. That's where the similarities end. Anti-lock brakes. Stability control system. Cruise control. A clutchless
semi-automatic transmission. When you incorporate these familiar technologies into a vehicle that is like nothing else on the road, everything changes. In the case of the Can-Am roadster, the result is an open-air riding experience that is instantly accessible and exponentially exhilarating.
A Movement of Thousands.
Whether it's on the touring-ready Spyder® RT or the sporty Spyder RS, hitting the open road is easier and more exciting than ever. It's why thousands of riders have already discovered the Can-Am roadster. Ride solo. With a partner. Or together with other riders.
Get your lice nse on a Can-Am roadster .
In most states and provinces, you can use your Can-Am roadster to pass a road test and get your riding endorsement quickly. You'll see you have every reason to get behind the wheels. Brought to you by BRP. A trusted name in adventure. For over 60 years, we have brought cutting-edge design and technology to the powersports world. From Ski-Doo snowmobiles to Sea-Doo watercraft and boats, to Can-Am ATVs and side-by-sides, to Evinrudeoutboards and more.
The Can-Am roadster delivers the same level of performance, innovation and excitement as its predecessors.
Can-Am Spyder RT-S Key Features
Added Features over Spyder Audio & Convenience
- Aluminum six-spoke wheel with Dark Mist Gray coloration finish for an exclusive look
- Electronically adjustable rear air suspension with auto leveling
- Two additional rear speakers with independent passenger audio controls
- Special-edition chrome trim
- Fog lamps and LED running lights
- 3.5 mm audio player input
- Front cargo light and front liner
- New Quantum Blue Metallic
- New Dark Mist Gray front wheel coloration
- Amber coloration for Dot-matrix display
Can-Am Spyder RT-S Features and Benefits
- 998cc Rotax V-Twin engine calibrated for touring
- 41 US Gal. (155L) of storage
- Vehicle Stability System
- Adjustable electronic windshield
- Multi-function dot-matrix color gauge
- Digitally Encoded Security System (D.E.S.S.)
- Heated rider grips
- Cruise Control
- Ultra comfort saddle with lumbar support and integrated passenger backrest
Upgraded Front Cargo - Featuring a liner for organizing your belongings and a cargo light for nighttime visibility.
Wheels AND CHROME trims - Gives your Spyder RT-S a unique, upscale look with Dark Mist Gray front wheels and chrome trims.
Fog and LED Accent Lights - Additional lighting for improved visibility and more spectacular arrivals.
Speakers with Controls - Additional rear speakers and independent audio control to further spoil your passenger.
Adjustable Rear Air Sus pension - Whether solo, with a passenger or towing a trailer, you can adjust the rear suspension on the fly to fit your preference.
ULTRA COMFORT TOURING SADDLE
Premium saddle featuring passenger backrest and driver lumbar support for maximum comfort during extended journeys.
Entertainment System
AM/FM audio system with iPod compatibility, weather band and optional satellite radio.
Heated Handgri ps
Thermal grips for the rider are standard on all Spyder RT models. Heated passenger handgrips also available.*
155 Litres(41 gal .) of Cargo Space
Lockable, watertight front storage with 44 Litres(12 gal.) of space plus two side compartments, one rear and a glove box.
Electric Windshield
Adjustable-on-the-fly windshield for comfort whether it's a hot or cool day.
Vehicle Stability System
The Y™ architecture of the Can-Am roadster allows it to host an innovative and unique stability system. Developed in partnership
with BOSCH† and inspired by automotive technologies, the system integrates ABS, traction control and stability control functions for an incredibly confident ride.
STABILITY CONTROL SYSTEM
The stability control assesses your intended direction via the handlebar and determines the vehicle's appropriate response. The system individually brakes the wheels and/or reduces excess engine torque until control is regained.
ANTI-LOCK BRAKING SYSTEM
Sensors monitor the rotation of all three wheels. If any of the wheels is at risk of locking, ABS reduces brake pressure on it. This intervention repeats in rapid succession and can be performed independently on each wheel, allowing for maximum braking performance.
TRACTION CONTROL SYSTEM
Whenever the Traction Control System detects excessive rear wheel spin (e.g., in slippery conditions), it reduces engine torque by regulating engine ignition and fuel injection. This enables the roadster to accelerate with minimal corrective input from the rider.
DYNAMIC POWER STEERING
The electronically controlled power steering system provides the rider with a varying assist when turning the handlebars. The amount of assistance varies with the speed of the vehicle to adjust the steering input effort to a comfortable level.
Transmission Options
SEMI-AUTOMATIC TRANSMISSION
No clutch lever. No foot shifter. The Can-Am roadster's semi-automatic 5-speed transmission uses convenient paddle shifting, a feature typically associated with sports cars. The paddle shift makes for faster, smoother shifting, which means you can get the adrenaline pumping as quickly as you please. Simply apply pressure with your left thumb to shift up and use your forefinger to downshift. It also features reverse for increased maneuverability.
MANUAL TRANSMISSION
Fluid motion stems from the smooth, 5-speed gearbox created specifically for the Can-Am roadster. It also features reverse for increased maneuverability.
Optimum Security
The Digitally Encoded Security System (D.E.S.S.™) helps protect the Can-Am roadster from theft or other unauthorized use. The vehicle will not start unless the rider uses the correctly coded electronic key.
Proven Rotax Engine
998cc V-twin Rotax engine - Over the past 50 years, more than 6 million Rotax® engines have been built, powering the world's most impressive on- and off-road machines. Every Can-Am roadster is equipped with a 998cc V-Twin Rotax engine calibrated for sport or touring riding. Touring engines offer cruise control and electronic throttle control.