BSA A65R, A65T/R and Lightning
"A65 Rocket"
Make Model

BSA A65R and Lightning (European market)

BSA A65T/R (US market)

Year

1965 - 66

Engine

OHV Parallel twin

Capacity

654 cc / 39.9 cub in.

Bore x Stroke

75 x 74 mm
Carburetors
Amal monobloc 389/67
Cooling System
Air cooled

Compression Ratio

9.0:1
Lubrication
Dry sump
Engine Oil
SAE 20W/50
Oil Capacity
3 L / 5 pints / 0.79 US gal
Exhaust
2-into-1

Ignition

Twin coil
Spark Plug
Champion N4
Battery
2 x 12V, 10 a.h., Lucas RM19
Starting
Kick start

Max Power

35.8 kW / 49 hp @ 7000 rpm
Clutch
Multi-plate with bult-in cush drive

Transmission

4 Speed
Final Drive
Chain
Gear Ratio
1st 11.49 / 2nd 7.32 / 3rd 5.24 / 4th 4.58:1
Frame
Steel tubing, cradle

Front Suspension

Telescopic forks with coil spring - hydraulically damped

Rear Suspension

Coil spring/hydraulically damped

Front Brakes

20.32 cm / 8 in., drum

Rear Brakes

17.78 cm / 7In., drum
Wheels
Steel, wire spokes
Front Rim
WM2-18
Rear Rim
WM2-18

Front Tyre

3.25 x 18 in., ribbed

Rear Tyre

3.50 x 18 in., K70

Dimensions

Length: 2060 mm / 81.0 in.

Width: 711 mm / 28 in.

Height: 1010 mm / 39.8 in.

Wheelbase

1370 mm / 54.5 in.
Ground Clearance
178 mm / 7.0 in.
Seat Height
813 mm / 32 in.
Wet Weight
177 kg / 397 lbs

Fuel Capacity

Europe:18 L / 4.8 US gal

US: 9 L / 2 US gal

Average Consumption

4.7 L/100 km / 21.3 km/l / 50 mpg

Top Speed
174 km/h / 108 mph
Review
Wikipedia, Motorbike Search Engine
"Thunderbolt"
The BSA A65R Rocket was one of a series of unit construction twin cylinder Birmingham Small Arms Company (BSA) motorcycles made in the 1960s. A version branded as the A65 'Thunderbolt Rocket' was aimed at the US market. The A65R Rocket was produced from 1964 but was stopped in 1965 when all development at BSA was halted by financial difficulties.

Development
The A65R was a development of the old model range led by Bob Fearon, Managing Director and General Manager of BSA and Chief Development Engineer Bert Perrigo they developed the unit construction Star twins. To make the A65R more of a 'sports version' of the original BSA A65 Star (and in anticipation of more stringent noise control legislation) it was given 'siamesed' 2 into 1 exhaust pipes with a special baffle, as well as chrome plated mudguards and headlight brackets. Able to cruise at 85 mph (137 km/h) and with a top speed of 108 mph (174 km/h) it was sold as the fastest BSA in production. A special version of the A65 branded as the A65T/R 'Thunderbolt Rocket' was aimed at the US market and featured high rise handlebars and a smaller fuel tank.

By 1965 competition from motorcycle producers such as Honda were eroding BSA's previously rising sales figures. BSA's marketing team was slow to respond and new motorcycle development contributed to substantial losses, so by 1972 the company was absorbed into Manganese Bronze Holdings in a rescue plan initiated by the Department of Industry. A plan to combine Norton, BSA and Triumph failed through poor industrial relations and the BSA factories closed.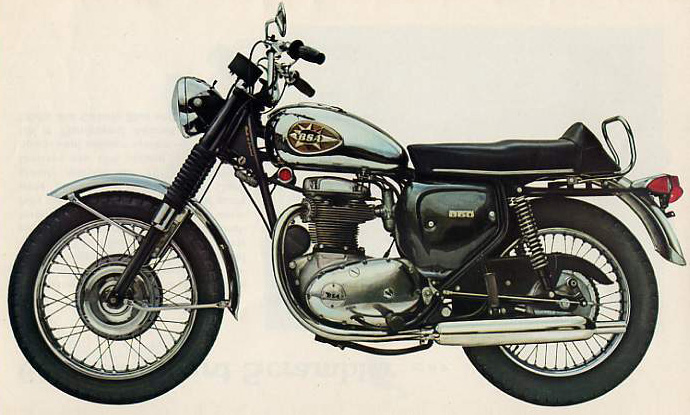 Thunderbolt Review
Fancy something different? Tired of the same old journeys to the coast, stuck in traffic jams, burning the clutch? Then treat yourself to an Ordnance Survey map, costing only a few shillings from H.M. Stationery Office. And a BSA Thunderbolt. It's unlikely you would get a Thunderbolt from the HMSO, but a visit to your local showroom is well worth while. As a combination, a good map and a fine bike will recapture the "good old days" of motorcycling when the re­strictions were few and the pleasures many.

So, armed with some HMSO sheets, I filled the four-gallon petrol tank of the big BSA on loan from the factory, and we despatched ourselves early one cold morning in a westerly direction.

The Thunderbolt, as you probably know, is the single-carburetter version of the twin-cylinder 654 cc BSA range, made with the sidecar man in mind. But there are those who, with no intentions of ever adding another wheel, prefer a single-carb machine. Not so fickle, nor do you have to worry about synchronisation. And performance differential is hardly worth (Mentioning, particularly in 'these speed-conscious days.)

Despite its re-styling, I still found the Thunderbolt reminiscent of the old Gold Flash. If you have a successful basic formula, why bother to change it?

The 75 mm by 74 mm engine is identical, but for cams and compression ratio, to that of the quicker 654 cc machines. While the Spitfire Mk III, the Hornet and the Wasp have a 10.5: 1 or, the Thunderbolt—and the Lightning, surprisingly— has 9.0:1. Gear ratios of the Lightning, Thunderbolt and Spitfire are identical, each having a 20 tooth gearbox sprocket, a 47 tooth rear wheel sprocket and a 4.87 : 1 top gear. So, despite the reputation — and a well-earned one — of the siports models, the Thunderbolt would never be far behind.

They're a handsome bunch, too. Sit astride, and you'll find yourself looking down at a chromium-plated headlamp embracing the lighting switch and ammeter, and a conventional handle­bar layout. Dip-switch and horn button are incorporated in the left-hand grip. On this model, there is no tachometer, and the 150 mph speedometer is rubber-mounted at the top of the left fork-leg.

Gear change lever readily adjustable and rear brake lever are comfortably situated, but I wouldn't say that this was the most comfortable machine I had ever ridden. The petrol tank tends to 'be bulky, rather than sleek, forcing one's knees rather far apart. And I found the suspension, both front and rear, to be hard, giving, after a long trip, a jarring ride. This, no doubt, was due to the heavier springing provided for use with a sidecar, tout gave the impression of a progressively-hardening saddle.

Roadholding is excellent. For a big bike, weighing 391 Ib, it could be cornered with the utmost confidence, in both wet and dry road conditions. Braking was to match, particularly the 8 in. front unit, which could always be relied upon to retard one's progress as rapidly as was mechanically possible.

Petrol consumption varied from as little as an approximate 42 mpg during a motorway thrashing to as much as 65 mpg on my day's outing. And it isn't necessary to buy the Super-Extra fuel — the Thunderbolt is happiest drinking the four-star stuff through its 1-J-in Monobloc carburetter.

Lighting is, as may be expected, well up to scratch, the headlamp always providing sufficient power, in keeping with road-speed at eight. The horn had a strangely muted sound, but was always sufficient warning for other road-users.

So, as I said, we were all set for an interesting day, having decided on a route following Roman roads, many of which laid the foundations for our modern trunk roads and motorways.

If you're a prize chrysanthemum grower or dahlia-fancier, and you would like a little heaven-sent rain to freshen-up your little .treasures, drop me a line. I couldn't really be accused of being a "fair-weather" motorcyclist because, with only one exception in the past twelve months, it has rained during each of my road-tests. Not just rained. The sort of stuff that, if Noah was still around, would send him rushing to the do-it-yourself shop with an open cheque and an order for 15 cwt. of six-inch nails. Not that I mind a little rain. It's a lot of it that I object to.

It was a (need I say it?) dark, wet morning when I ruddy awoke the Thunderbolt from its dreams of high-speed cruising along sunbaked highways and started its big engine with a solitary prod of the kick-starter, and a half-dosed air slide. The key to the coil-ignition system is situated on the left of the steering head.

We splashed our way through the streets of London which, at that hour, seem only to be used by car-loads of burly men wearing concrete-impregnated jackets and Wellington boots with a 10-inch turn-over.

In traffic, you would never imagine that it was a 650 on which you were sneaking through, except when the throttle is opened and the acceleration gives a sharp reminder.

If you want superb motorcycling, try a BSA Thunderbolt.

But don't go on the same day as me. Unless you're a flower-grower, of course.
Motorcyclist Illustrated, 1967