BSA B50SS, T & MX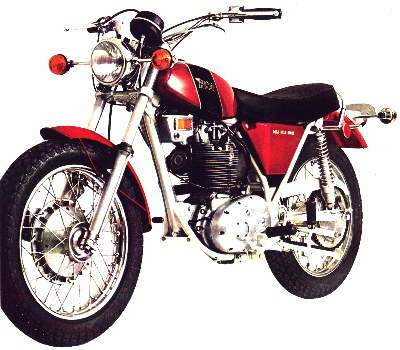 "B50SS"
Make Model

BSA B50SS, B50T, B50 MX

Year

1971 - 73
Production
5700 units

Engine

Single, 4-stroke, OHV

Capacity

499 cc / 30.5 cub in.

Bore x Stroke

84 x 90 mm

Carburettors

B50 SS & T Amal R930/62

B50 MX (71-72) Amal R932/18, (73) Amal R932/28

Cooling System
Air cooled

Compression Ratio

10.0:1
Lubrication
Wet sump
Engine Oil
SAE 20W/50
Oil Capacity
3.4 L / 6 pints / 0.9 US gal
Exhaust
Single, chrome plated

Ignition

Lucas RM21
Spark Plug
Champion N4
Battery
12V
Starting
Kick

Max Power

25 kW / 34 hp @ 6200 rpm

Max Torque

37.9 Nm / 3.86 kgf-m / 28 ft/lb @ 5000 rpm
Clutch
Multi-plate, wet, cable operated

Transmission

4 Speed
Final Drive
Chain
Frame
Welded frame with larger diameter top tube for strength

Front Suspension

Telescopic forks

Rear Suspension

Swing arm, 2 shocks wiith dampers

Front Brakes

8 in. drum, leading shoewith snail cam shoe adjustment

Rear Brakes

7 in. drum with floating cams
Wheels
Steel, spokes

Front Tyre

SS & MX: 3.25 x 18 in.

T: 3.00 x 20 in. Trials

Rear Tyre

SS & MX: 3.5 x 18 in.

T: 4.00 x 19 in. Trials

Dimensions

Length: 2159 mm / 85.0 in.

Width: 737 mm / 29.0 in.

Height: 1105 mm / 43.5 in

Wheelbase

1372 mm / 54 in.

Ground Clearance

SS & MX: 178 mm / 7 in.

T: 191 mm / 7.5 in.

Seat Height
813 mm / 32 in.

Dry Weight

B50SS & MX: 140.6 kg / 310 lbs

B50 T: 135.0 kg / 298 lbs

Wet Weight
184 kg / 406 lbs

Fuel Capacity

UK: 18.2 L / 4.8 US gal

US: 9.1 L / 2.4 US gal

Standing 0 - 100 km/h / 62 mph
7.4 sec (B50SS model)

Top Speed

B50SS: 160 km/h / 99 mph

B50T & MX: 145 km/h / 90 mph

Review
Sump publishing
Of the 5,700 or so that were built, survival rates are low. Which is partly why today the B50 is as rare as a priest with a clean conscience. It's not the easiest bike to live with. And it needs a good dose of retro-engineering to get the very best from it. But you can be sure that ownership of one will, at least, never be dull.
But was it ever worth the hallowed Gold Star name that was bestowed upon it? It's a debate that still rages.
Overall, these are great little BSA singles. You wouldn't want to ride two-up on one—unless most of your journeys were shorter rather than longer. But as a solo mount, it's a stylish thumper with a hidden chunk of lead in its glove.
Remember to duck.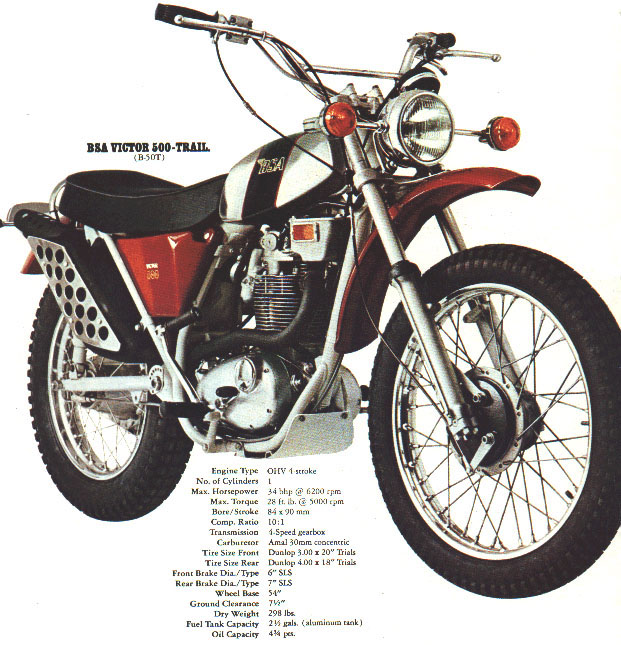 "B50T Victor"
1. The unit single crankcases were originally designed for a 250cc engine. Accordingly, the B50 pressures beneath the piston are considerable and put a huge load on gaskets and seals. A timed breather is vital to keep the crankcase at negative, or at least neutral, pressure. Well-fitting mating surfaces are essential if you want to keep the oil in rather than out.
2. Poor handling is often attributed to the swinging arm bearings. These pivot on needle rollers and need plenty of grease to avoid seizure. Raise the bike and check for play. Replacement is straightforward.
3. The extra torque of the B50 means that clutches are prone to slippage and so need need to be kept in tip-top shape. Solutions include an extra friction plate, an extra steel plate, stronger clutch springs, and an alloy pressure plate.
4. The bore can be opened up to 90mm giving 572cc for extra stomp. You'll also need to gas flow and fit a larger (32mm) carb.
5. Ignition coils were always weak leading to poor starting, irregular tickover, and misfires. Fit the best quality replacements you can afford along with a new condenser and quality plug lead.
6. Whilst good enough for general use, high performance B50s will require an upgraded crankpin such as Alpha. A Carillo conrod is also highly recommended.
7. Rocker boxes are prone to leakage which can be sorted by careful linishing.
8. Poor crankcase scavenging seems to affect some bikes more than others, and is said to be due sometimes to mismatched sump covers blocking oil pick-up holes.
B50MX
Introduced in 1971, the B50MX (Motocross) was the last competition motorcycle announced by BSA, just as the company's efforts came to a close. Developed through the great success of the BSA 'works' machines in motocross, and using bikes based on the B44 Victor, the B50MX offered a strong and powerful 500cc engine. A new chassis design which saw the introduction of an oilbearing frame and its extreme slimline aesthetic that was enhanced by a beautiful tucked-in exhaust system ensured this machine's place in history as it was one of the rarest and most successful BSA MX designs of the period.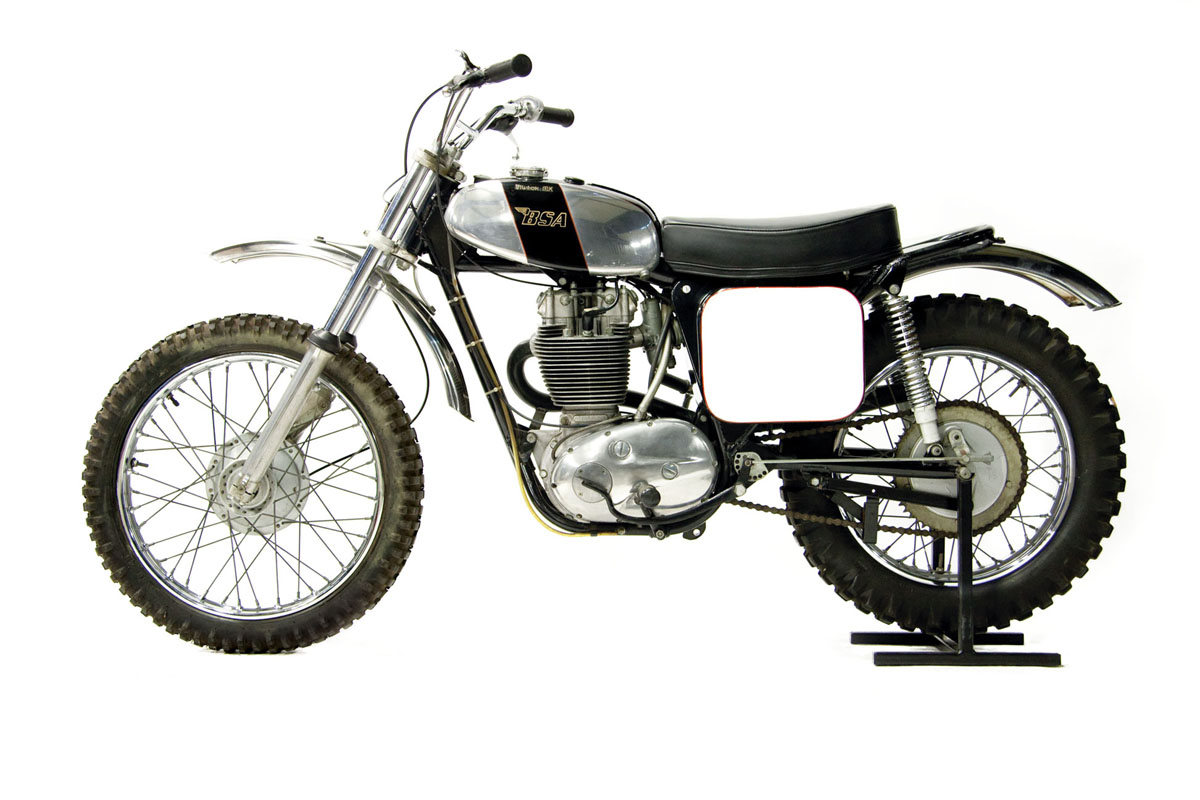 "B50MX"