BSA DB32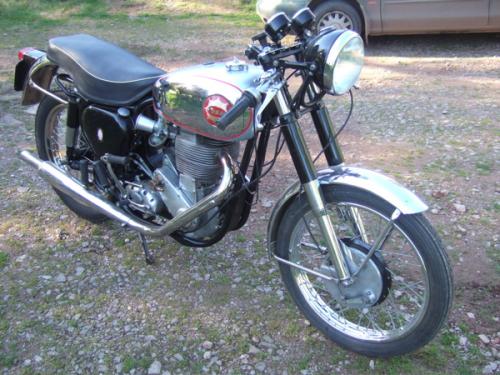 | | |
| --- | --- |
| Make Model | BSA DB32 |
| Year | 1956 |
| Engine | Single cylinder, 4-stroke, OHV |
| Capacity | 348 cc / 21.2 cub in. |
| Cooling System | Air cooled |
| Carburetor | Amal GP |
| Exhaust | Single, steel, chrome |
| Starting | Kick start |
| Transmission | 4-Speed |
| Final Drive | Chain |
| Maximum Power | 24 kW / 32.5 hp @ 7500 rpm |
| Frame | Swingarm duplex frame |
| Top Speed | 177 km/h / 110 mph |
| Colours | Black frame/chrome tank |
| Source | |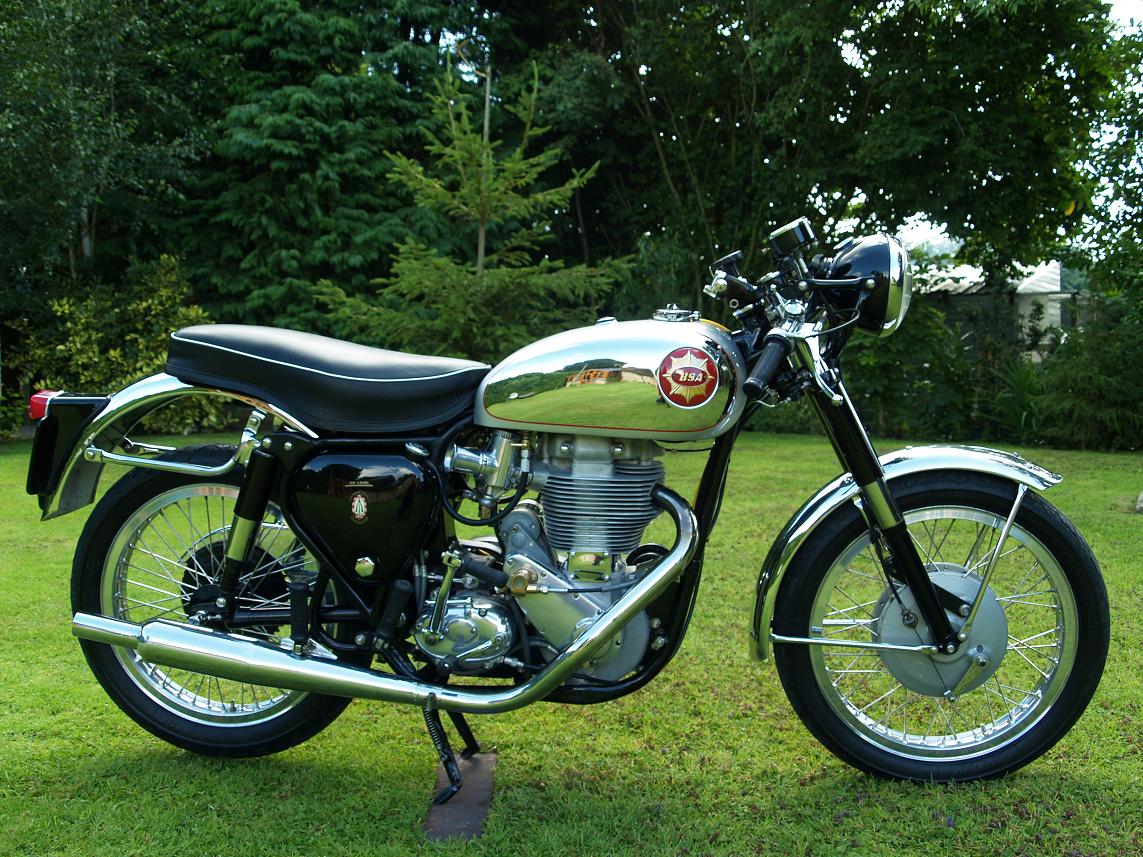 Early Gold Star History
In 1937 the fast BSA was the Empire Star & Wal Handley came out of retirement to ride one in a 3-lap race at Brooklands. His fastest lap was 107.5mph & anything over 100mph earned a coveted "Gold Star" pin. BSA was so proud that they named their top-of-the-line single the BSA Gold Star. The first Gold Stars started out as BSA M24s, with an all-alloy engine, an Electron alloy gearbox & a lightweight frame. Alas, just as development & production got underway, the War intervened & all civilian production was diverted into producing war materiale. These pre-war BSA Gold Stars moved from sports to fast tourer, but failed to find much favor with the buying public. Fewer than 500 Gold Stars were produced prior to the war.

After the War
At the end of World War 2, BSA was the largest producer of motorcycles in the world & one of the largest companies in the British Empire. As civilian markets became starved for motorcycles, BSA ramped up production to meet demand. At the time, they were producing only single cylinder models. In 1948, BSA revived the Gold Star name with the B32 in 350cc. These were custom-ordered then built by hand to the customers' specifications & bench tested. This would become a Gold Star tradition.

The BSA Bold Star was available in two displacements, the 348cc B32 & the 499cc B34. The new Gold Star engines used an all-alloy cylinder barrel & head which was 20 pounds lighter than the cast iron unit of the B-series singles. These hand-built engines were available with different compression ratios, cams, carburetors & exhaust systems, and two different cylinder heads, one for the Trials version & the other for everything else. They were then run on a dynamometer & the test results with power output were shipped with the bike. Besides engine specs, the BSA Gold Star could be ordered in Touring, Trials, ISDT, Scrambles, Racing or Clubmans trim.
The end draws near
Despite a brilliant career & incredible success both on the track & in the showroom, the BSA Gold Star had run its course & the end was inevitable. The big single was no longer competitive in road racing against twins & off-road racing was now being dominated by lightweight 2-strokes. The Goldie had been past up by technology. BSA Motorcycles could have squeezed another year or so out of it, perhaps, there surely was enough demand. But Lucas Electrics had stopped making magnetos & BSA was running out of their stockpile. By the end of the 1963 model year, BSA ceased producing Gold Stars. It was replaced in 1964 with a new line of unit-construction singles lead by the B50. While more modern in every way, they failed to attract the kind of attention & respect that the Gold Star had in spades.