Make Model

Beta RR 498 Enduro

Year

2011-12

Engine

Four stroke, single cylinder with countershaft

Capacity

497.9 cc / 30.4 cu in

Bore x Stroke

100 x 63.4 mm

Compression Ratio

12.0:1
Lubrication
Forced, 2 oil pumps
Engine Oil
15W-50
Oil Capacity
0.85 L / 0.22 US gal

Co

oling System
Liquid cooled

Induction

Keihin FCR-MX 39

Ignition

DC-CDI with variable ignition timing, Kokusan.

Starting

Electric and kick
Spark Plug:
NGK LKAR 8A-9
Clutch
Wet multi-disc

Transmission

6 Speed

Final Drive

Chain

Gear Ratios

1st 12:31 / 2nd 15:28 / 3rd 19:28 / 4th 20:24 / 5th 27:27 / 6th 28:24

Primary Drive

28:76
Frame
Molybdenum steel with double cradle split above the exhaust port

Front Suspension

Sachs USD fork, Ø48 mm, adjustable compression and rebound, TFX technology

Front Wheel Travel

290 mm / 11.4 in

Rear Suspension

Sachs mono shock w/adjustable rebound, hi/low speed compression,

Rear Wheel Travel

290 mm / 11.4 in

Front Brakes

Single Ø260 mm floating disc 2 piston floating caliper

Rear Brakes

Single Ø240 mm disc, 1 piston floating caliper

Front Rim

1.6 x 21

Rear Rim

2.15 x 18

Front Tyre

90/90 -21

Rear Tyre

140/80 -18

Dimensions

Length: 2180 mm / 50.4 in

Width: 807 mm / 31.8 in

Height: 1270 mm / 50.0 in

Wheelbase
1490 mm / 58.7 in
Seat Height
940 mm / 37.0 in
Ground Clearance
320 mm / 12.6 in
Footpeg Height
413 mm / 16.3 in

Dry Weight

110 kg / 242 lbs

Fuel Capacity

8.4 L / 2.2 US gal

Fuel Reserve

1.5 L / 0.4 US gal

Review

Dirt Bike Magazine, 2012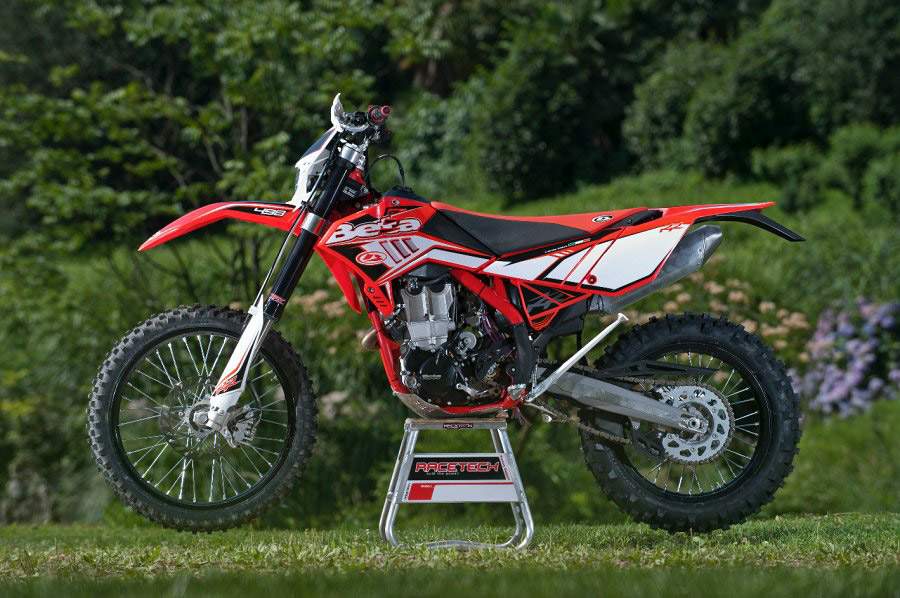 The Beta RR Enduro models have become well known for their immediate and genuine approach, for reliability, long maintenance intervals and, last but not least their 100% Italian style. Today, the third generation RR4T models are equipped with our own engine made in Rignano Sull'Arno and arrive on the market as the result of a continuous development for many different riding abilities. Many are the refinements and innovations, both on the frame and the engine, all designed to increase reliability and riding feeling. A wide range of displacements are now available, strengthened by the new 350cc engine, a first for Beta in the enduro market. For 2012 Beta has developed a complete range of enduro bikes to appeal to both the weekend hobbyist as well as the seasoned Pro.
Engine:

* Redesigned cylinder head including reinforced camshaft bridge, valve retainers, and updated cam chain tensioner to help reduce engine noise.
* New clutch primary gear and springs for better engagement and clutch action.
* Updated counterbalance bearings for increased reliability.
* Stronger cam chain guides
* Increased oil volume to the engine cam chain for reduced friction.
* New oil drain plug for easier oil changes.

Chassis:

* All new Sachs 48mm fork with TFX technology, developed by Sachs exclusively for Beta. This new design allows the fork to move through its stroke with very little friction.
* New SKF fork seals and wipers with self-lubricating compounds to also reduce stiction.
* New triple clamp to match perfectly with the new front fork.
* Redesigned frame with extra gussets as well as an increased tube diameter on the lower tubes. This new frame has less flex and has improved stability.
* New front and rear brake rotors.
* New Brembo clutch master cylinder for a better clutch feel and engagement.
* Redesigned muffler (Spark Arrestor) offers better flow while retaining a quiet exhaust note.
* Redesigned front headlight and front fender support
* Striking new red color for 2012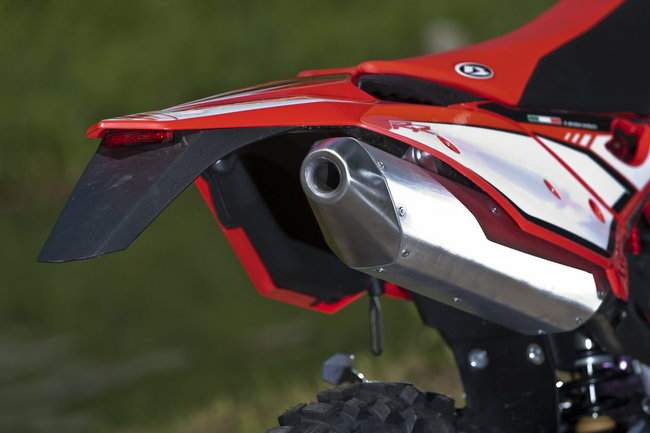 Let's be clear: If you own a Beta off-road bike, you're not normal. We're not calling you a freak or an outcast, we're just saying you don't like being one of the masses. It also means you know your stuff. It's easy to have something weird if you don't care about how it works, but all of the bikes that Beta produces are right at the top of their respective categories—dirt bikes, dual-sport bikes, trials bikes. All of them are specialized, rare, expensive and very, very good. The Beta 498RR is a perfect example. It's a member of a club that's already very small. There aren't many over-450cc off-road bikes, and among them, the Beta stands apart. It looks different, it works different and it is different—all in a very good way.
A BETA BIKE
Let's back up a little. Beta is a very old Italian company that historically specializes in trials bikes. A few years ago it entered the off-road and dual-sport markets with KTM-powered motorcycles. They were certainly good, but Beta didn't come into its own in the dirt bike world
until it developed its own motor three years ago. It was— and still is—excellent. It's a double-overhead-cam, liquid-cooled, electric-start motor with four titanium valves. Beta is one of very few holdouts when it comes to the motor's intake. At the other end of the throttle is a 39mm Keihin carburetor rather than EFI. That's probably one reason why the bike works so well; Beta has spared itself the trial and error of making injection work. The Beta still meets EPA and CARB standards, although it clearly is cutting it close to the mark. Any bike that satisfies the U.S. government is usually very lean, whether it has a carburetor or an injector. In this case, the compliance is virtually invisible. The 498 makes the grade, but it isn't burdened with unworkable jetting that must be changed at the consumer end. The Beta is sold ready to ride.
On the chassis side, the Beta has a good old-fashioned steel frame. It doesn't have the trickness factor of the current crop of Japanese aluminum-framed offerings, but the properties of chromoly steel are pretty much spot-on for off-road riding, where a slight amount of frame flex adds to the comfort factor. This year the Beta uses a fork that is made by Sachs, a company that supplied only the shock in the past. The 498 has a number of Japanese parts, like the Nissin brakes and the Kokusan ignition, and are mixed in with Euro stuff, like the Brembo clutch master cylinder, a Supersprox aluminum sprocket and Michelin tires. It has a spark arrestor in a beautifully made stainless exhaust system.
RACE ME
Last month we tested the 520RS, which is the same basic machine in dual-sport trim. Just for the heck of it, we rode the bike from Southern California to Primm, Nevada, where we raced the second WORCS event of the year. The only real limitation we faced was suspension—you can't have it both ways. Either you can have it cushy and comfy, or you can deal with massive whoops like the ones at Primm. The RS falls on the cushy side, but it did what it could do in the face of conditions that were beyond its design parameters. This time around we had not only a real dirt bike, relieved of all street duties, but one that's upgraded with premium suspension. We took it straight to the Six Hours of Glen Helen, a notoriously rough race.
Up front, all the things that made the RS so good still apply. The 498 has a sweetheart of a motor. It's a generous bike that relieves you of much of your workload. It has a long, long powerband so that you don't have to shift as much. It has great torque so you don't have to clutch it out of turns. It has nearly perfect carburetion so you don't have to worry about stalling out. It never coughs and dies or misbehaves in any way. The hydraulic clutch is easy to pull, the throttle response is quick, and the gearbox is light with six evenly spaced ratios. There's no term that applies better than "sweet."
If there's any flaw in the motor's credentials, it's the fact that it's no motocrosser. The Beta is so busy being Mr. Nice Guy, it forgets to get down and boogie. It has no real punch, just even-tempered pulling power. For the trail sections of the Glen Helen cross-country course, there's no real issue with that, but any off-road race bike in today's landscape of mixed venues has to be part motocross bike too. On the moto sections of the track, the Beta never really explodes out of the turns.
THE GOOD STUFF
For 2012, Beta made some changes to its steel frame to make it slightly more rigid. The bike handles great, just like the RS. In our last episode, we couldn't really push the bike very hard before the dual-sport suspension would object. The RR's stiffer suspension settings allowed us to ride at a full race pace, and we discovered something very interesting: nothing. The bike handles just as good when it's nearing a ten-tenths pace. No handling glitches popped up, and there were no surprises. It's still not the lightest bike in the world, but well within an acceptable range for an electric-start off-road bike. Like the previous Betas that we have tested, the 498 has a fondness for speed. It goes straight and never gets spooky.
As far as the suspension goes, we were pleased, but with some reservations. The Sachs fork can be harsh in some types of terrain. It doesn't like sharp edges or small, burdensome choppiness. In whoops and on jump landings, it's very good. In the rear, it was almost the opposite; in whoops, it seems to move too much and too quickly. We had very little setup time, but managed to stiffen up the rear end while the race was in progress. For out-of-the-crate settings, the Beta scores quite well.
As for the bike's overall attention to detail, we're big fans. We like the pop-off airbox side cover, levers, bars and rims. The Nissin brakes are strong, although not quite as powerful as the Brembos that come on other Euro bikes. We're just as impressed as ever with the rid-ing position and overall comfort. The RR has the same small glitches that we noticed on the RS last month. The electric starter struggles to light up the engine to the point that it's sometimes better to kick. The push-button system for removing the seat is great, but it can be difficult to reinstall. The tank is smallish, although that's becoming disturbingly normal. Beta sells a tank that carries 3.7 gallons, which we tried last month. It's great, but something in the middle would be nice. You can get that tank as well as about a million other options when you buy the bike under the Build-Your-Own Beta program. The BYOB program allows you to spec out the bike through the website before it's built. Beta airfreights each bike from Italy.
Thankfully, there's not much the bike needs. When you start off with a $9000 machine, you shouldn't have to spend much more. The upgrades that you get with the Factory Edition are definitely worthwhile—and of all the BYOB options, handguards are probably the best add-on option. But even if you add nothing, you don't have to worry about having an "ordinary" Beta. There's no such thing.