Beta RR 525 Motard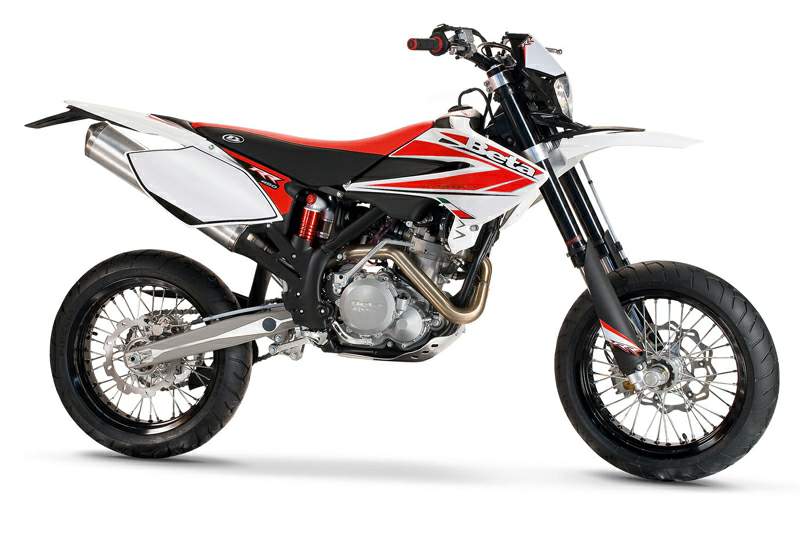 Make Model

Beta RR 525 Enduro

Year

2011 - 12

Engine

Four stroke, single cylinder, 4 valve

Capacity

510 cc / 31.1 cu in

Bore x Stroke

95 x 72 mm

Compression Ratio

11.0:1

Co

oling System
Liquid cooled

Lubrication

Forced, 2 oil pumps

Engine Oil

15W-40

Oil Capacity

1.3 L / 0.34 US gal

Induction

Keihin FCR-MX 39

Ignition

DC-CDI without trembler with variable ignition timing, Kokusan type

Spark Plug

NGK DCPR 8 E

Starting

Electric and kick

Clutch

Wet, multi-disc

Transmission

6 Speed

Final Drive

Chain
Gear Ratios
1st 14:34 / 2nd 17:31 / 3rd 19:28 / 4th 22:26 / 5th 24:23 / 6th 26:21
Primary Ratio
33:76
Frame
Molybdenum steel with double cradle split above the exhaust port

Rake

26.5°

Trail

108.5 mm / 4.3 in

Front Suspension

Hydraulic USD fork, Ø45 mm

Front Wheel Travel

290 mm / 11.4 in

Rear Suspension

Monoshock with progressive compound lever, 300mm wheel travel

Rear Wheel Travel

300 mm / 11.8 in

Front Brakes

Single Ø255 mm floating disc, 2 piston floating caliper

Rear Brakes

Single Ø240 mm disc, 1 piston floating caliper

Front Wheel

1.6 x 21

Rear Wheel

2.15 x 18

Front Tyre

90/90 - 21

Rear Tyre

140/80 -18

Dimensions

Length: 2270 mm / 89.4 in

Width: 813 mm / 32.0 in

Height: 1255 mm / 49.4 in

Wheelbase
1500 mm / 59.1 in
Ground Clearance
320 mm / 12.6 in
Seat Height
940 mm / 37 in
Footpeg Height
405 mm / 15.9 in

Dry Weight

115.5 kg / 255 lbs

Fuel Capacity

8.5 L / 2.2 US gal

Fuel Reserve

1 L / 0.3 US gal

Review

Motorcycle USA
This street-legal supermoto is really a dual sport at heart with a set of 17-inch motard wheels, stubby front fender and a shortened kickstand the only differences between the standard RS and the RS-supermoto models. The bike certainly looks more exotic in motard form. Even a layman can tell that it's a dirt bike, but the shorty front fender and street tires instantly tell observers that there's something special about the Beta. Something as simple as swapping wheels changes the bike's attitude fast enough to rival your girlfriend's mood swings. Similarly, that's a blessing and a curse.

The ability to go from dual sport to motard is great, but the bike needs further modifications to be completely effective, primarily larger brakes and revised suspension. It simply can't be as good at one as it is the other without additional mods. However, the mere fact that it does convert so easily makes for a boatload of potential to prospective buyers. We found that the Beta is all about mindset. Once you've got an understanding of what it does and how it goes about it, the big 525 starts to grow on you, fast. First and foremost, this bike really is a dual sport model, and the supermoto attachments are secondary. Since it was delivered in SM trim, we'll start there.

Some of our early testing was performed on the freshly paved local supermoto track. We brought out an experienced SM rider to give feedback and it became immediately clear that Beta's key phrase "the play bike" fully applies in this situation. It isn't a racer, it's a super-fun street legal divebomber. A 255mm Braking wave rotor gives good feel up front, but only for a brief period on the track (about four laps with our expert). Even our lesser riders heated the brakes to unusable levels in short order. Fortunately, Braking is known in the supermoto world for its oversized offerings, so if you're serious about track use then the possibilities are there. We just did it because we could, but the other 99% of pavement pounding was what we'd call normal, and for that there's no fading issue. We only mention it because as a 50-state legal bike it does allow for a jaunt over to the local kart track to try your hand. We don't want anyone sailing off-course at the end of the big straightaway.

Using the rear brake is what takes the most getting used to. It has a spongy feel and doesn't really grip the 240mm rotor until deep in the pedal stroke, but the early lever movement provides some stopping power. The light squeeze was beneficial in low traction situations, especially going into paved corners too hot and trying to stay on the brakes late. The limited contact patch afforded by dual sport tires makes this even more dangerous, but once we got the hang of the floating single-piston Nissin caliper, we started enjoying its performance. It also allowed us to drag during technical off-road sections without locking up. The 525 is no featherweight, so avoiding skidding was important.

Pirelli Diablos provided much better grip on the street, though they aren't a gummy race tire. As dirt riders we're not accustomed to thinking about tread wear in this sense, but even with the hard track use we hardly scuffed the Diablos, so they should last a commuter for quite awhile. Once we bolted on the 21-inch front and 18-inch rear tires, we spent most of our time with the MT21 treads installed. Side-to-side transitions are much slower with the enduro wheels, but the bike feels light either way in the grand scheme. Seat height raised from 35.5 to 37 inches. Our 5'11" tester was flat on his feet at every stop sign with the smaller wheels, but was still able to touch comfortably with the taller arrangement.

Handling is very stable, even at high speeds and without any wind protection, the front end never shakes. Suspension is handled by a 45mm Marzocchi Shiver fork and Sachs shock. The Shiver has a harsh feel at the top of the stroke and once it gets past that it uses the rest of the travel very quickly. We noticed this sensation most when hitting large holes on gravel roads. The fork didn't react well to these impacts, but on the trail, where speeds were lower and standing up placed emphasis on the front wheel, the Marzocchi generally operated below that harsh region. Overall it's definitely on the soft side, and hard braking causes diving on the pavement. Considering that we commuted all week, rode the track one day and used the weekend for a multi-day dual sport adventure, the rear shock was very good. We hardly touched it and found the Sachs component enjoyable for all uses.

The double-cradle chassis is made of molybdenum steel and the subframe gets a new black powdercoating for 2009. The improved looks and durability are nice, but it caused us a bit of trouble early in the form of an inconsistent battery ground. Once that was tracked down, the big KTM lump was much easier to get along with. We had a lot of comments about the Beta in general; riders wondering what it was and how it performs. Interestingly, once they found that it has a KTM engine, every rider perked up and seemed to warm to the idea of possibly owning one for themselves. It's something we can understand, because frankly, we love that motor. The 510cc powerplant uses 11:1 compression inside the four-valve, single overhead cam RFS engine.

Once we had more than trail tools at our disposal (even though Beta provides an awesome kit), we simply removed the charcoal canister, check valve and vacuum hose. The bike instantly ran better, though it felt like it revved out sooner. Beta realizes that most owners will likely be interested in this option and provides a service bulletin which explains how and offers additional jetting options. Gearing on the street is fine at 15/45, but it's too tall for consistent off-road work. We'd bump to at least a 48-tooth rear or drop one tooth on the countershaft sprocket to begin with so that second gear is more usable. Single track required too much use of first gear; even though the motor has plenty of grunt to lug around we got tired of abusing the hydraulic clutch. It hauls the mail though for brief freeway stints.