Aermacchi H.-D. Ala d'Oro 125 1970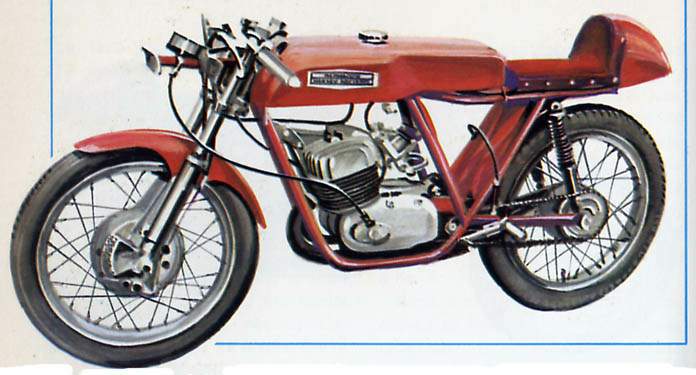 Aermacchi was a great advocate of high-performance four-stroke engines. But in 1967 the company followed the current fashion and built a racing motorcycle with a two-stroke engine.
At first the object was to produce a new vehicle that would be competitive in the 125 class for loyal customers who raced in the Italian Junior championship.
The Ala d'Oro 125 was inexpensive to buy and maintain, and it offered a level of performance superior to that of the four-stroke Morinis and Motobis that dominated racing at the time.
But the small motorcycle, with its 20 h.p., proved from the time it was first raced-—in 1968—to be competitive in professional racing as well.
Eugenio Lazzarini and Silvano Ber-tarelli rode the 125 during the Senior season against the Villa brothers and Giuseppe Mandolini, whose motorcycles were powered by single-cylinder rotating-disk engines. Bertarelli won the championship, and the Ala d'Oro, which up to this time had been sold primarily in Italy, became a popular racer even with foreign drivers. One of them, the Australian John Dodds, won the 1970 West German Grand Prix on the Niirburgring track during very bad weather. Much of his success was due to the great maneuverability of the small vehicle.
Motorcycle: Aermacchi-Harley-Davidson Ala d'Oro 125
Manufacturer: Aermacchi-Harley-Davidson, Varese
Type: Racing
Year: 1970
Engine: Aermacchi-HD single-cylinder, two-stroke, with cross-port distribution. Displacement 123.1 cc. (56 mm. x 50 mm.)
Cooling: Air
Transmission: Six-speed block
Power: 25 h.p. at 10,800 r.p.m.
Maximum speed: Over 115 m.p.h.
Chassis: Double cradle, continuous, tubular. Front and rear, telescopic suspension
Brakes: Front, central drum, four shoes, four-cam; rear, central drum