Aermacchi Ala d'Oro 250-350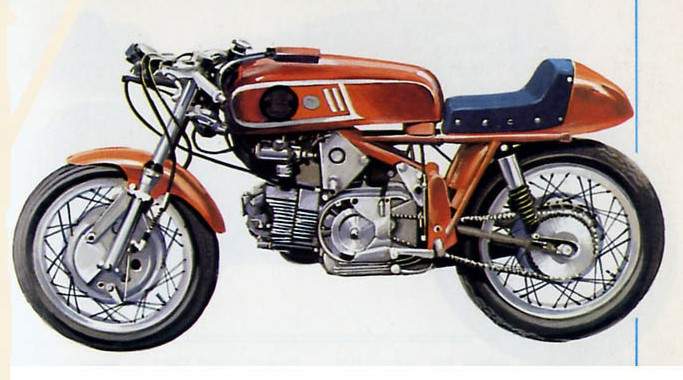 The 1957 Ala d'Oro ("Gold Wing") 175 was derived from an ordinary motorcycle, but it was the first of a whole series of very fast vehicles, all having the same basic engine, that won important races throughout the world. Its descendants were built in three different sizes—250, 350, and 500.
The 1957 Ala d'Oro 175 generated 16 h.p. at 8,000 r.p.m., and it soon became the main rival of the Morini Settebello in national, second-category racing. In 1960 its displacement was increased to 250 cc.
The Aermacchi Ala d'Oro engine was a classic four-stroke model with an almost horizontal cylinder and rod-and-rocker distribution, which most racing people had considered outmoded as early as the 1920s.
Nevertheless the 250's 22 h.p., albeit inferior to that of the best 1960 125 Grand Prix models, gave technicians reason for optimism about the engine's performance. In 1961 the engine generated 26 h.p., and this was increased by 2 h.p. in 1962. In 1963 the long stroke was replaced by a newer, more powerful system.
Aermacchi's racing credit improved as well. The new vehicle was raced by Gilberto Milani, Alberto Pagani, and Giuseppe Visenzi, and it also attracted the private racers on the Continental Circus, whose motorcycles were in need of technical modernization.
In 1964 Aermacchi put a 350 into the field (74 mm. x 80 mm.) that generated 33 h.p. at 8,000 r.p.m. at once. Two years later Renzo Pasolini, the official Aermacchi racer, rode the 350 to third place in the world championship.
After Pasolini switched to the Benelli company, the Ala d'Oro 350 continued to turn in fine performances. In 1968 Kel Carruthers, one of the best private racers in the world, rode the Ala d'Oro to third place in the world championship, behind Giacomo Agostini with an MV and Pasolini with a Benelli. In 1969 Milani, Carruthers, and the Irishman Steenson came in second at the Spanish, British, and Yugoslavian Grand Prix.
Although the Ala d'Oro 250 won second-category races in Italy, it was technically outmoded, as was the 350. They were not outdistanced so much by the development of the four-stroke racing engine as by the extraordinary rise of the two-stroke.
Motorcycle: Aermacchi Ala d'Oro 250-350
Manufacturer: Aeronautica Macchi, Va-
rese Type: Racing Year: 1970
Engine: Aermacchi single-cylinder, four-stroke, with overhead valve distribution, rod and rocker. Displacement 248.3 cc. (72 mm. x 61 mm.—250); 349.2 cc. (77 mm. x75 mm.—350)
Cooling: Air
Transmission: Five-speed block
Power: 32 h.p. at 10,000 r.p.m. (250); 42 h.p. at 9,000 r.p.m. (350)
Maximum speed: Over 130 m.p.h. (250); over 135 m.p.h. (350)
Chassis: Upper bar, tubular, with stamped-plate parts, engine suspended; front and rear, telescopic suspension
Brakes: Front, central drum, four shoes, four-cam; rear, central drum, double cam