AJS "PORCUPINE" 1954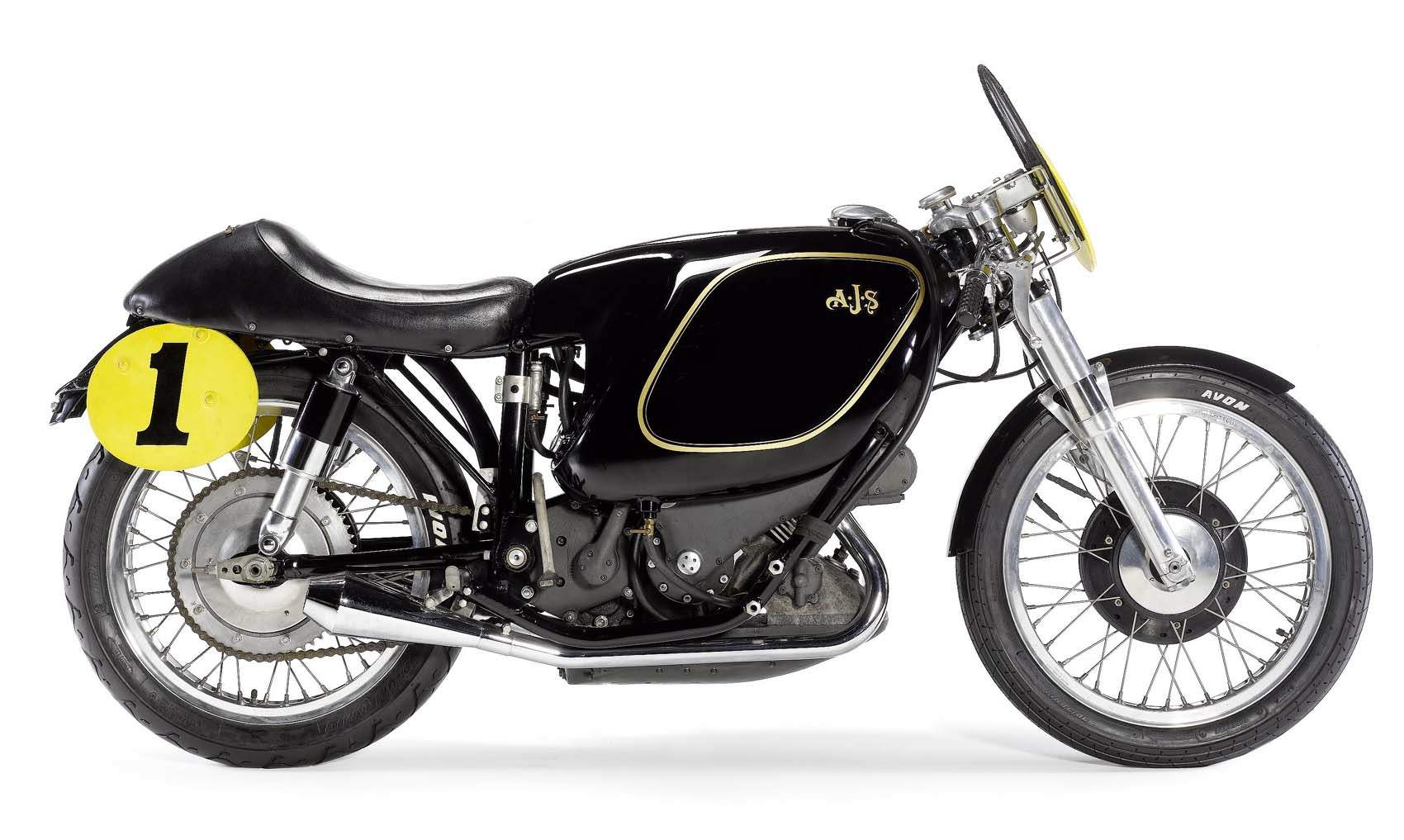 1954 A.J.S. "PORCUPINE". A lineal descendant of the original I_T'Porcupine", by 1954 A.J.S.'s racing
500 c.c. twin had been considerably revamped during seven years' steady development.
Gone were the original spike fins on the cylinder-heads—though the name "Porcupine" stuck.
The cylinders were raised to an angle of 450, which gave better cooling of the cylinder-heads in the exhaust port area, where, previously, they had been shielded by the cam-box. A large sump lay between the exhaust pipes and carried seven pints of lubricant— weight low down generally helps handling.
A major innovation was the employment of weir-type carburetters in which no float chambers of the normal type were used. Instead a small header tank was formed in the rear of the petrol tank and this fed a small chamber for each carburetter, an overflow pipe letting excess petrol flow to a container just astern of the oil sump. From there petrol was pumped back up to the header tank by a pump driven from the magneto driving cross-shaft.
Drive to the overhead camshafts, and from engine shaft to gearbox, was still by gears, and the unit retained the plain centre main and big-end bearings introduced in the original design.
In 1954 the value of streamlining was just beginning to be appreciated, although there was still a lot of doubt as to whether the additional weight was worth the gain in speed.
The A.J.S. designer got around this, in a very neat way, by making the fuel tank a very low-slung affair, with deep recesses for the rider's knees. This enabled 6\ gallons of fuel to be carried, put a lot of the fuel load weight low down and also gave a few extra m.p.h. because of the streamlining effect.
At the end of its development, the 1954 engine was developing 54 b.h.p. at 7,500 r.p.m.—very good, but not enough to catch the Italian fours.
SPECIFICATION
Engine: parallel-twin 500 c.c. d.o.h.c; light-alloy cylinders and cylinder-heads; gear train drive to camshafts.
Ignition: magneto.
Transmission: spur gears to four-speed gearbox in unit
with engine; final drive by chain. Frame: duplex cradle with pivoting-fork rear suspension. Forks: A.M.C. "Teledraulic" telescopic.