AJS "PORCUPINE"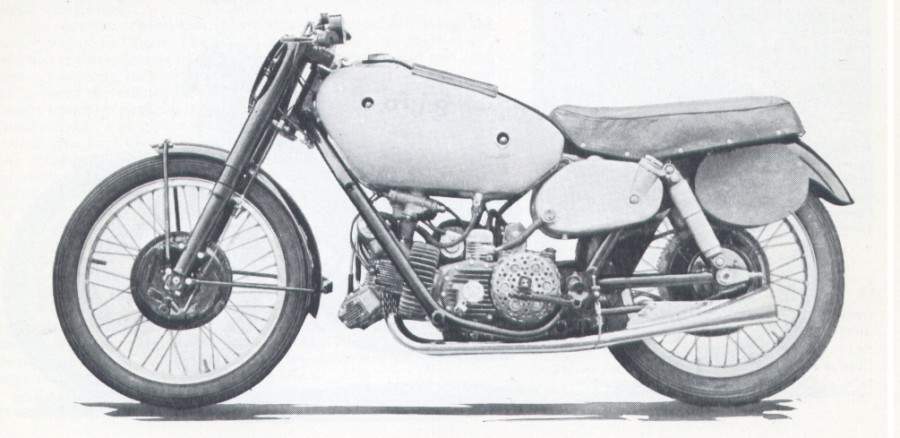 947 A.J.S. "PORCUPINE". Probably the unluckiest design ever to emanate from the Woolwich A.M.C. factory as far as the T.T. races were concerned was the racing twin announced in May 1947 and, because of its peculiar cylinder-head finning, quickly dubbed the "Porcupine". In its eight years of development it scored successes everywhere—except in the T.T. Few racegoers cannot have heard of the cruel luck that befell the late Les Graham who, when leading the 1949 "Senior" very comfortably, had a magneto armature spindle shear when almost in sight of the finish.
The engine, designed with a four-speed gearbox in unit, had its cylinders lying almost horizontal. Primary drive was by gears (the engine ran "backWards") and the entire unit had originally been intended to include a supercharger mounted atop the gearbox. Twin overhead camshafts were driven by a gear train carried in a Y-shaped case on the offside of the unit. A full duplex cradle frame, with swinging-fork rear suspension, had the by-then-famous "Teledraulic" front fork similar to that pioneered during the war on W.D. 350 c.c. Matchless machines. Both front and rear suspension had 3 in. of movement and the rear units were of the oil and air type.
In their first T.T. the A.J.S. twins were too new to do more than be in a "useful"' position if anything went wrong with the Norton stars. Nonetheless, Les Graham was only 3 m.p.h. down in sixth place at the end of six laps—his chain came off at Governors Bridge on the last lap and dropped him to ninth finishing position after pushing in. "Jock" West had battled with a slipping clutch on the opening lap and this took him 84 minutes, but by cracking round and making second-fastest lap of the race he finally worked up to finish fourteenth. If that clutch had been O.K. at the start. . .
SPECIFICATION
Engine: parallel-twin 500 c.c. d.o.h.c; light-alloy cylinders and cylinder-heads; gear drive to camshafts.
Ignition: magneto.
Transmission: spur gears to four-speed gearbox in unit
with engine; final drive by chain. Frame: duplex cradle with pivoting-fork rear suspension. Forks: A.M.C. "Teledraulic" telescopic.