AJS 350 Big Port 1923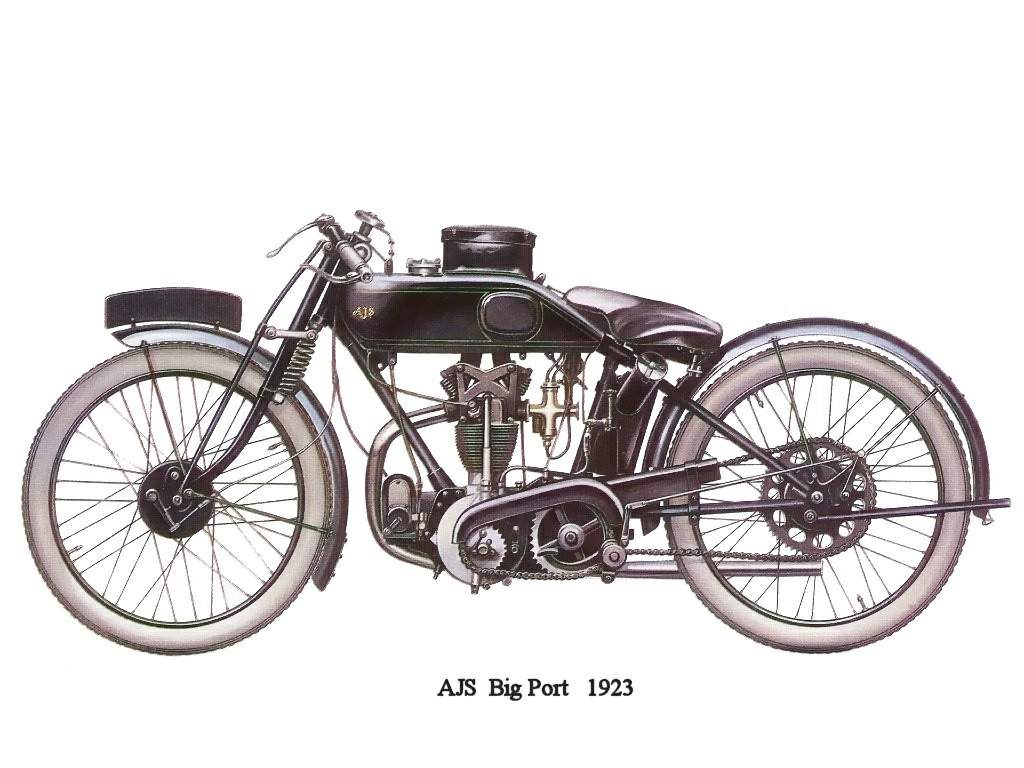 When World War I came to an end, AJS, one of the leading British motorcycle manufacturers, went back to mass production. The Stevens brothers' plant had consistently maintained a reputation for high-performance vehicles and the postwar AJS 350 immediately made a name for itself for its modern design and high speed.
The Tourist Trophy was revived in 1920 but attracted only a small turnout. In 1921, however, the leading motorcycle manufacturers were all back at the Isle of Man. AJS entered some racers in the 350 class that were remarkable for their oversize exhaust ports, more than two inches in diameter—hence the name "Big Port." The engine was a four-stroke single-cylinder with overhead valve distribution, operated by long external rods.
At the 1921 Tourist Trophy Eric Williams rode a 350 to win the Junior
T.T. and Howard Davies rode the same motorcycle to win the Senior T.T. as well, a double triumph unprecedented in the history of this race.
The high quality of the AJS 350 Big Port was confirmed by victories in the 1922 and 1923 editions of the Tourist Trophy and by a host of other victories- throughout Europe, especially in Italy, where it was ridden by such notable drivers as Ernesto Gnesa and Olindo Raggi.
Motorcycle: AJS 350 Big Port Manufacturer: A. J. Stevens, Wolverhampton
Type: Racing Year: 1923
Engine: AJS single-cylinder, four-stroke, overhead valve distribution, rod and rocker. Displacement 348.3 cc. (74 mm. x 81 mm.)
Cooling: Air
Transmission: Three-speed separate Power: About 20 h.p. Maximum speed: About 85 m.p.h. Chassis: Single cradle, tubular, open below. Front, elastic suspension Brakes: Front and rear, side drum