AJS 500 Supercharged V4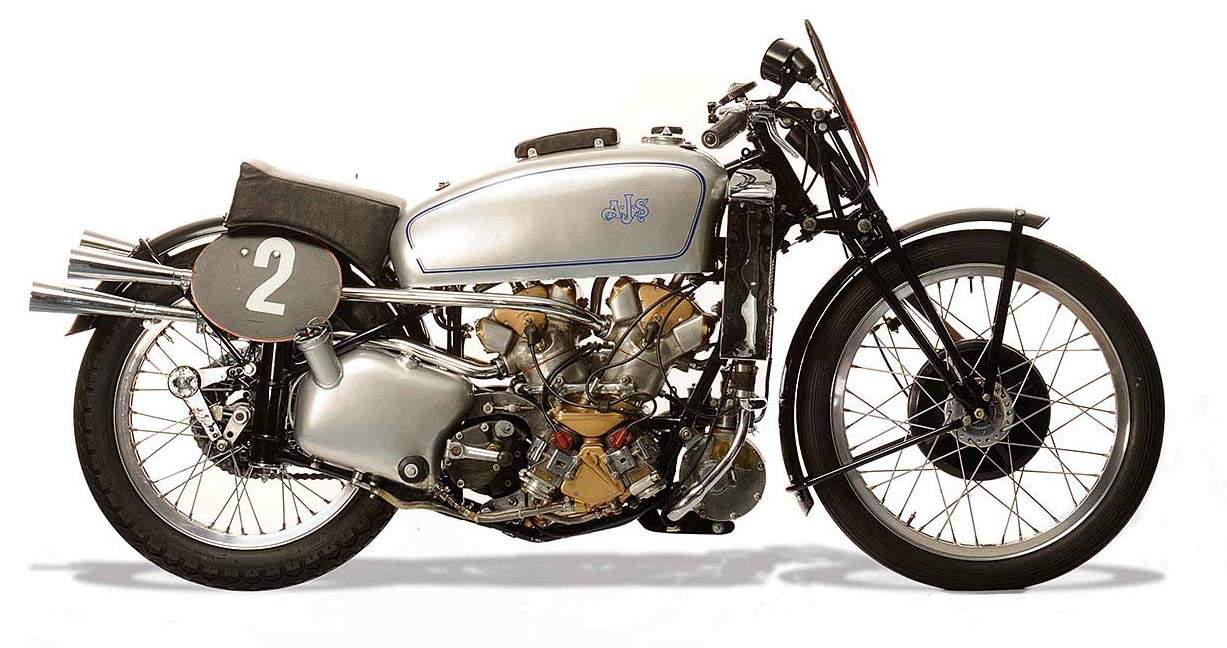 The thirties saw the age old dream of multi-cylinder-engined motorcycles moving within the engineers grasp. Most makers hurled themselves headlong into building the most complex machines ever seen, and the day of the single-cylinder seemed definitely gone.

Supercharged Version

AJS exhibited a prototype touring bike with an air cooled V4 power unit at the 1935 London Show, but it was never built in this form, though a racing version appeared in 1936. it was replaced in 1938by a new supercharged version with the blower mounted at the front of the engine. The bike was extremely fast - but it overheated horribly. AJS designer Matt Wright went back to work and completely revised his project in 1939, redesigning the cycle parts and adopting liquid cooling.

Record Lap - and Retirement

At last the revolutionary double overhead cam V4 was competitive - but the march of time prevented it from showing its full potential. The two V4s entered in the Isle of Man Tourist Trophy at the beginning of June finished eleventh and thirteenth after several stops for oil and water. The V4 was entered in the Ulster Grand Prix. It was the heaviest bike in the race, but set a staggeringly fast lap record - the first 100 mph lap of the Clady circuit - before its front fork broke! The AJS V4 only reappeared a few more times in 1946 before it was finally put out to pasture in a museum.

Specifications

Engine Water cooled 500 cc (50x63mm) four stroke V4
Power Output 55hp@7200
Valves Chain driven twin overhead camshafts
Fuel System Zoller supercharger
Transmission 4-speed gearbox; chain final drive
Suspension Girder fork (front) sliding pillar (rear)
Brakes Drum (front & rear)
Wheels wire
Weight 405 lb
AJS 500 Supercharged V4 1939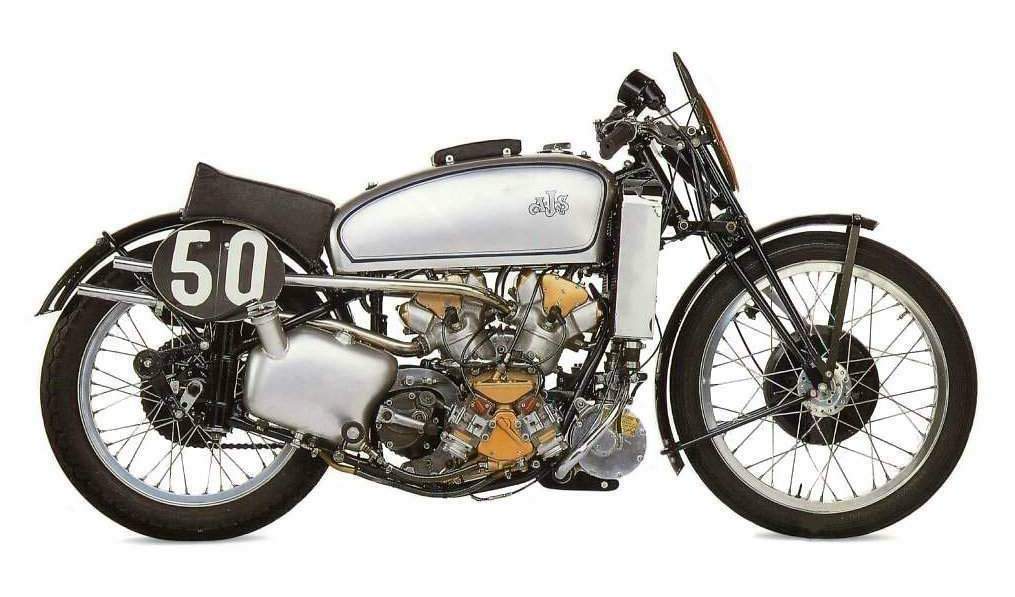 1939 A.J.S. FOUR. Pre-war there was no ban on superchargers in road-racing and these instruments, all too rare today, were used with some success by several British and many Continental factories. A.J.S., then actively supporting road-racing with factory riders and machines, had for some years experimented with an air-cooled Vee-four when in 1939 they revealed to the public their latest hopes of achieving an Island victory in the Senior T.T.—a Matt Wright-designed supercharged Vee-four with chain-driven single o.h.c, twin magnetos, swinging-fork rear springing and water cooling.
It made its debut at Brooklands in May of that year when Bob Foster took it on a few laps' "tour"—its very first ride on a track. A few weeks later it appeared at the "North West 200" meeting, and in the meantime had been equipped with a waterpump outboard of the engine sprockets. At the fall of the flag Foster was struggling with a flooding carburetter float chamber.
Eventually he started a couple of minutes behind the field but in eight laps he had screamed through the field—only to retire with a blown gasket on lap 13—his riding number was 13 too.
In the T.T., Walter Rusk and Foster both had to stop several times for fuel and water and could only finish eleventh and thirteenth. Rusk, however, did notch one really good point for the model when, in August !939> ne recorded the first 100 m.p.h. lap of the Ulster G.P., held then on the Clady Circuit—but bad luck dogged him and he was put out with a broken fork link. In this race he had outpaced the blown Gilera four, and it is fair to assume that, but for the war, this model would have been a real force to be reckoned with.
As it was, the machines made a few fleeting appearances after the war— but the "blower ban" saw them taken off the active list. Today, all that remains is an engine unit, on show in the Beaulieu Museum.
BRIEF SPECIFICATION
Engine: Vee-four 500 c.c. o.h.c; watercooled; chain-driven supercharger in front of engine; chain drive to camshafts.
Ignition: two twin-cylinder magnetos.
Transmission: chain via four-speed gearbox.
Frame: duplex cradle with swinging-fork rear suspension controlled by "plunger-type" spring boxes.
Forks: girder pattern with rebound springs.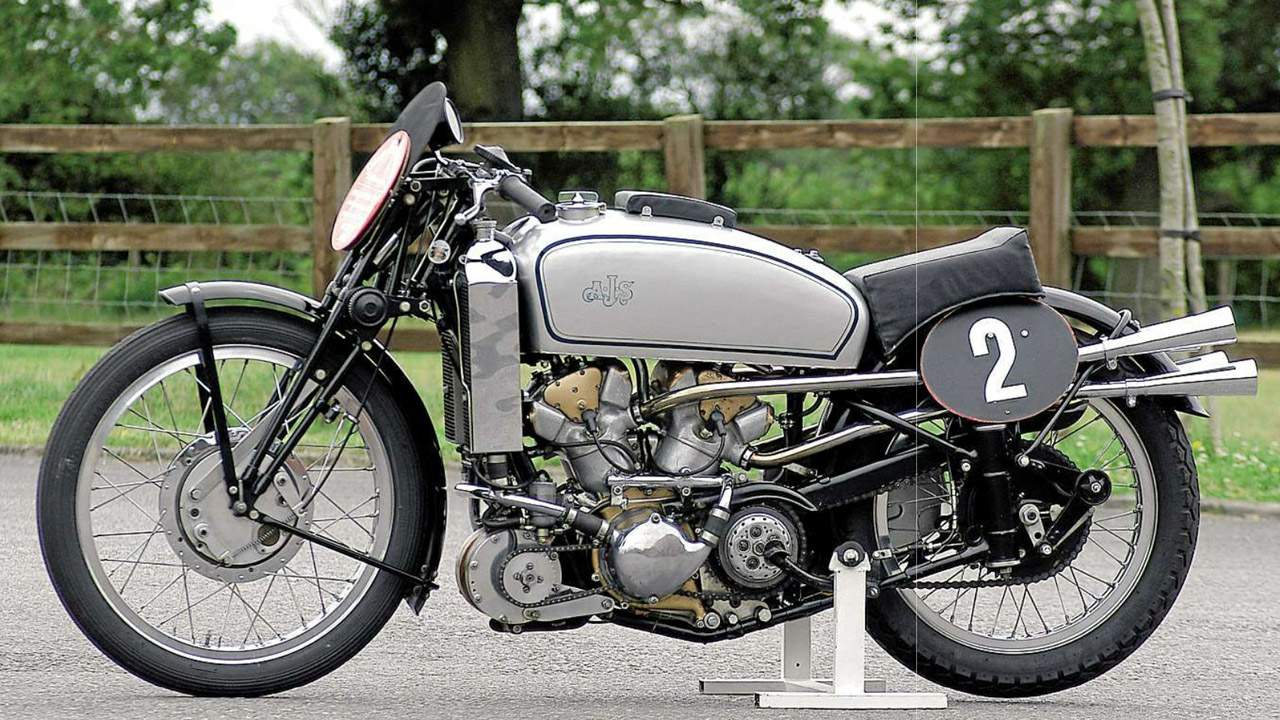 Supercharged AJS 500 V4 (1939
By 1930s Brit-bike standards, the AJS 500 V4 was pretty fancy. The bike was fitted with a liquid-cooled, SOHC, 8-valve, 495cc V4, with a chain-driven Zoller supercharger. With 55 horsepower at 7,200rpm (with the compressor running at 16.5psi boost pressure) and a dry weight figure of 183 kilos, the supercharged AJS 500 could hit a top speed of up to 216km/h, which must have been pretty scary if you take into account the feeble drum brakes and the not-so-evolved tyre technology of that era.
British journalist Alan Cathcart had the opportunity to ride the only surviving AJS 500 V4 during the Goodwood Festival of Speed, in England, a few years ago. Here are a few excerpts from what he has to say about the machine:

Starting it is an acquired skill. You have to prime the supercharger to get it to fire, so starting from cold requires a long-distance push with the throttle held wide open. Eventually the engine starts burbling into life, before suddenly catching and emitting a high-pitched rumble from the four megaphones bracketing the rear fender. You then have to blip the throttle furiously to keep the plugs clean, all the while aware of the muted whine of the Zoller compressor as a background accompaniment to the engine's organ concerto.
The AJS' supercharged engine pulls lustily from under 2,000 revs and feels surprisingly modern and sophisticated. In spite of the lack of a counterbalance, there's no undue vibration and no vintage-style rattles and whirrs or extraneous mechanical noise.
In tighter turns, the AJS swings more readily through the bends than bulkier inline-fours like the 1950s Gilera and MV Agusta 500s I've ridden. It's not as agile as a single but no heavier-handling than a twin. But that's in slower turns. Elsewhere, the AJS V4 is a real handful, especially in a straight line. Indeed, riding the AJS 500 V4 made me realize you must re-learn your riding technique to ride it. Basically, there's no such thing as part-throttle – the throttle must either be wide open or switched right off. Try it and it splutters until the throttle is wide open again. Brake, point, squirt – that's the secret to supercharged success.
SOURCE: Faster and Faster