AJS 7R 1961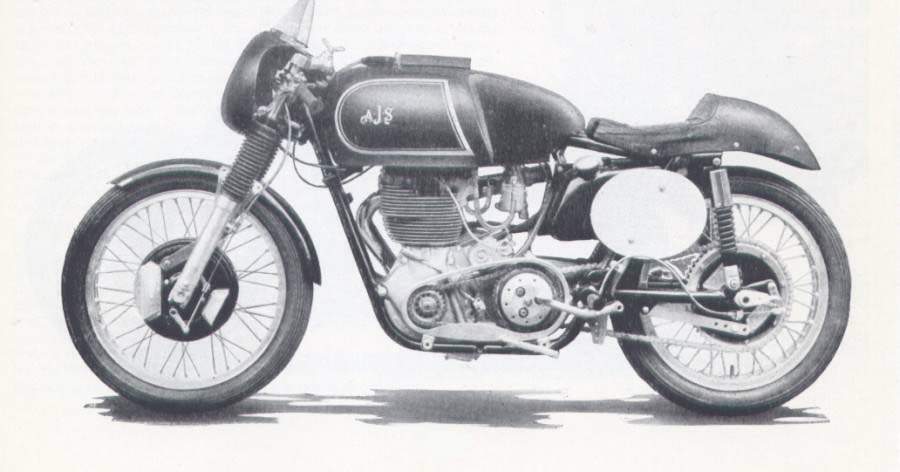 1961 A.J.S. 7R. Pre-war 350 c.c. o.h.c. racing A.J.S. machines were I_Igenerally identified by the coding R7. When the racing "350" was
reintroduced in 1949 the name was revised to 7R, which retained the link with the model's ancestors whilst proclaiming that it was new. In fact, the only thing the power unit really had in common with the pre-war machine was that its camshaft was driven by a chain.
In 1949 the 7R (soon dubbed the "Boy Racer"—a name now lost) looked surprisingly similar to the 1961 version—although very few, if any, parts remained the same over the period. It already had the duplex frame and swinging-fork rear suspension of the type used in 1961, although many alterations were made in the intervening years to ensure that the machine's handling kept pace with developments.
Alterations made for 1961 included the replacement of the two springs formerly used in each telescopic fork leg by a single multi-rate spring with damping characteristics altered to suit. Rubber "bellows" were fitted to keep out dust and dirt and the fork travel was slightly increased. To match up with the altered front suspension the rear Girling legs had different damping and were individually tested and matched in pairs. A larger air scoop helped cool the front brake more efficiently.
All these changes were embodied in the G50, as was a reshaped timing chest to tuck the exhaust pipe farther in; to make the similarity even closer, the 7R was fitted with a 3-00 x 19 in. tyre at the front and a 3-50 X 19 in. at the rear, as on the "500".
Improvements to the engine of the 7R included a modified piston to give a 12:1 compression ratio (to take full advantage of the 100 octane fuel used) and the power output in the "useful" range of revs varied from 33 b.h.p. at 6,000 r.p.m. to a peak of 41-5 b.h.p. at 7,800 r.p.m.
Some trouble had been experienced with gearboxes getting over-hot in previous years, so to reduce the running speed of this component
the 7R was fitted with a 22t. final drive sprocket for 1961, instead of 2it. as before. The engine sprocket was dropped from 23L to 22t. to retain the status quo at the back wheel. Output of the 7R, one of the four British "production racers", was limited to sixty in 1961.
BRIEF SPECIFICATION
Engine: single-cylinder 350 c.c. o.h.c; drive to camshaft by chain.
Ignition: Lucas magneto.
Transmission: chains via four-speed gearbox.
Frame: duplex cradle with single top-tube; rear suspension by pivoting-fork controlled by Girling hydraulically damped units.
Forks: "Teledraulic" telescopies with hydraulic damping.