AJS 7R Racer Boy 1957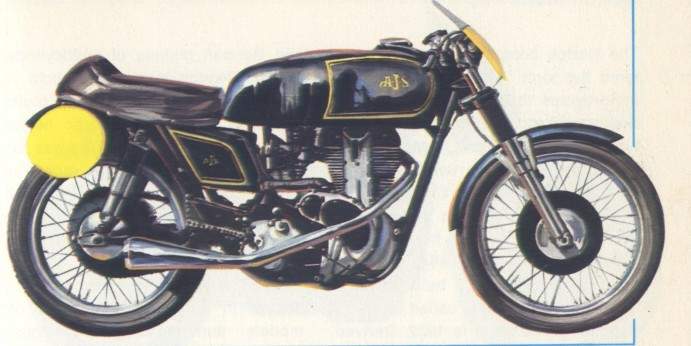 While the AJS 500 Porcupine—a motorcycle with a two-cylinder engine—was winning world championships, the racing department of the company had not forgotten the single-cylinder engine with single-shaft chain distribution. The 1927 prototype was quite unlike the new model.
The AJS 350 single-cylinder was put back in the field in 1948. It was called the 7R Racer Boy. The outstanding British racing ace Ceslie Graham rode it to first place in the 1950 Swiss Grand Prix and to second place in that year's Italian Grand Prix.
AJS technicians had little to do with the 500 in 1952, so they were able to devote more time to the 7R. A radical change was introduced in the engine design. All that remained of the old model (bore and stroke: 74 mm. x 81 mm.; about 30 h.p. at 7,000 r.p.m.) was the general look and the single-shaft overhead distribution. The new engine had three valves—two for exhaust and one for intake. The valve controls were unusually complicated but worked very efficiently.
The AJS 350's best performance was its victory at the 1954 Junior Tourist Trophy, where it was ridden by the New Zealander Rod Coleman. Subsequently AJS withdrew from racing, but for several years it sold a fine racing motorcycle known as the Racer Boy, with a more powerful engine than the three-valve model.
Motorcycle: AJS 7R Racer Boy Manufacturer: A. J. Stevens, Wolverhampton Type: Racing Year: 1957
Engine: AJS single-cylinder, four-stroke, single-shaft overhead distribution, chain-operated. Displacement 349.2 cc. (75.5 mm. x 78 mm.)
Cooling: Air
Transmission: Four-speed separate
Power: 37 h.p. at 7,600 r.p.m.
Maximum speed: About 115 m.p.h.
Chassis: Double cradle, continuous, tubular. Front and rear, telescopic suspension
Brakes: Front and rear, side drum