AJS Four 1939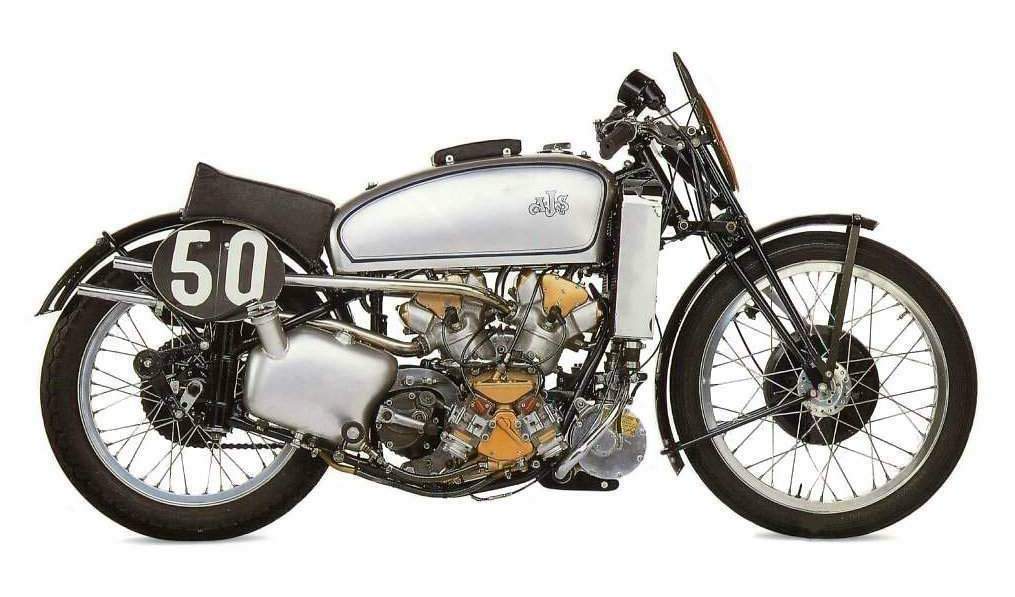 1939 A.J.S. FOUR. Pre-war there was no ban on superchargers in road-racing and these instruments, all too rare today, were used with some success by several British and many Continental factories. A.J.S., then actively supporting road-racing with factory riders and machines, had for some years experimented with an air-cooled Vee-four when in 1939 they revealed to the public their latest hopes of achieving an Island victory in the Senior T.T.—a Matt Wright-designed supercharged Vee-four with chain-driven single o.h.c, twin magnetos, swinging-fork rear springing and water cooling.
It made its debut at Brooklands in May of that year when Bob Foster took it on a few laps' "tour"—its very first ride on a track. A few weeks later it appeared at the "North West 200" meeting, and in the meantime had been equipped with a waterpump outboard of the engine sprockets. At the fall of the flag Foster was struggling with a flooding carburetter float chamber.
Eventually he started a couple of minutes behind the field but in eight laps he had screamed through the field—only to retire with a blown gasket on lap 13—his riding number was 13 too.
In the T.T., Walter Rusk and Foster both had to stop several times for fuel and water and could only finish eleventh and thirteenth. Rusk, however, did notch one really good point for the model when, in August !939> ne recorded the first 100 m.p.h. lap of the Ulster G.P., held then on the Clady Circuit—but bad luck dogged him and he was put out with a broken fork link. In this race he had outpaced the blown Gilera four, and it is fair to assume that, but for the war, this model would have been a real force to be reckoned with.
As it was, the machines made a few fleeting appearances after the war— but the "blower ban" saw them taken off the active list. Today, all that remains is an engine unit, on show in the Beaulieu Museum.
BRIEF SPECIFICATION
Engine: Vee-four 500 c.c. o.h.c; watercooled; chain-driven supercharger in front of engine; chain drive to camshafts.
Ignition: two twin-cylinder magnetos.
Transmission: chain via four-speed gearbox.
Frame: duplex cradle with swinging-fork rear suspension controlled by "plunger-type" spring boxes.
Forks: girder pattern with rebound springs.