Benelli 250 1939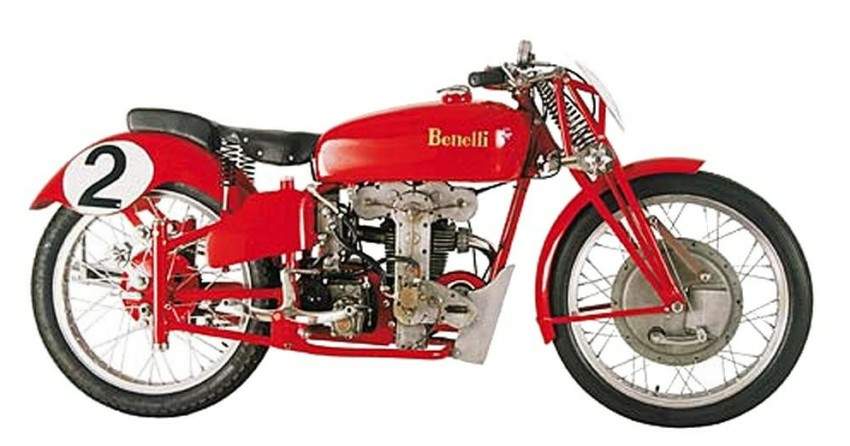 In 1939 Benelli machines appeared in the Isle of Man for the first time; two were entered for the Lightweight T.T. One retired—and the other, ridden by Ted Mellors, won by almost four minutes.
The machine that scored this success is interesting because its conception and general pattern established a style that was to become commonplace after the war in Italian 250 and 125 racers. Light alloy was used very extensively, for barrel and head and for a bolted-on cam-box. A gear train drove twin overhead camshafts completely encased but operating valves with exposed hairpin-type springs.
The magneto drive was by an extension of the gear train forward of the crankcase. Astern a four-speed gearbox was bolted up to form a unit. Another feature, pioneered by Guzzi, of Italian lightweight-styling was the use of an outside flywheel. The machine had a deeply finned crankcase, a large oil tank and an oil cooler, in an endeavour to promote cool running; all this proved a bit unnecessary in the 1939 race, for it was exceedingly wet—so wet in fact that for the race a hastily improvised cover was fitted over the magneto.
The rain slowed the race speed to a mere 7425 m.p.h. Graham Walker rode the little model just after the race and reported it to be "unburstable". No rev-counter was fined and Ted Mellors told him to rev it "until the exhaust note doesn't alter". This was about 8,200 r.p.m. on the level in top or 9,000 in the gears—a top speed of about 110 m.p.h. which was still good for a "250" twenty years later.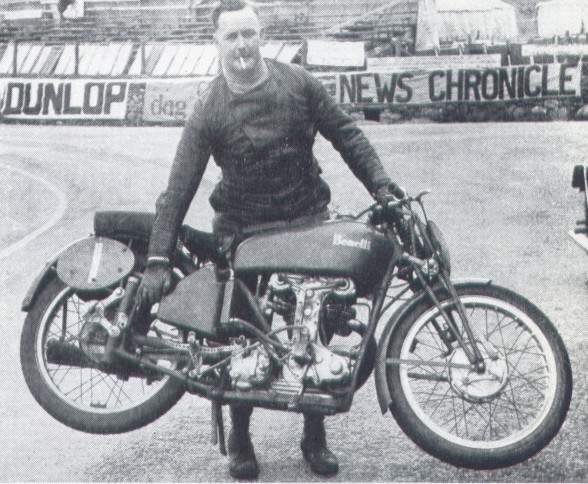 SPECIFICATION
Engine: single-cylinder 250 c.c. d.o.h.c; light-alloy
cylinder and head; gear drive to camshafts. Ignition: magneto.
Transmission: chain drive via four-speed gearbox. Frame: single down-tube cradle, with swinging-fork
rear suspension controlled by "plunger-type"
spring boxes. Forks: single-spring girder with friction dampers.