Benelli 250 Single Cylinder 1938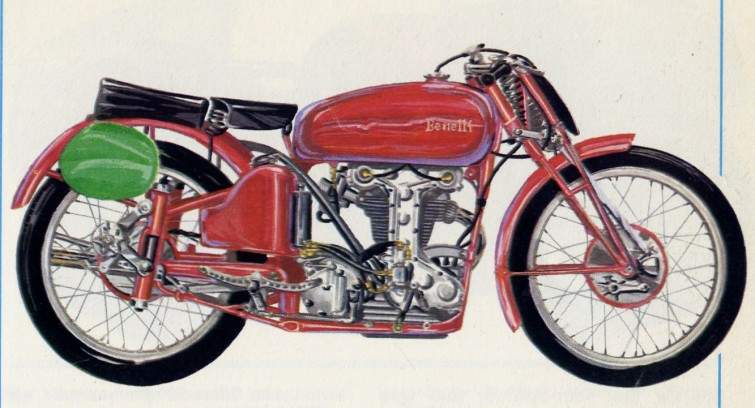 The Benelli 250 made its debut on the racing scene in 1934, after the abolition of the Italian speed championship for light motorcycles with up to 175-cc. displacement. The Benelli 250 was certainly the most glorious racing motorcycle built by that company. The vehicle made its appearance at a lucky moment, on the crest of the winning streak of the Benelli 175 single- and double-shaft. The 250 had the same basic features as the 175.
The Benelli 250 had the task of continuing in a new class the winning streak that had been started by the 175. This was certainly one of the reasons that the company did not try for any technical innovations on its vehicles. The technicians based all their work on past experience. The new engine was a single-cylinder two-shaft with geared distribution, dry-sump lubrication, and separate transmission. The main difference was that because of the increased displacement, a long-stroke solution was used and the single exhaust valve communicated with two tubes rather than one.
Before it went into racing competition, the Benelli 250 set a world record in its class for the flying kilometer, 181.818 km./hr. (about 113 m.p.h.)—an outstanding achievement considering that this speed was faster than the record set by a 350.
The Benelli 250 did not outperform the finest Guzzis, however, until 1936. When the 250 started to show its stuff, the Benelli people decided to modify the engine again. A different bore and stroke were introduced.
The new Benelli 250 single-cylinder Benelli 175 Two-shaft. The 250 was developed from this model
won some important victories in 1938. The following year the British racer Ted Mellors became its rider. He had driven an official Velocette against the Benelli in the past. Now Mellors won the 250 its first Tourist Trophy. Even more important, the motorcycle beat the official Guzzi and DkW teams with their superchargers.
In 1940 the Benelli 250 got a supercharger as well. This new engine should have generated 35 h.p., but it was never put to the test because of the outbreak of World War II.
The Moto Benelli company was bombed and plundered during the war and many of its racing motorcycles ended up in unknown hands. But some of the other machines had been hidden away, and these were among the first motorcycles to go back into racing in the postwar years.
Benelli won races again in 1948 with old-fashioned motorcycles (the 250 two-shaft version without supercharger), thanks in part to the skill of Dario Ambrosini, a fine racer who had formerly driven for Guzzi. In 1950 the old single-cylinder was still technically superlative and Ambrosini raced it with great skill, winning the 250-class world championship.
Motorcycle: Benelli 250 Single-cylinder Manufacturer: Moto Benelli, Pesaro Type: Racing Year: 1938
Engine: Benelli single-cylinder, four-stroke, with two-shaft overhead geared distribution. Displacement 248.8 cc. (65 mm. x 75 mm.)
Cooling: Air
Transmission: Four-speed separate
Power: 27 h.p. at 9,500 r.p.m.
Maximum speed: 112 m.p.h.
Chassis: Tubular, open, single cradle, with stamped-plate parts. Front, parallelogram suspension; rear, elastic hub suspension
Brakes: Front and rear, side drum