Benelli 500 1973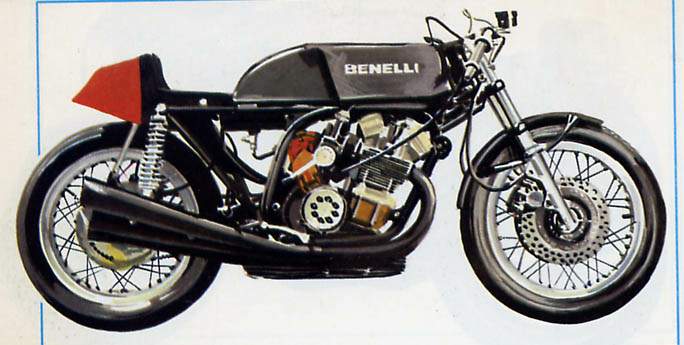 The first version of the four-cylinder Benelli 500 was simply an enlarged version of the 350. The next version was a 491-cc. model, which Renzo Pasolini rode to win at its 1967 debut. This version was rarely raced seriously, however.
In 1968 the 500 was entered for the Italian Grand Prix, ridden by Mike Hailwood and Pasolini.
During the trials Hailwood failed by a tenth of a second to beat the track record he had set the year before with a Honda 500. Trying to keep up with Giacomo Agostini's MV during the race, he fell and had to withdraw. Pasolini achieved a respectable second place. In 1970 the Benelli 500 was back at Monza. It challenged the MV Agusta but began to lose oil, and Pasolini had to withdraw.
Although the Benelli never fulfilled all its promise of great speed, it was always an excellent performer, so much so that it became the most pop-
ular motorcycle with international race organizers, who had a keen eye for spotting winners.
In 1972 the look of the Benelli 500 was changed and its engine was rebuilt. It was the winner of the epic duel between Jarno Saarinen and Giacomo Agostini at Pesaro. The following year Walter Villa and then Roberto Gallina drove it officially at the most important Italian races.
Motorcycle: Benelli 500 Four-cylinder Manufacturer: Moto Benelli, Pesaro Type: Racing Year: 1973
Engine: Benelli four-cylinder in-line, transverse, four-stroke, with two-shaft overhead geared distribution and four valves per cylinder. Displacement 494.6 cc. (54 mm. x 54 mm.)
Cooling: Air
Transmission: Seven-speed block
Power: 94 h.p. at 14,000 r.p.m.
Maximum speed: About 175 m.p.h.
Chassis: Double cradle, continuous, tubular. Front and rear, telescopic suspension
Brakes: Front, double hydraulic disk; rear, central drum, double cam