Bianchi 250 Single 1957-58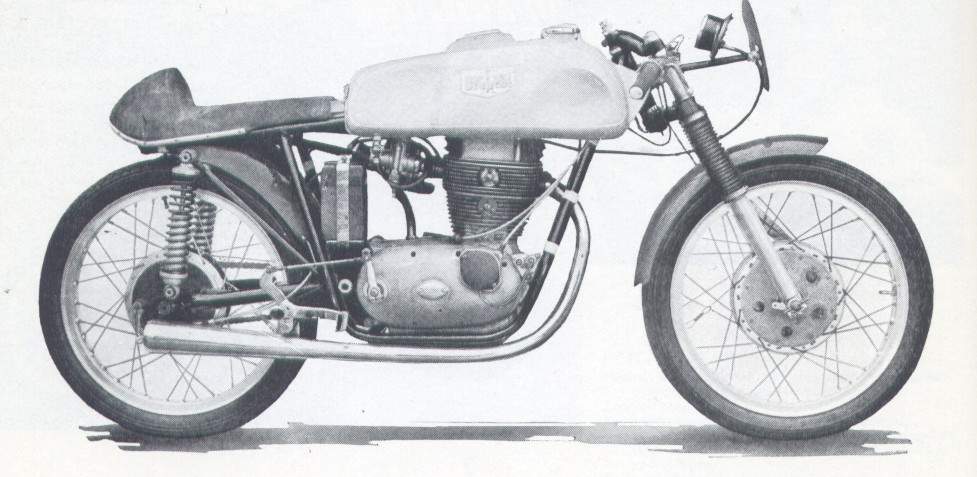 In a comparatively few years the Italian Bianchi concern has thrust its name to the forefront of road-racing. This post-war interest on the factory's part stems from 1956 when they built up a 203 c.c. version of their push-rod roadster "i75"j the "Tonale", and developed it as a road-racer. This machine won several important 250 c.c. events in Italy, and for 1957 it "grew" a chain-driven o.h.c. and then some more c.c.s and a gear-driven camshaft. This model proved very good but, as things happen, factory interest waned; it recurred in i960 but this model was superseded by a new twin. Nonetheless, the single appeared fleetingly in the Isle of Man in June i960 as a reserve practice model—and wasn't used. A pity, for all the twins packed up!
The machine was fairly conventional with a close-ratio four-speed gearbox in unit with the motor and a deep sump to carry the oil. A gear train to the camshaft was carried within the cylinder and head finning in a cast-in tunnel, an unusual practice—another was a primary gear train of three pinions, so that the motor spun the "right" way, with the clutch on the centre pinion.
Obviously a lot of thought was put into the design, the rockers had roller ends to reduce friction on the cam track and oil jets squirted lubricant on to each cam. Four-rate hydraulic damping was provided on the forks, and this was adjustable by a knurled knob on the top of each leg; it was surprisingly effective and could be changed over in seconds. Another practical point was the spare condenser for the coil ignition set carried alongside the one in use on the front offside engine plate.
SPECIFICATION
Engine: single-cylinder 250 c.c. o.h.c; light-alloy
cylinder and head; gear drive to camshaft. Ignition: coil and battery.
Transmission: gear primary drive to four-speed gearbox
in unit with engine; chain final drive. Frame: duplex cradle with pivoting-fork suspension. Forks: telescopic with hand-controlled damping adjustment.