Bianchi 350 - 500 Twin cylinder 1962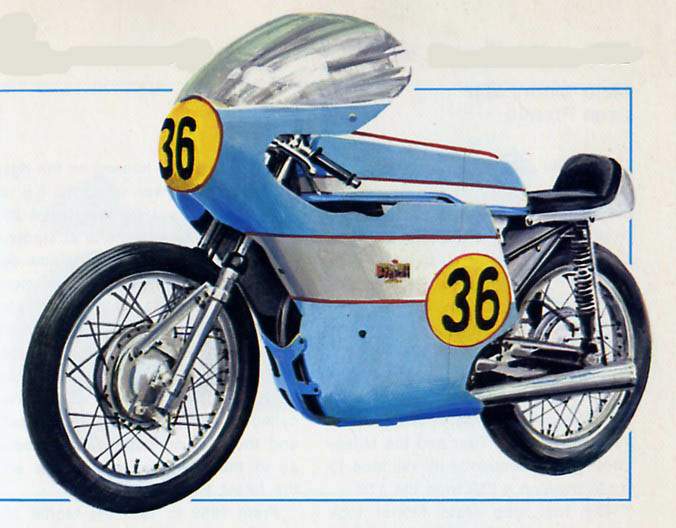 When racing resumed after World War II, Bianchi did not return to it immediately. Perhaps the company was considering withdrawing altogether, or perhaps it was awaiting the new international regulations.
In the mid-1950s, however, the repeated success in racing of its production model Tonale 175 persuaded Bianchi to enter the field anew.
In 1960 Lino Tonti got the go-ahead from the company's management to carry out his design for a two-cylinder, four-stroke 250-cc. engine for Grand Prix racing. The vehicle was ready that same year.
The motorcycle had a fairly classic engine. The only novelty in its design
was that primary transmission, ignition, and distribution (two-shaft geared) were no longer operated from the ends of the engine shaft but by a countershaft behind.
The original version of the 250-cc. immediately proved to be too large, and Bianchi replaced it late in 1960 with an identical 350-cc. version.
The beginning of the new 350's racing career was promising. Ernesto Brambilla rode the Bianchi 350 to outdistance the MV Agusta four-cylinder in his first race, but an unlucky carburetor breakdown forced him to withdraw. The motorcycle was back in 1961 and won its first race at the Cesenatico Circuit. Brambilla and Bob Mclntyre both rode the Bianchi 350 in the first Grand Prix races of the world championship. In 1961 Mclntyre had the best placing, coming in second at Assen, Holland, only three seconds behind Gary Hocking's MV four-cylinder.
The Bianchi people were enthusiastic about their motorcycle's fine
performance. And at the end of the season, during the trials for the Italian Grand Prix, the new Bianchi 500 two-cylinder made its appearance.
In 1962 and 1963 the Bianchi 350 proved to be the fastest two-cylinder motorcycle in the world. In 1964 Remo Venturi rode the Bianchi 350 and 500 to win a second Italian title.
Motorcycle: Bianchi 350 Two-cylinder Manufacturer: S.p.A. Edoardo Bianchi,
Milan Type: Racing Year: 1962
Engine: Bianchi two-cylinder, four-stroke, with two-shaft overhead geared distribution. Displacement 348.4 cc. (70 mm. x 59 mm.)
Cooling: Air
Transmission: Five- or six-speed block
Power: 50 h.p. at 11,000 r.p.m.
Maximum speed: About 150 m.p.h.
Chassis: Double cradle, continuous, tubular. Front and rear, telescopic suspension
Brakes: Front and rear, central drum, double cam
Motorcycle: Bianchi 500 Two-cylinder Manufacturer: S.p.A. Edoardo Bianchi,
Milan Type: Racing Year: 1963
Engine: Bianchi two-cylinder, four-stroke, with two-shaft overhead geared distribution. Displacement 454.1 cc. (70 mm. x 59 mm.)
Cooling: Air
Transmission: Six-speed block
Power: 67 h.p. at 10,000 r.p.m.
Maximum speed: About 140 m.p.h.
Chassis: Double cradle, continuous, tubular. Front and rear, telescopic suspension
Brakes: Front and rear, central drum, double cam