Bianchi 350 Freccia Celeste 1927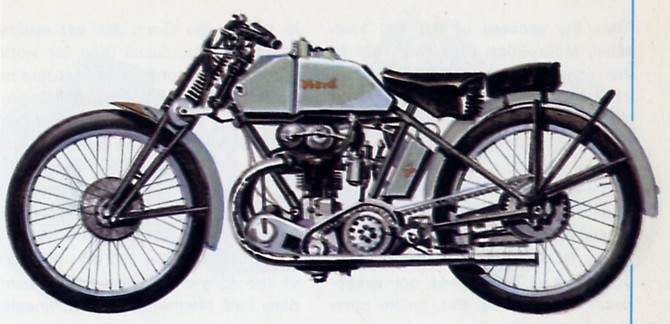 Much has been said about Tazio Nu-volari, one of the greatest racers in the history of the motorcycle and the automobile. There are countless stories, including how he finished a race using a wrench in place of a broken steering wheel and how he won an Italian Grand Prix at Monza while wearing a cast around his chest. And his rivalry with Achille Varzi, another great racer on both two and four wheels, was legendary. But only connoisseurs of the sport know how much these two men owed to the vehicles they raced. Both Nu-volari and Varzi rode a Bianchi 350.
From 1925 to 1930 this racing motorcycle established Italian supremacy over the most important racing circuits in the world. The Bianchi 350 outraced the British vehicles that had hitherto dominated world racing.
There was nothing particularly different about the motorcycle, although it did have overhead two-shaft distribution with bevel gears, which was innovative at the time. Mario Baldi, who designed the racing 350, paid particular attention to details in order to make it powerful and, more important, easy to drive, easy to stop, and constant in performance.
To give an idea of the attention to detail, suffice it to mention that the fuel tank (with a cylindrical tank welded onto it for drop oil lubrication) consisted of two separate elements soldered together. The separation of the two parts of the tank was to prevent all the fuel from shifting to one side of the vehicle on curves, thus affecting its stability.
There is no point in listing all the races that the Bianchi 350 Freccia Celeste won. Its five consecutive victories at the Italian Grand Prix (1925-1928: Nuvolari; 1929: Amilcare Mor-etti) are sufficient evidence to confirm the two-wheeler's technical superiority, for Monza is a fast track.
In 1925 the 350 also set some very impressive world records: the 300 kilometers, at a speed of 125.101 km./hr. (about 78 m.p.h.); the 3 Hours, at a speed of 121.797 km./hr. (about 76 m.p.h.); and the 400 kilometers, at 121.428 km./hr. (about 75 m.p.h.).
The Freccia Celeste did not win all its victories in circuit racing. In 1926 it also won the Tour of Italy, a perfect race for judging a vehicle's engine and chassis reliability, especially considering the roads of the tim
Motorcycle: Bianchi 350 Freccia Celeste Manufacturer: S.p.A. Edoardo Bianchi,
Milan Type: Racing Year: 1927
Engine: Bianchi single-cylinder, four-stroke, two-shaft distribution with bevel gears. Displacement 348.36 cc. (74 mm. x 81 mm.)
Cooling: Air
Transmission: Three-speed half-block, hand lever
Power: About 30 h.p. in the final version
Maximum speed: About 93 m.p.h.
Chassis: Tubular, single cradle, open below, with front elastic fork
Brakes: Front and rear, central drum