Bimota Suzuki 500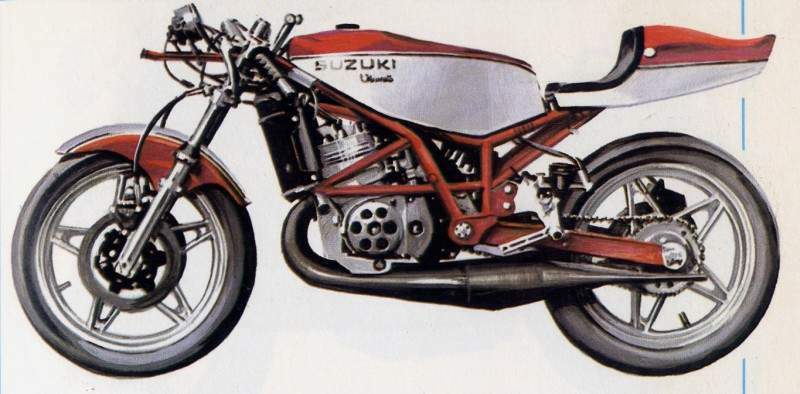 At the end of 1975 the Italian Suzuki importer, known as SAIAD, commissioned the Bimota company to build a small quantity of racing motorcycles for Junior and Senior racers in the 500 class.
The Bimota-Suzuki prototype was shown at the Milan bicycle and motorcycle fair in November, 1975. The engine was a Suzuki 500 two-cylinder, water-cooled, with dry clutch and six-speed transmission. It was the latest version of the famous Suzuki Titan Daytona, a model that had proved itself in international and Daytona races before it was superseded by the introduction of the four-cylinder model that Barry Sheene rode. .
The Bimota version was updated with a futuristic chassis in openwork tubular elements. It was given two brand-new features never before seen in motorcycle design: The rear fork was attached to the chassis at the same axis as the secondary transmission shaft, which prevented any variation in the tension of the chain. The rear suspension, with a single central Koni shock absorber, was the kind used on Formula 1 racing automobiles. Phil Read tested the Bimota-Suzuki at the outset and found it to be an excellent racing model. Bimota decided to build it in series, and the motorcycle shone in Junior racing and turned in fine performances in Senior races as well.
Motorcycle: Bimota-Suzuki 500 Manufacturer: Bimota s.n.c, Rimini Type: Racing Year: 1976
Engine: Suzuki two-cylinder, two-shaft, with cross-port distribution. Displacement 500 cc. (70 mm. x 64 mm.)
Cooling: Water
Transmission: Six-speed block
Power: About 75 h.p. at 9,000 r.p.m.
Maximum speed: Over 160 m.p.h.
Chassis: Openwork, tubular. Front, adjustable telescopic suspension; rear, monocross, with single central shock absorber
Brakes: Front, double hydraulic disk; rear, hydraulic disk