Bimota Harley-Davidson 500 1976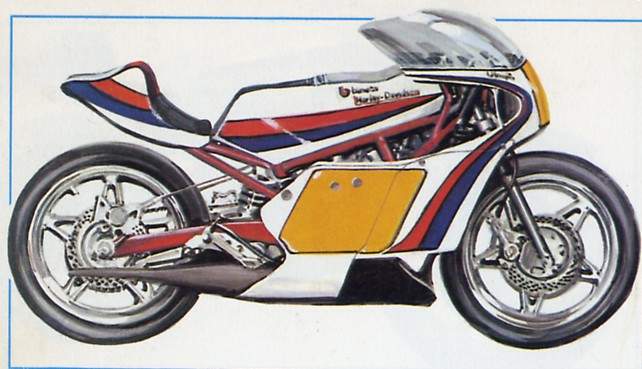 The Varese branch of Harley-Davidson had a world champion in the 250 class and had derived a two-cylinder 350 from it. At the beginning of the 1975 season the company put a new 500 into the field.
This was the period in which Phil Read's MV Agusta 500 had serious problems with rear stability, because the rear wheel jumped during braking. Harley-Davidson avoided this problem with its 500 model by mounting a rear disk brake on the end of the transmission pin, a solution that was widely applied to automobiles. Another striking feature of the 500 was the fact that it had four carburetors, even though there were only two cylinders.
This experimental engine was used occasionally on racing motorcycles by Walter Villa, and it was later mounted on the Bimota. That company took over the engine and made a new chassis for it. Bimota gave the
Harley-Davidson 500 the same type of openwork chassis that had been designed for the Suzuki 500. The fork fulcrum was on the axle of the secondary transmission shaft and the rear suspension was "monocross" with a Koni automobile shock absorber. There were replaceable cams on the upper plate of the steering mechanism. The new motorcycle was ridden by Vanes Francini, the official Bimota racer.
Motorcycle: Bimota-Harley-Davidson 500 Manufacturer: Bimota s.n.c, Rimini Type: Racing Year: 1976
Engine: Harley-Davidson two-cylinder, two-stroke, with cross-port distribution. Two carburetors per cylinder. Displacement 500 cc.
Cooling: Water
Transmission: Six-speed block Power: About 90 h.p.
Maximum speed: —
Chassis: Openwork, tubular. Front, telescopic suspension, adjustable; rear, monocross with single central shock absorber
Brakes: Front, double hydraulic disk; rear, single hydraulic disk