Bimota-Yamaha 350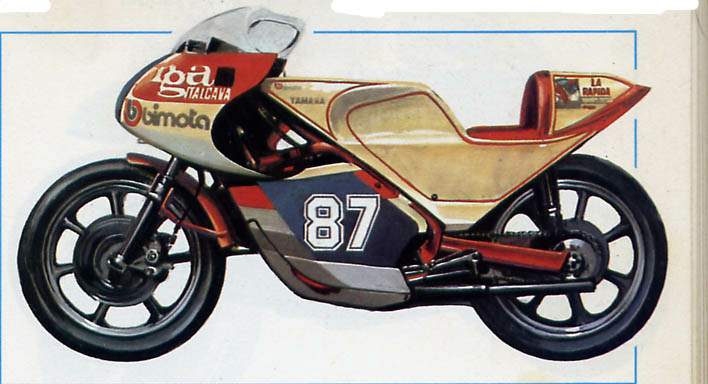 The Bimota was born almost by accident through a man's avocation. Massimo Tamburini had a heating business in Rimini. As a hobby he modified motorcycle chassis and engines to make them lighter and more powerful.
One day Tamburini, his partner Morri, and the racer Luigi Anelli were testing a Honda 750 at Misano. A newspaperman was there, and he wrote an article about Tamburini's Honda for a motorcycle magazine. Soon Bimota was an unexpected and paradoxical success. ,
In addition to the Honda 750, Tamburini had just finished building a racing motorcycle with a two-cylinder Yamaha engine.
The chassis weighed barely thirteen pounds, and the design was both original and revolutionary. When the Bimota-Yamaha made its debut at Modena in 1974, ridden by Luigi Anelli, it became clear that every innovation counted for something. Tamburini had left nothing to chance; every aesthetic element and every technical element were there for a clearly defined purpose. After Anelli, Giuseppe Elementi drove the Bimota. Unknown at the time, Elementi was soon on a par with the leading champions of the day. The Bimota-Yamaha was subsequently manufactured in small quantities and became a favorite with many Italian and foreign racers.
Motorcycle: Bimota-Yamaha 350 Manufacturer: Bimota s.n.c, Rimini Type: Racing Year: 1974
Engine: Yamaha two-cylinder, two-stroke, with cross-port distribution. Displacement 347.4 cc. (64 mm. x 54 mm.)
Cooling: Water
Transmission: Six-speed block Power: About 60 h.p. at 10,000 r.p.m. Maximum speed: Over 150 m.p.h. Chassis: Double cradle, tubular, soldered
rear pillar. Front and rear, telescopic
suspension Brakes: Front, double hydraulic disk;
rear, hydraulic disk