BMW 750 Record Racer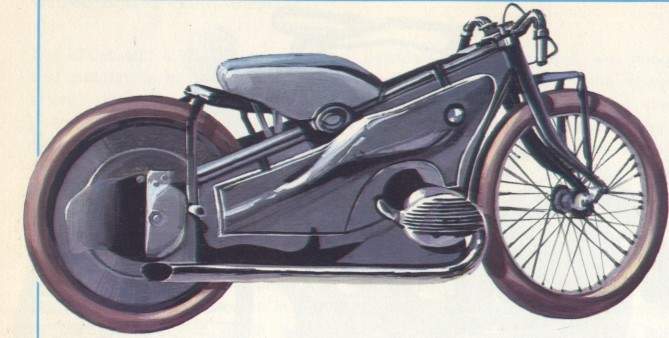 BMW 750 Record Racer 1930
For many Germans the Ingolstadt-Munich road, with its long, broad straightaways, was merely a pleasant, restful, and safe thoroughfare. For BMW of Munich, on the other hand, it was the ideal place to run record-breaking motorcycles at full speed. One of the most successful earlier models was the BMW 750.
BMW's first attempt to beat the record that the English racer Herbert Le Vack had set with a 1,000-cc. Brough Superior-JAP took place in 1929. The smaller displacement of the BMW 750 did not bother the BMW's technicians. They thought that the lower position of the engine would reduce the vehicle's resistance to the air so that the motorcycle could outdo Le Vack's 129.06 m.p.h.
Ernst Henne, wearing a bubble helmet, rode his BMW 750 at some 135 m.p.h. on September 19, 1929. About a year later Joe Wright rode an 85-h.p. OEC Temple-JAP 1000, with supercharger, at 137.32 m.p.h., taking the record back to Britain again. On September 21, 1930, Henne rode a BMW substantially identical to the one he had used in 1929 and set a new record. Henne drove the kilometer in 16"24 at an average speed of 137.66 m.p.h.
Motorcycle: BMW 750 Record Racer Manufacturer: BMW, Munich Type: World record Year: 1930
Engine: BMW two-cylinder, opposed at 180°. Four-stroke with overhead valve distribution, rod and rocker. Supercharger. Displacement 735.8 cc. (83 mm. x 68 mm.)
Cooling: Air
Transmission: Four-speed block
Power: About 80 h.p.
Maximum speed: Over 135 m.p.h.
Chassis: Double cradle in tubular elements. Front, leaf-spring suspension and friction shock absorbers; rear, rigid
Brakes: Forward, drum; rear, brake shoe operated by a pulley attached to the transmission shaft
BMW 750 Record Racer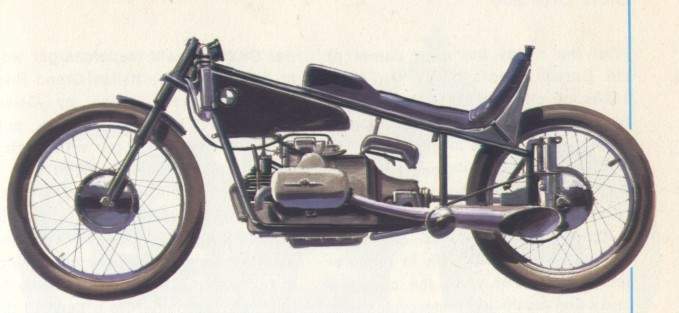 Ernst Henne's speed record stood for only two months. Joe Wright was ready with another vehicle powered by the fantastic JAP 1000 two-cylinder V, longitudinal, engine. In November, 1930, he drove the motorcycle at Cork, Ireland, where he raised the world record to 150.70 m.p.h. BMW got ready to retaliate by spending two years studying aerodynamics and improving its engine. On November 2, 1932, Henne raised the record again, this time to 151.86 m.p.h.
From that point on, BMW had nobody to beat but itself. In 1934 Henne got up to 153 m.p.h. In 1935, with a fully elastic chassis and streamlined fairing, he raised the record to 159.1 m.p.h.
In 1936 the BMW technicians decided to decrease the motorcycle's displacement from 750 to 500 cc. It seems odd to cut a racing motorcycle's engine size, but there was a sound basis for this technical change. The BMW 500 single-shaft motorcycle had to offer a certain margin of reliability in circuit racing if it was to last the race, but in record racing far less endurance was demanded. Thus the BMW 500 could generate 106 h.p., which enabled Henne to become the first man in the history of motorcycle racing to set a world speed record with a 1/2-liter vehicle: 169.01 m.p
Motorcycle: BMW 750 Record Racer Manufacturer: BMW, Munich Type: World record Year: 1935
Engine: BMW two-cylinder, opposed at 180°. Four-stroke with overhead valve distribution, rod and rocker. Supercharger. Displacement 735.8 cc. (83 mm. x 68 mm.)
Cooling: Air
Transmission: Four-speed block Power: 100 h.p.
Maximum speed: About 160 m.p.h.
Chassis: Double cradle in tubular elements. Front, telescopic suspension; rear, wheel drive
Brakes: Front and rear, central drum