BMW 980 Bol D'or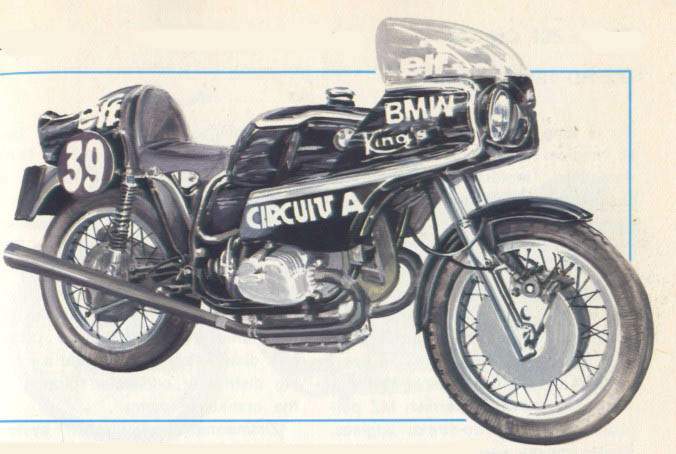 BMW officially withdrew from world championship speed racing in 1964, but the German company returned to that field—first semiofficially and then officially—some years ago. Meanwhile the company stuck with the system of the two-cylinder opposed-piston engine with universal transmission. BMW went back into competition with its bigger series-derived motorcycles for endurance racing—the formidable twenty-four-hour Coupe d'Endurance races.
BMW, a company that had become famous for its extremely sturdy engine, found that it could not break its commitment to racing, especially at a time when motorcycle fans were taking the BMW to their hearts.
The racing BMW, developed on the basis of the experience of the fine German driver Helmuth Dahne, who rode BMWs year after year, was first entered in the main big-class speed races. It had to stand up to the cornpetition of the multicylinder Daytona formula motorcycles that were being manufactured by the Japanese and the Italians. But it was at the Bol D'or, the famous Le Mans 24 Hours, that the BMW 750 (which became a 900 in 1973 and a 980 in 1975) came into its own. Ridden by Dahne, the Nies brothers, Green, Woide, Gluck, and many private racers, the BMW 900 copped the leading placings in the Coupe d'Endurance classifications.
Motorcycle: BMW 980 Bol d'Or Manufacturer: BMW, Munich Type: Coupe d'Endurance Year: 1975
Engine: BMW two-cylinder, opposed-piston, transverse, 180°. Four-stroke cycle. Rod-and-rocker distribution. Displacement 980 cc.
Cooling: Air
Transmission: Five-speed block; universal shaft final transmission
Power: 80 h.p. at 8,500 r.p.m.
Maximum speed: Over 150 m.p.h.
Chassis: Continuous tubular double cradle. Front and rear, telescopic suspension
Brakes: Front wheel, hydraulic double disk; rear wheel, central drum