Bultaco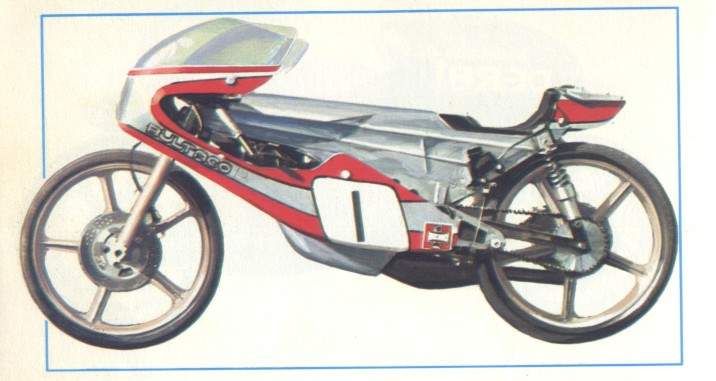 Bultaco 50
After the Derbi company withdrew from racing, Angel Nieto was taken on by the Dutch Van Veen team for the 1975 season.
The news of Nieto's defection was not well received in Spain. Nieto had always raced Spanish motorcycles, helping to call other countries' attention to the products of Spanish industry. It would look bad for Spain if the finest Spanish racer had to go abroad to find competitive vehicles to ride when the Spanish manufacturers— Bultaco, Derbi, and Ossa—could all provide him with fine two-wheelers. Disregarding these patriotic arguments, Nieto rode for Kreidler-Van Veen and won the 1975 championship.
At this point the Spanish motorcycling federation got through to him, persuading him to leave the Dutch team and ride two new motorcycles that had been acquired by the Piovaticci team from Bultaco.
Piovaticci team was Italian, and Eugenio Lazzarini, who rode for it, had come in second behind Nieto in the 50 class. The team also had two Dutch designers, Jan Thiel and Martin Mijwaart, to provide its members with the finest in technical assistance.
The Bultaco 50 Grand Prix that Nieto rode was tuned in Spain, and with it Nieto won five Grand Prix and his seventh world championship.
The Motorcycle: Bultaco 50
Manufacturer: C.ia Espafiola de Motores
S.A. "Bultaco Motorcycles," S. Adrian
de Besos, Barcelona Type: Racing Year: 1976
Engine: Bultaco single-cylinder, two-stroke, with rotating-disk distribution. Displacement 50 cc. (40 mm. x 39 mm.)
Cooling: Water
Transmission: Six-speed block Power: Over 17 h.p. at 16,000 r.p.m. Maximum speed: Over 115 m.p.h. Chassis: Single-piece body and chassis.
Front and rear, telescopic suspension Brakes: Front and rear, hydraulic disk
Bultaco 125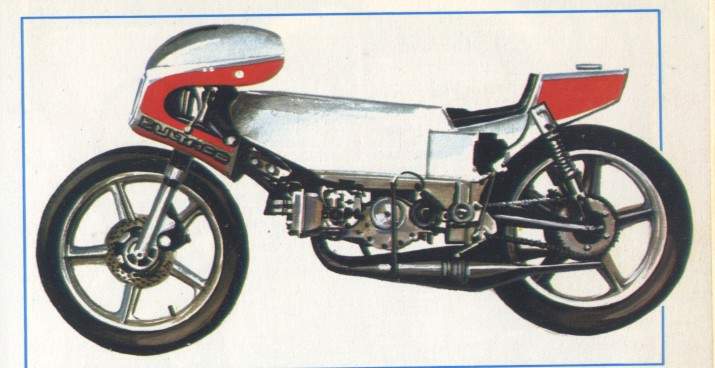 From the beginning of the 1975 season, the 125 class was the exclusive property of the Morbidellis ridden by Paolo Pileri and Pier Paolo Bianchi. That year Eugenio Lazzarini, the official rider of the Piovaticci team, had built a special single-piece chassis for a new 125-cc. engine designed for him by the Dutchmen Jan Thiel and Martin Mijwaart, who formerly ran the Jamathi company. The engine was not ready until late in the season. With this motorcycle Lazzarini thought he could give Pileri and Bianchi some competition.
But the Piovaticci team was disbanded at the end of the 1975 championship season. The machines and the Dutch designers were taken over en bloc by Bultaco, with help from the Spanish motorcycling federation. Bultaco planned to enter the 125 in the world championship, with Angel Nieto in the saddle.
Thiel and Mijwaart put t touches on the two-cylinder Nieto tested it on the track. 1 results were disappointing, t the motorcycle's performance to improve. Bianchi withdre the Belgian Grand Prix, an outraced Pileri's Morbidelli new two-wheeler's first vie Sweden the Bultaco finished the two Mor
Motorcycle: Bultaco 125 Manufacturer: C.ia Espafiola de I
S.A. "Bultaco Motorcycles," S.
de Besos, Barcelona Type: Racing ■ Year: 1976
Engine: Bultaco two-cylinder, twc with double rotating-disk disti Displacement 125 cc. (43.8 r mm.)
Cooling: Water
Transmission: Six-speed block Power: Over 35 h.p. at 14,000 r.p Maximum speed: Over 135 m.p.h Chassis: Single-piece body and
Front and rear, telescopic sus Brakes: Front, double hydraul
rear, hydraulic disk