Calthorpe 350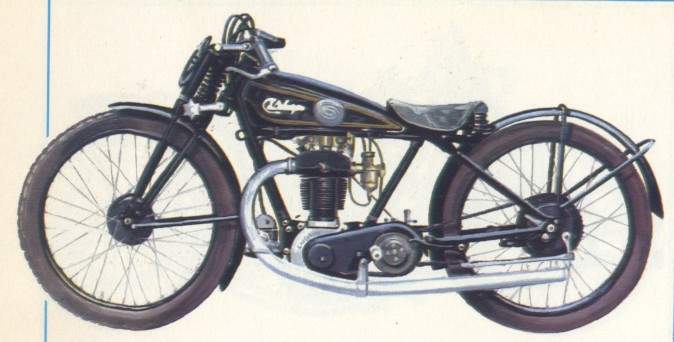 While official AJS, Sunbeam, and Norton motorcycles dominated 350-and 500-class racing, private European racers made do with whatever they could find, including old side-valve Sunbeams that were still in fine condition and still able to give high performance; modified production models of the Norton; and rod-and-rocker Calthorpes.
These were the only genuine racing motorcycles for those private racers who could not afford the latest models of the British motorcycles.
Calthorpe was a small company in Birmingham, England. It had started out by manufacturing accessories and mounting other people's engines on its own chassis. Subsequently Calthorpe built its own engines as well. Because of the careful handwork that went into the design, these engines performed well and were highly reliable.
In 1926 Calthorpe went into racing, Chassis: Single cradle, tubular, open below. Front, elastic suspension; rear, rigid
Brakes: Front and rear, side drum
albeit not directly. The company sold racing models to private racers at reasonable cost. In any case, the Calthorpe 350 soon became popular thanks to its construction technique. The single-cylinder engine with head valves was controlled by rod and rocker in a cylindrical casing outside the finning. The chassis was open below and the fuel tank served a dual purpose, holding lubricating oil as well as fuel.
Motorcycle: Calthorpe 350 Manufacturer: Calthorpe Motorcycles Co.,
Birmingham Type: Racing Year: 1926
Engine: Calthorpe single-cylinder, vertical, four-stroke, overhead valve distribution, rod and rocker. Displacement 350 cc.
Cooling: Air
Transmission: Three-speed separate
Power: —
Maximum speed: About 80 m.p.h.