Delia Ferrera 500 Record Racer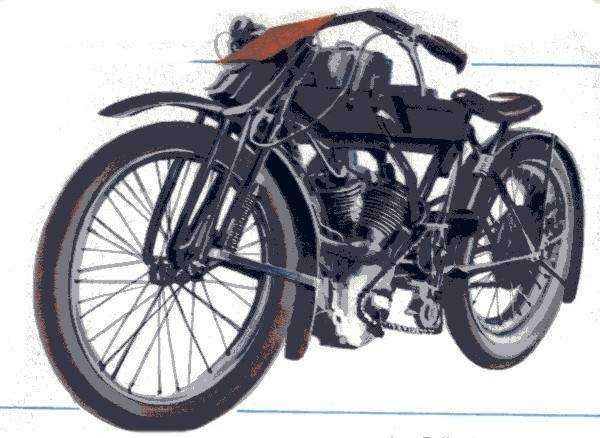 From his early youth Federico Delia Ferrera had a passion for mechanical things.
His great dream of becoming a motorcycle manufacturer began to come true about 1910. He started out with a small four-stroke engine with head valves and a displacement of 498.7 cc. In 1914 Delia Ferrera built a racing motorcycle with a four-valve overhead engine, two-wheel brakes, graduated-speed gearing, and. front-wheel elastic suspension with a shock absorber.
The most famous of Delia Ferrara's racing motorcycles was his 1921 model. It had a two-cylinder, four-stroke overhead-valve engine, with single-shaft chain distribution.
This model, known as the "Cate-rina," was ridden by the young manufacturer (who had already made a name for himself as a racer) to a world speed record—the first ever for an Italian-built motorcycle. On the 114 straightaway of the dusty road between Orbassano and Bruino, Delia Ferrera, wearing a leather cap and goggles to protect his eyes from the dust, rode at the wild speed of almost 90 m.p.h. on his first attempt. On his second run he drove a little- more slowly. Therefore the official record for the top speed of the 500-cc. motorcycle was an average of the two runs, 139 km./hr. (about 85 m.p.h.).
Motorcycle: Delia Ferrera 500 Record Racer
Manufacturer: Fratelli Delia Ferrera, Turin Type: World record and hill climbing Year: 1921
Engine: Delia Ferrera two-cylinder V, 45° (11 mm. off axis); four-stroke cycle. Single-shaft overhead chain distribution. Displacement 493.9 cc. (68 mm. x 68 mm.)
Cooling: Air
Transmission: Three-speed separate, Del-la Ferrera chain type
Power: About 20 h.p. at 5,300 r.p.m.
Maximum speed: 85-90 m.p.h. (record set for 500-cc. class in 1921)
Chassis Tubular single cradle, open below. Front, elastic suspension; rear, rigid
Brakes: Front and rear, skid