Derbi 250 1972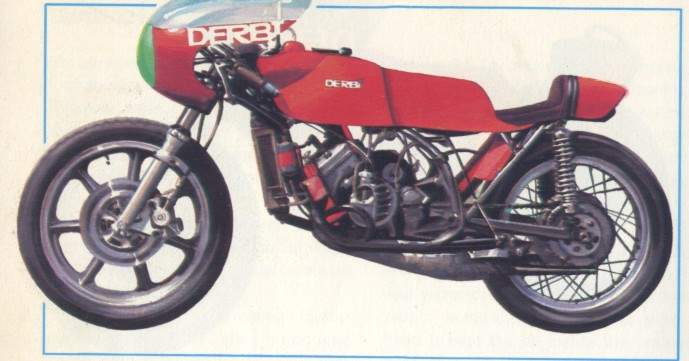 The Derbi 250 was built late in 1970. It was entrusted to the British rider Barry Sheene and to Angel Nieto, both of whom rode it experimentally at the 1971 Austrian Grand Prix. Both riders had to withdraw, and nothing more was heard of the 250 that year.
Nieto rode the Derbi 250 again in 1972 at the opening race of the season, held at the Niirburgring. The Spanish racer had a bad fall that broke his nose and had to be taken to a hospital for fear of concussion. Fortunately for Nieto, his injury proved to be less serious than had been anticipated by his doctors.
The Swedish driver Borje Jansson rode the % -liter at the next race, the French Grand Prix. A fine Continental Circus rider, Jansson still managed only tenth place in the race.
The motorcycle was vindicated at the Austrian Grand Prix, where it proved itself competitive. Jansson came in nineteen seconds ahead of the Finnish champion, Jarno Saarinen, who was forced to console himself with an unimpressive second place.
That win was the 250's last international triumph. Derbi's entire racing department was feverishly at work preparing the 50 and the 125 for the world championship, which left no time for the 250 model. It won races only in Spain thereafter.
The motorcycle was vindicated at the Austrian Grand Prix, where it proved itself competitive. Jansson
Motorcycle: Derbi 250
Manufacturer: Derbi Ciclomotores, Mol-
let, Barcelona Type: Racing Year: 1972
Engine: Derbi two-cylinder, two-stroke, with double rotating-disk distribution. Displacement 250 cc.
Cooling: Water
Transmission: Six-speed block
Power: 58 h.p. at 12,500 r.p.m.
Maximum speed: Over 150 m.p.h.
Chassis: Double cradle, continuous, tubular. Front and rear, telescopic suspension
Brakes: Front, central drum, four shoes, four-cam; rear, central drum, double cam