Derbi 50 1972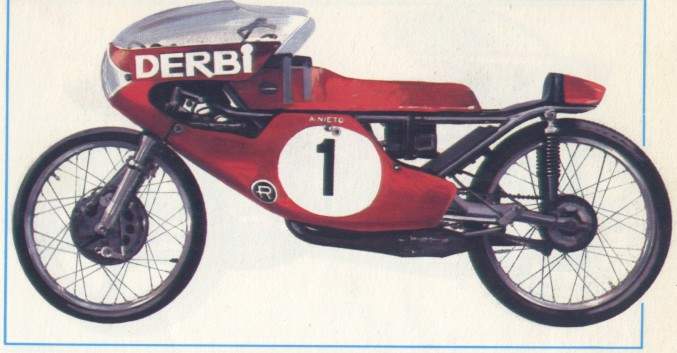 The winning of the first world championship in the 50 class was the culmination of what Derbi had been dreaming of since 1962. The technical level achieved by all the companies that entered official racers in the category was very high by the end of 1969, so victory had real meaning. Derbi won the championship by one point over Aalt Toersen's Kreidler, and the Spanish company started out the 1970 season as the favorite. Angel Nieto won the first four races of the season but then fell into a slump, which enabled Toersen to win three consecutive Grand Prix with his Kreidler. Nieto came back to win in Ireland, and the last race of the season went to Nieto's teammate, Salvador Canellas.
Galvanized by success, Derbi neglected the 50 to concentrate on the 125. This was a great error in judgment. Jan De Vries took advantage of it at once to win the 1971 50-class championship in the saddle of a Kreidler that had been beautifully tuned and prepared by Van Veen, the Dutch Kreidler dealer.
In 1972 Derbi tried to make up for lost time with the 50. The engine was substantially improved and Nieto won the title again. The championship did not come easily, however, for Derbi and Kreidler finished the season with the same number of points.

Motorcycle: Derbi 50
Manufacturer: Derbi Ciclomotores, Mol-
let, Barcelona Type: Racing Year: 1972
Engine: Derbi single-cylinder, two-stroke, with rotating-disk distribution. Displacement 50 cc.
Cooling: Water, including crankcase
Transmission: Six-speed block
Power: Over 18 h.p. at 16,000 r.p.m.
Maximum speed: Over 115 m.p.h.
Chassis: Double cradle, continuous, tubular. Front and rear, telescopic suspension
Brakes: Front, central drum, four shoes, four-cam; rear, central drum