Ducati 860 Bol D'or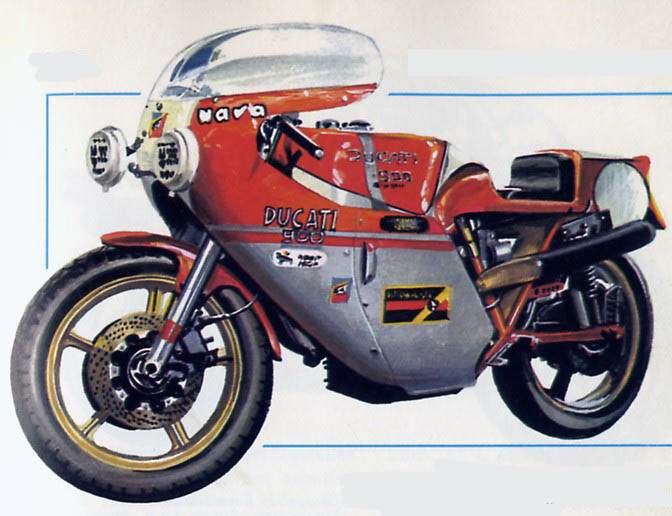 The Ducati 750 SS proved to be the world's fastest four-stroke motorcycle, with its 1972 victory at the Imola 200 and its second place in the 1973 edition. It was subsequently set aside and replaced by a much less powerful production model. Giorgio Nepoti and Rino Caracchi, owners of a shop in Bologna that specialized in adapting and tuning Ducati engines, wanted to upgrade the two-cylinder engine developed by Fabio Taglioni.
Not intending to do official racing, Ducati entrusted the job to the two men, offering them the technical collaboration of Taglioni and Franco Fame, who was formerly an official driver and subsequently head of the experimental department.
In 1975 the Ducati 750 was increased to 860-cc. displacement and was raced by the Spanish motor-
cyclists Canellas and Grau in the Montjuich 24 Hours. The Ducati won an outstanding victory over the fine Kawasakis raced by the Godier-Genoud team and the Luc-Vial team.
A short time later the Ducati 860 also won the Mugello 1,000 Kilometers with the Grau-Ferrari team, but it failed to win the Coupe d'Endurance.
In 1976 the Ducati 860 was the favorite for the Coupe, and it won the Misano 4 Hours.
Motorcycle: Ducati 860 Bol d'Or Manufacturer: Ducati Meccanica, Borgo
Panigale, Bologna Type: Coupe d'Endurance Year: 1976
Engine: Ducati two-cylinder V, longitudinal, 90°, four-stroke, with overhead "desmodromic" single-shaft distribution, bevel gears. Displacement 851.4 cc. (88 mm. x 70 mm.)
Cooling: Air
Transmission: Five-speed block Power: 93 h.p. at 8,500 r.p.m. Maximum speed: Over 165 m.p.h. Chassis: Double cradle, tubular. Front
and rear, telescopic suspension Brakes: Front, hydraulic double disk;
rear, hydraulic disk