Garelli 350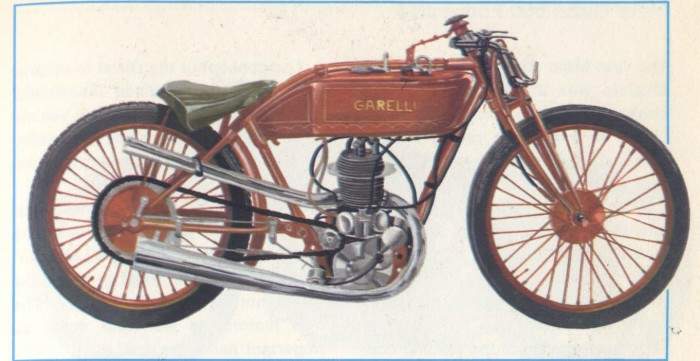 Before World War I most motorcycle manufacturers considered only one problem to be open to discussion— whether to have side or head valves. At that time it seemed decidedly original to set out to build a two-stroke engine. And to have a motorcycle with such an engine win the most important races of the period made it the stuff of legend.
The Garelli 350 was the fruit of the skill and tenacity of Adalberto Garelli, former employee of FIAT-Motori Ma-rini, where he learned much about multicylinder two-stroke engines designed for surfaced submarines. The first Garelli engine was installed on a military motorcycle used in World War I. After the war the Garelli 350 was put on the market as an alternative to Italian and foreign four-stroke engines.
Garelli wanted to demonstrate the reliability of his two-stroke split-cylinder vehicle as well as its technical potential, so he entered it in the first edition (1919) of the Nord-Sud (North-South) race. Ettore Gir-ardi rode the two-wheeler to first place at a speed of almost 25 m.p.h. This was the first in a whole series of wins. Ernesto Gnesa and Erminio Visioli won all the most important races both in Italy and abroad with Garellis between 1920 and 1925. And in 1926 the Garelli 350 set 138 world speed records at Monza.
Motorcycle: Garelli 350
Manufacturer: Meccanica Garelli S.p.A.,
Sesto San Giovanni Type: Racing Year: 1924
Engine: Garelli two-stroke split-cylinder, with one combustion chamber and pin. Intake on the right, discharge on the left. Displacement 348.2 cc. (52 mm. x 82 mm.)
Cooling: Air
Transmission: Three-speed block
Power: 20 h.p. at 4,500 r.p.m.
Maximum speed: Over 80 m.p.h.
Chassis: Tubular single cradle, open below. Front, elastic suspension; rear, rigid
Brakes: Front and rear, side drum