Gilera 125 1956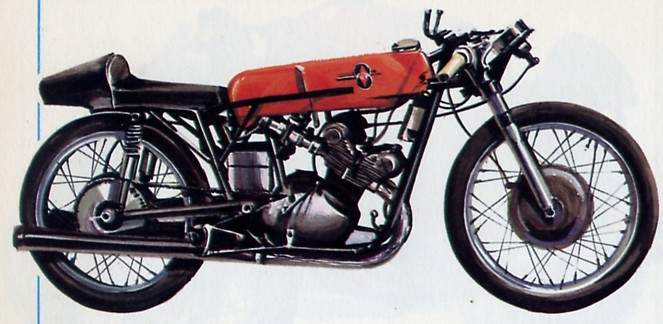 The history of the racing Gilera 125 is one of the oddest tales in Grand Prix racing. It is not clear why the racer was built in the first place, since Gilera was already making plans to withdraw from racing at that time (1956). Moreover, the Gilera company had always counted exclusively on larger vehicles. The only logical explanation seems to be that once this small two-cylinder vehicle was tried out, its performance was so high that the company had to manufacture it, even while on the verge of retiring from racing.
The Gilera 125 two-cylinder was indeed very powerful. The small motorcycle generated 20 h.p. at 12,000 r.p.m.—more or less the same power generated by the finest MV Agusta and Mondials in the class, but they had been evolved over several years.
The new Gilera motorcycle made its debut in the second race of the Italian championship. It was ridden by Romolo Ferri at Monza to a dazzling victory, which was all the more important in that he outraced the world champion, Carlo Ubbiali.
Throughout the 1956 season Ferri and the Gilera two-cylinder were the only obstacles to Ubbiali and his MV 125. The Ferri-Gilera combination also won the world championship German Grand Prix, which was run that year at Solitude.
Motorcycle: Gilera 125 Two-cylinder Manufacturer: Moto Gilera, Arcore Type: Racing Year: 1956
Engine: Gilera two-cylinder, four-stroke, with two-shaft overhead geared distribution. Displacement 124.6 cc. (40 mm. x 49.6 mm.)
Cooling: Air
Transmission: Five-speed block
Power: About 20 h.p. at 12,000 r.p.m.
Maximum speed: Over 115 m.p.h. (with front and rear fairing)
Chassis: Double cradle, continuous, tubular. Front and rear, telescopic suspension
Brakes: Front and rear, central drum, double cam