Maico 125 GP 1972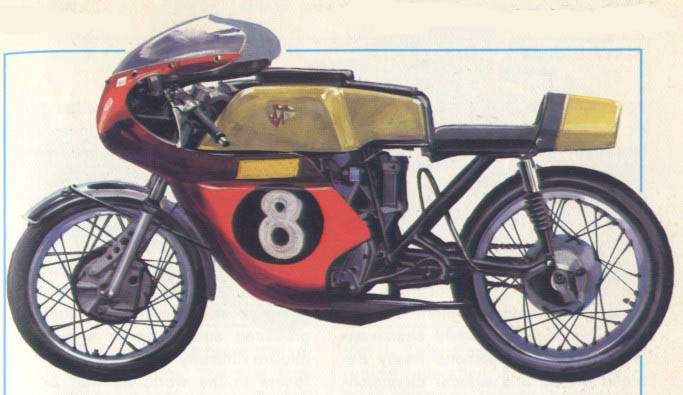 The Maico 125 was built simply to test its racing possibilities. It first appeared in world championship classifications in 1970. That tough Swedish racer Borje Jansson astonished the specialists by obtaining fine placings right behind the two acknowledged favorites, the Derbi and the Suzuki. With two second places and three thirds, Jansson finished the championship season in third place with his Maico 125. He finished ahead of Dave Simmonds' Kawasaki, although Simmonds was then reigning champion. That same year, the first private vehicle to place behind the "greats" was the Maico ridden by the German Gruber.
In 1971 the Maico proved to be the best vehicle for nonofficial 125-class racers. The 1971 version had the same single-cylinder engine with two-stroke action and rotating-disk feed, and the same rather clumsy appearance. In that year's world championship Jansson rode the Maico 125 to third place, Dieter Braun rode one to fourth place, and Bender's came in seventh.
The vehicle continued to develop in 1972. That year Jansson came in first in two Grand Prix races. The following year he won the Swedish Grand Prix for the second time, while the Italian racer Eugenio Lazzarini rode a Special with Maico engine to win in the Netherlands.
Motorcycle: Maico 125 Grand Prix Manufacturer: Maico-Ammerbuch, Pfaffin-
gen Type: Racing Year: 1972
Engine: Maico single-cylinder, two-stroke, rotating-disk distribution. Displacement 125 cc.
Cooling: Mixed—air for the head and water lor the cylinder
Transmission: Six-speed block
Power: 28 h.p. at 11,000 r.p.m.
Maximum speed: About 125 m.p.h.
Chassis: Continuous double cradle with tubular elements. Front and rear, telescopic suspension
Brakes: Front and rear, central drum