Mondial 125 Bialbero1951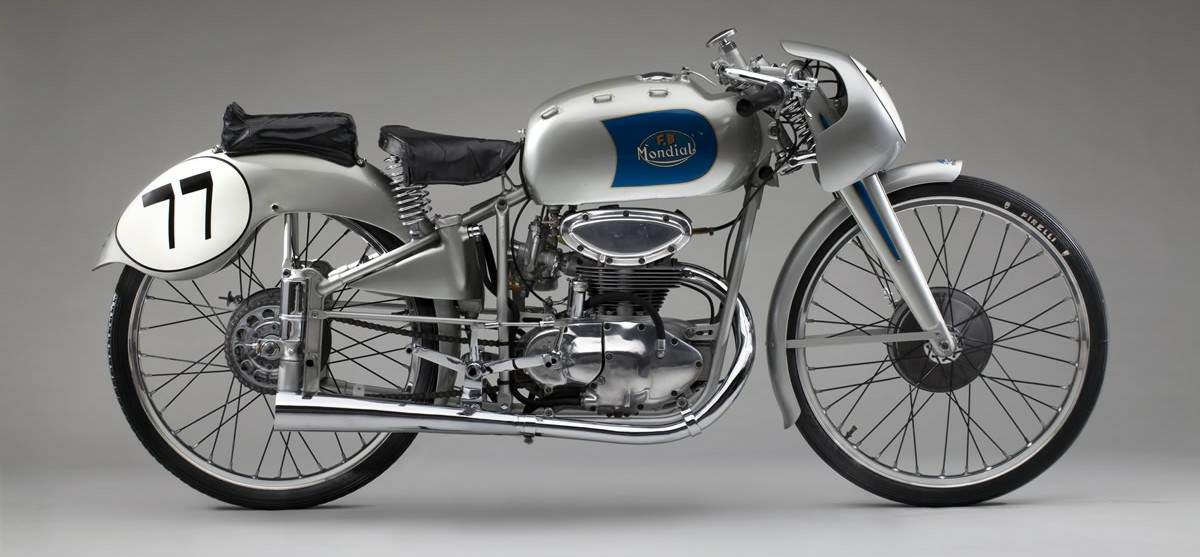 1951 MONDIAL 125. Despite a lot of scepticism on the part of many riders in the "big" events, a race for 125 c.c. machines was run in the 1951 T.T. series, over two laps of the Mountain circuit. Starters included a large number of British specials, a couple of Spanish Montesas—and four Italian Mondials and an Italian M.V.
The last-named retired on Bray Hill on lap 1; the Mondials then completely dominated the race, finishing in the first four berths and all averaging over 70 m.p.h. and winning silver replicas. Next man home, J. S. Bulto (Montcsa), averaged 63 m.p.h. . . .
The race was led on both laps by Ulsterman Cromie McCandless (one of the brothers responsible for the "Featherbed" Norton frame) who averaged 7485 m.p.h. overall and established a lap record of 7534 m.p.h. on his second tour. He was tailed home by Carlo Ubbiali, making his first visit to Manxland. . . .
The machine that in 1951 was far in advance of its contemporaries had lines which, only a few years later, looked almost archaic.
The spindly looking frame had short-movement plunger-type rear suspension; at the front, blade-type girder forks were used with no rebound damping. Both wheels were big-diameter, with very narrow section tyres. Only in the engine department did the machine have features which were retained for a long period.
Unit construction for engine and gearbox was employed, with the magneto enclosed in the front of the crankcase. Both the cylinder and cylinder-head were very deeply finned, with the drive to the camshafts enclosed within the finning. Cutaways were made in the head fins to allow the hairpin pattern valve springs to be exposed at their extremities for cooling.
After the race, when the machines were stripped for measurement, the mechanics said this was the first time the heads had been off since they
left Italy, no work being necessary throughout the practice period.
SPECIFICATION
Engine: single-cylinder 125 c.c. o.h.c; drive to camshafts
by gear train. Ignition: Marelli magneto.
Transmission: gear primary drive to four-speed gearbox;
final drive by chain. Frame: duplex cradle with single top-tube and plunger
rear suspension; bolted-in struts from saddle nose
to bottom rails. Forks: girder with one compression spring.