MV Agusta 350 Triple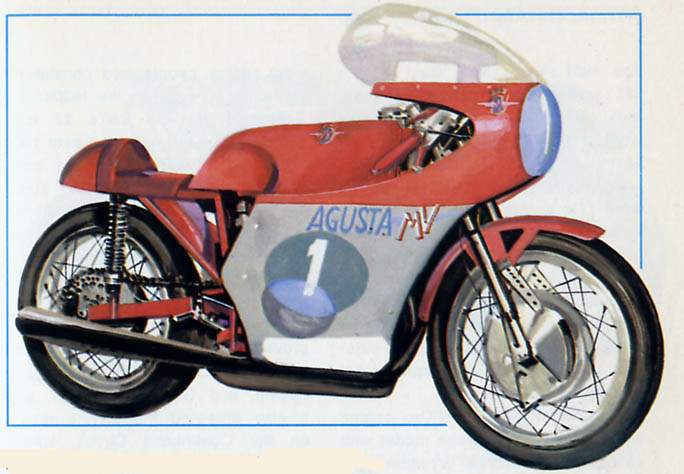 In 1965 the MV Agusta company hired a young racer named Giacomo Agostini to back up its number-one driver, Mike Hailwood. Agostini had made his debut in Senior racing in 1964, riding an official Moto Morini 250.
The youthful Agostini mastered the MV Agusta so quickly that he was put into the world championship that same year. He drove the brand-new MV 350 three-cylinder in its maiden race. This motorcycle had been built in hopes of recapturing the 350 title, which had been the property of the four-cylinder Honda for some time.
The MV Agusta 350 three-cylinder made its debut at Nurburgring, which was a very tough track even for the
most experienced drivers. Giacomo Agostini started out in the lead and crossed the finish line a good two minutes ahead of his teammate Hailwood, who was riding the old 350 four-cylinder racer. Jim Redman, world champion in the class, fell off his motorcycle while trying to keep up with Agostini. Fortunately Redman was unharmed by the fall.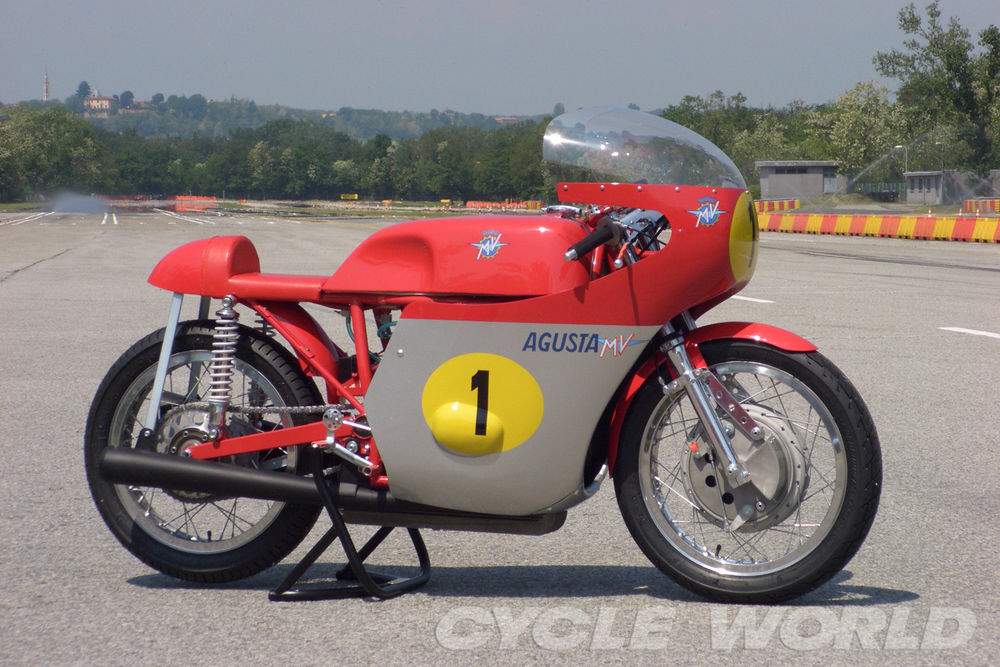 In 1965 the MV 350 three-cylinder and Agostini lost the championship by a hair's breadth. The following year Hailwood switched to Honda and Agostini had to race against the former champion of his team, without winning. In 1967 Hailwood rode the new Honda 350 six-cylinder and kept his distance. Honda withdrew from
acing in 1968, and Mike Hailwood decided to retire.
At this point Giacomo Agostini and MV Agusta had no one else to beat. They won the world title four times with the three-cylinder.
At the 1966 Dutch Grand Prix, the MV Agusta company introduced a 500 model that had been derived from the 350 three-cylinder. The object of developing the 500 was to combine the maneuverability and stability of the smaller vehicle with the power that a larger engine could afford. The 500 three-cylinder was the motorcycle that kept Honda from winning the 1966 world championship in four classes, and blocked Honda and Hailwood from winning the 500 title the following year.
After Hailwood's retirement, Agostini and the MV 500 three-cylinder easily won five more world titles.
In 1972, after seven years of fine service to the men who had built it and raced it, the MV three-cylinder was replaced by a four-cylinder.
Motorcycle: MV Agusta 350-500 Three-cylinder
Manufacturer: MV Agusta, Cascina Costa,
Gallarate Type: Racing Year: 1969
Engine: MV three-cylinder, four-stroke, with two-shaft overhead geared distribution and four valves per cylinder. Displacement 349.2 cc. (55 mm. x 49 mm.—350); 491.2 cc. (60.5 mm. x 57 mm.—500)
Cooling: Air
Transmission: Seven-speed block Power: About 63 h.p. at 13,500 r.p.m.
(350); about 80 h.p. at 12,000 r.p.m.
(500)
Chassis: Double cradle, continuous, tubular. Front and rear, telescopic suspension
Brakes: Front, central drum, tour shoes, four-cam; rear, central drum, double cam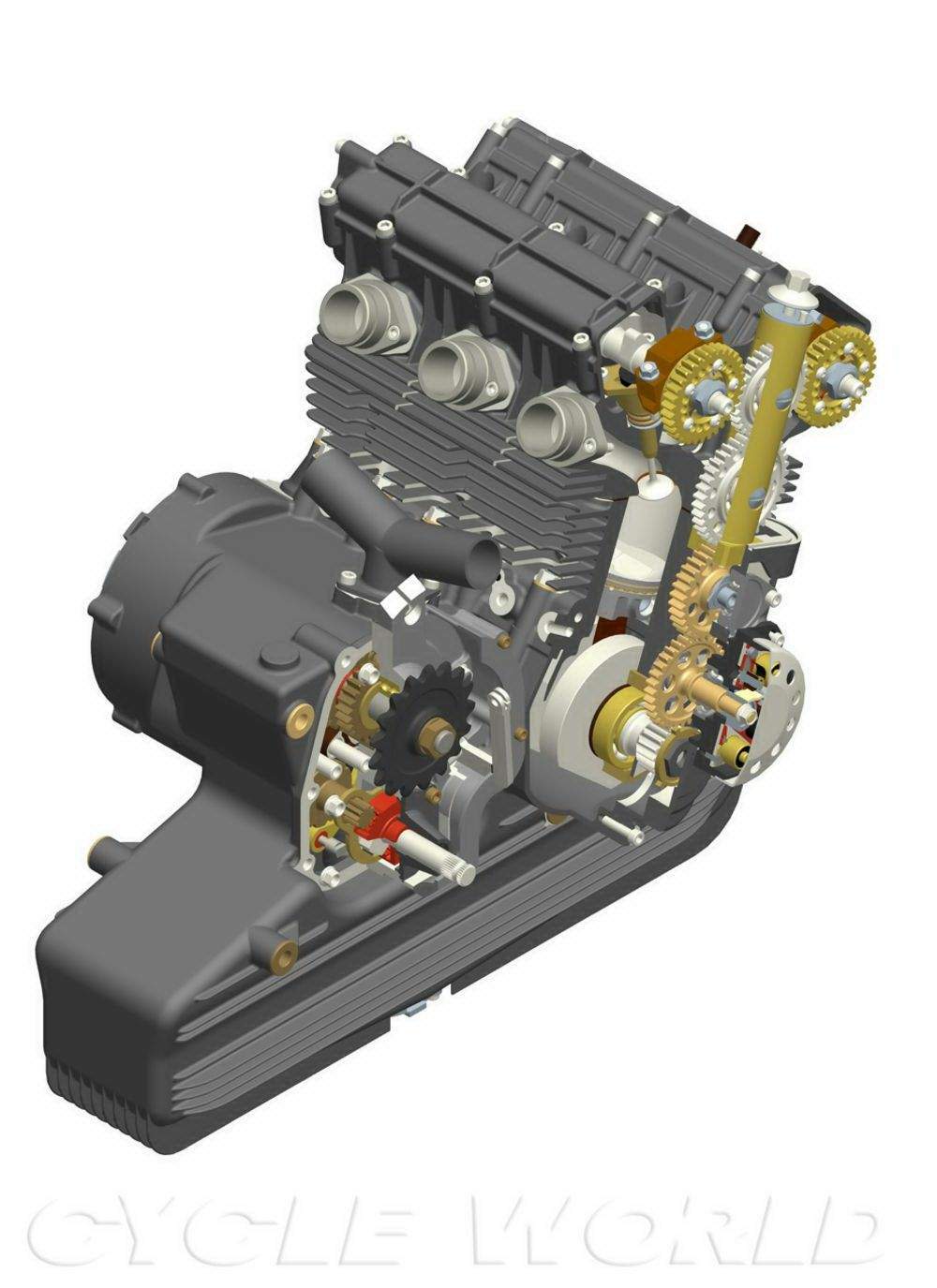 The original MV Agusta three-cylinder engine started life in 1963, based on the sketchy inputs of Count Domenico Agusta himself. Not an engineer by trade, the Count did possess a passionate enthusiasm that gifted him with a number of technical intuitions. One of the most brilliant was the idea of developing a 350cc GP three-cylinder out of the very successful GP 250 Twin. The first edition had individual cylinders and heads, with two valves per cylinder set at a 91-degree included angle (the standard of the time) and hairpin valve springs.
Almost immediately, the potential of this design appeared to be limited, so a disappointed Count Agusta called for a radically evolved design. Chief technical designer Mario Rossi and MV's technical draftsman, young Enrico Sironi, had seen this coming, and they already had drawings ready for a much more advanced single-unit head. Induction evolved to four valves per cylinder at a 73-degree included angle.
In 350cc configuration, the new MV Agusta Three was moderately oversquare at 56 by 46.2mm, and in its final edition of 1972, it produced 68 horsepower at 15,000 rpm. By then, compression was a healthy 11.5:1. Induction was by three Dell'Orto SS30 (separate-bowl) carburetors, and the 23mm inlet and 21mm exhaust valves were set at a 65-degree included angle. In the hands of Agostini, the GP 350 Three won five World Titles in a row between 1968 and 1972.
The same engine was progressively enlarged from 350 to a full 500cc and had an even more brilliant life at that capacity. It won seven World Titles in a row from 1966 to 1972, all of them also under Agostini, bringing the total to 12!.
In 500 form, the GP engine grew to 62mm by 55mm, with 11:1 compression and four valves set at a 73-degree included angle. In 1972, included valve angle went to a more conventional 56 degrees, using 24mm inlet and 22mm exhausts. In this form, the mighty GP 500 reached a maximum output of 83-84 hp at 13,500 rpm before running its last race in 1974.
The HRT engineers adopted those latest specifications when they gave life to their replicas. Agostini always loved the MV Three more than the Four, which he considered too rough and aggressive. In its technical layout, the GP Three followed what at the time were regarded as the golden rules for extracting maximum power from a motorcycle engine: pressed-together crankshaft, con-rods turning on needle cages, roller- or ball-bearings everywhere and gear-driven distribution. Magnesium castings were used wherever the metallurgy of the time allowed.