MV Agusta 350-500 Three-cylinder 1969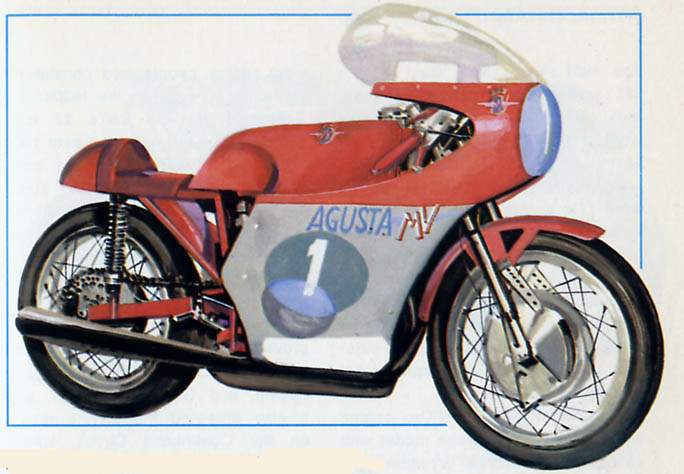 In 1965 the MV Agusta company hired a young racer named Giacomo Agostini to back up its number-one driver, Mike Hailwood. Agostini had made his debut in Senior racing in 1964, riding an official Moto Morini 250.
The youthful Agostini mastered the MV Agusta so quickly that he was put into the world championship that same year. He drove the brand-new MV 350 three-cylinder in its maiden race. This motorcycle had been built in hopes of recapturing the 350 title, which had been the property of the four-cylinder Honda for some time.
The MV Agusta 350 three-cylinder made its debut at Nurburgring, which was a very tough track even for the
most experienced drivers. Giacomo Agostini started out in the lead and crossed the finish line a good two minutes ahead of his teammate Hailwood, who was riding the old 350 four-cylinder racer. Jim Redman, world champion in the class, fell off his motorcycle while trying to keep up with Agostini. Fortunately Redman was unharmed by the fall.
In 1965 the MV 350 three-cylinder and Agostini lost the championship by a hair's breadth. The following year Hailwood switched to Honda and Agostini had to race against the former champion of his team, without winning. In 1967 Hailwood rode the new Honda 350 six-cylinder and kept his distance. Honda withdrew from
acing in 1968, and Mike Hailwood decided to retire.
At this point Giacomo Agostini and MV Agusta had no one else to beat. They won the world title four times with the three-cylinder.
At the 1966 Dutch Grand Prix, the MV Agusta company introduced a 500 model that had been derived from the 350 three-cylinder. The object of developing the 500 was to combine the maneuverability and stability of the smaller vehicle with the power that a larger engine could afford. The 500 three-cylinder was the motorcycle that kept Honda from winning the 1966 world championship in four classes, and blocked Honda and Hailwood from winning the 500 title the following year.
After Hailwood's retirement, Agostini and the MV 500 three-cylinder easily won five more world titles.
In 1972, after seven years of fine service to the men who had built it and raced it, the MV three-cylinder was replaced by a four-cylinder.
Motorcycle: MV Agusta 350-500 Three-cylinder
Manufacturer: MV Agusta, Cascina Costa,
Gallarate Type: Racing Year: 1969
Engine: MV three-cylinder, four-stroke, with two-shaft overhead geared distribution and four valves per cylinder. Displacement 349.2 cc. (55 mm. x 49 mm.—350); 491.2 cc. (60.5 mm. x 57 mm.—500)
Cooling: Air
Transmission: Seven-speed block Power: About 63 h.p. at 13,500 r.p.m.
(350); about 80 h.p. at 12,000 r.p.m.
(500)
Chassis: Double cradle, continuous, tubular. Front and rear, telescopic suspension
Brakes: Front, central drum, tour shoes, four-cam; rear, central drum, double cam