Norton 500 Model 18 1924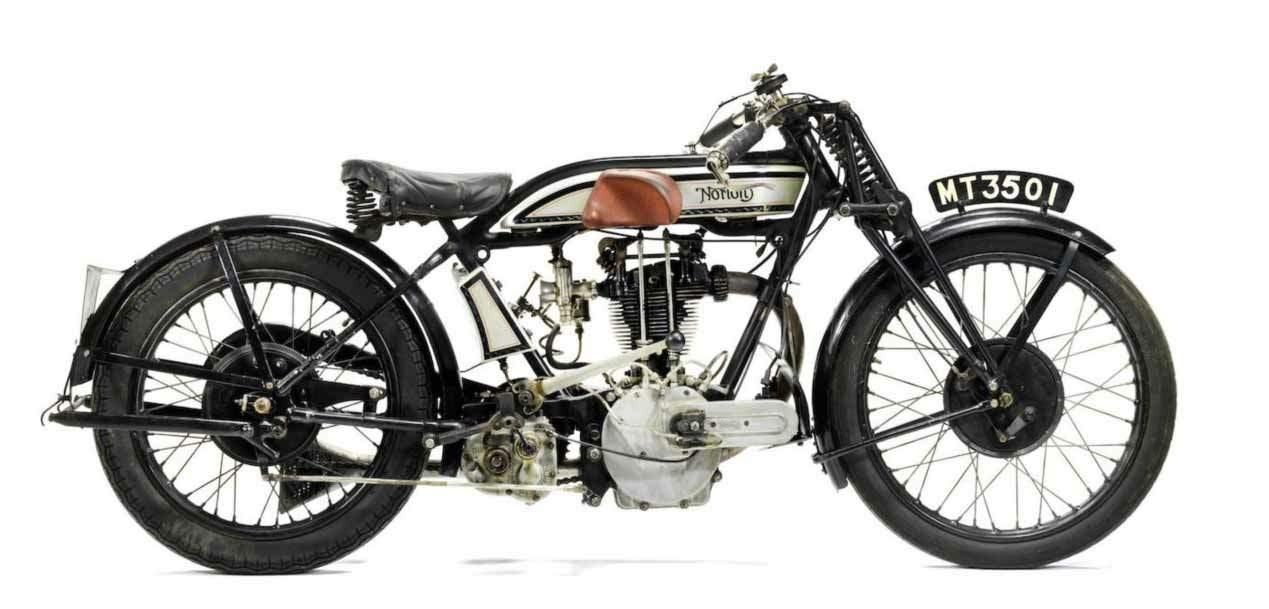 After Rem Fowler's win at the 1907 Tourist Trophy on the Isle of Man, James Norton set aside the Peugeot two-cylinder engine, which he had also installed on some of his production models. Now Norton set out to build a more modern four-stroke, single-cylinder engine that would better suit his light and maneuverable chassis.
The first successful Norton single-cylinder was a racing model with side valves on the cylinder. This motorcycle's career lasted from 1912 until the early 1920s. During this period both the chassis and the engine were extensively modified, as technology evolved along with racing experience. In 1923 the side-valve single-cylinder engine was replaced by a new model that incorporated all the improvements that had been introduced in the earlier version.
The new Norton had head valves set at a 100° angle, with long rods and rockers exposed. This vehicle weighed about 290 pounds and had 25 h.p.
The side-valve model Norton had set hour world records again and again, and the new version also set hour records, including a distance of some eighty-seven miles in one hour in 1924. The new motorcycle was a success in road racing as well, winning the 1924 and 1926 editions of the Senior Tourist Trophy.
Motorcycle: Norton 500 Model 18 Manufacturer: Norton Motors Ltd., Aston,
Birmingham Type: Racing Year: 1924
Engine: Norton single-cylinder, four-stroke, overhead valve distribution, rod and rocker. Displacement 490.1 cc. (79 mm. x 100 mm.)
Cooling: Air
Transmission: Three-speed separate Power: 25 h.p.
Maximum speed: Over 90 m.p.h.
Chassis: Single cradle, tubular, open below. Front, elastic suspension
Brakes: Front, side drum; rear, pulley wedge (later side drum)