Norton JPS 750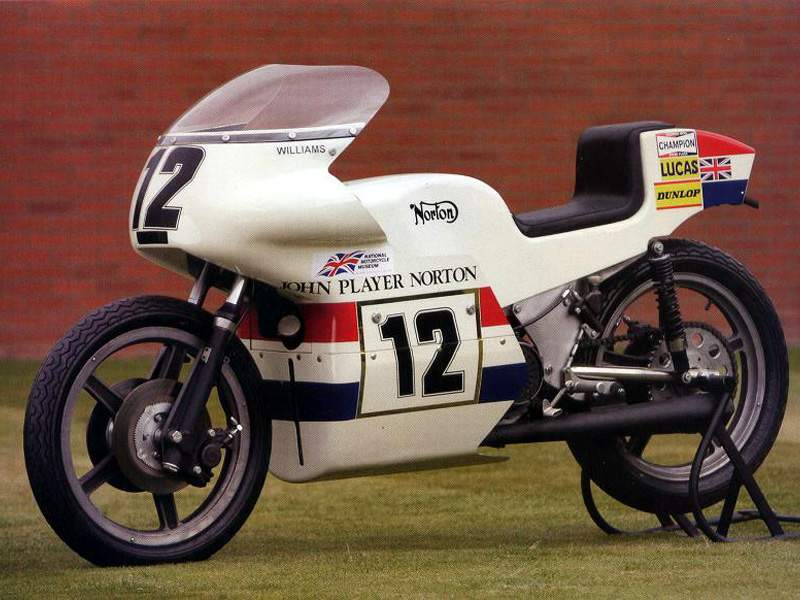 With tobacco giant John Player's support, Norton (which was restricted to production derived machines) returned to competition in 1972, in the 750 class. During its first year, the team used a modified Commando engine and a tubular frame. But the team's boss and chief development engineer, Peter Williams, was convinced that a monocoque frame was the right way to go. He created the Norton JPS Monocoque, which only raced in 1973.
Lack of Finance
The idea was to create a lighter, lower, more aerodynamic bike, but – lacking funds Williams was forced to make compromises. Instead of being in light-alloy, the frames were made of stainless steel, which proved as heavy as the tubular frames. Moreover, the mechanics complained about the difficulty of working on the enclosed engine.
Tourist Trophy Winner
Williams had the only machine ready in time for Daytona in 1973, but had carburetion problems. During the Anglo-American Easter series of six short races on three British circuits – Brands Hatch, Mallory Park and Oulton Park – Williams won three races and finished first overall. Williams then beat Barry Sheene (Suzuki) at Cadwell Park and won the 750 Formula Isle of Man TT with a record lap of 107.2 mph. Factory policy caused Norton to abandon the monocoque, replaced in 1974 by a multi-tube girder frame. Williams, who gave up racing after an accident in 1974, later designed and developed Formula 1 car engines for Cosworth Engineering, which were used by McLaren and Benetton in 1993.
SPECIFICATIONS
Engine: 745cc (73×89mm) air-cooled single cylinder four-stroke; Lucas electronic ignition
Power Rating: 74 hp @ 7000 rpm
Valves: overhead
Fuel System: two Amal GP carburetors
Transmission: 5-speed, chain primary and final drive
Suspension: telescopic forks (front); swing arm (rear)
Brakes: twin discs (front); disc (rear)
Wheels: 18 inch aluminum (front & rear)
Weight: 340 lb
Maximum Speed: 160 mph