NSU Rennfox 125 1953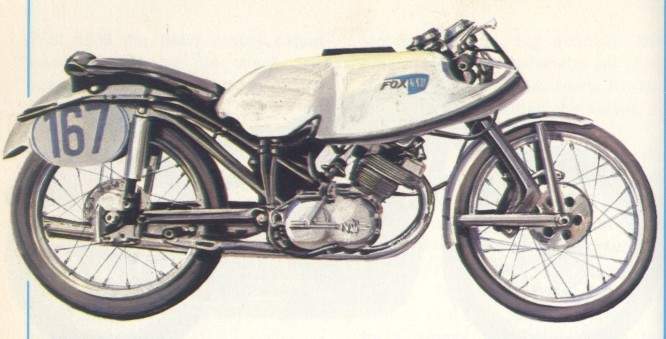 At the 1952 world championship Stuttgart Grand Prix, a German motorcycle, the NSU Rennfox, beat the 125-class world champion, Carlo Ub-biali, who was riding a Mondial.
This was the first in a series of victories for the NSU company. The NSU Rennfox 125 won the 1953 and 1954 world championships, partly because of the skill of racers Werner Haas and Rupert Hollaus. Of all the racing motorcycles that NSU built, the 1952 Rennfox seemed to be the least suited to stand up against the seemingly unbeatable Italian two-wheelers. The Rennfox had a fairly clumsy-looking stamped chassis, a heavy swinging-link fork and a nonstreamlined beaked fairing.
The engine of the 1952 model was a four-stroke single-cylinder with two-shaft overhead distribution. The engines of the next two versions had single-shaft distribution and were much lighter.
Haas won the first of his two 1953 world titles with the Rennfox 125. The Austrian driver Hollaus rode the same vehicle, with some alterations (including six-speed transmission), to win all the world championship races he entered in 1954. Hollaus died during the trials for the Italian Grand Prix at Monza. The irony is that he could have skipped that race, because he already had enough points to win the championship in his class.
Motorcycle: NSU Rennfox 125
Manufacturer: NSU, Neckarsulm
Type: Racing
Year: 1953
Engine: NSU single-cylinder, four-stroke, with single-shaft overhead distribution operated by a shaft with bevel gears.
Displacement 123.6 cc. (54 mm. x 54 mm.)
Cooling: Air
Transmission: Four-speed block
Power: 15.5 h.p. at 10,000 r.p.m.
Maximum speed: 100 m.p.h.
Chassis: Single frame tube in stamped plate with projecting suspended engine.
Rear: telescopic suspension
Front: swinging-link suspension
Brakes: Front and rear, central drum operated by double cam