Audi Moto Concept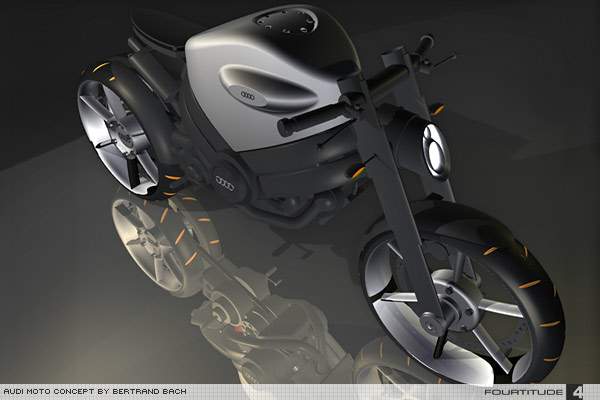 The Motorcycle business and lifestyle are hot. Hit the road on any weekend and you'll see droves of two-wheelers on the highways and byways. Knowing that, and knowing Audi/Auto Union's own history for motorcycles, an obvious and immediate flow of thought goes to what a modern Audi motorcycle would be like. What would happen if you applied the 'Vorsprung Durch Technik' (translated: 'Lead Through Technology') mantra to this different form of transportation? It is just that question that vehicle designer Bertrand Bach set about answering with the design you see here.

Designed over the period of about a month in 2003, this Audi motorcycle concept was developed with 3D software to explore a new way for the Audi brand to transpose its strong design philosophy to something completely different.

As Bach describes, the 'Vorsprung Durch Technic' slogan was an 'emotional statement' that was very personal and unique to Audi design at the time. In the designer's opinion, this language has softened since that time in part due to design restrictions placed on the development of passenger cars today. On this, Bach commented, "Today we unfortunately tend to cover the disastrous package of cars, due to crash regulation - large overhangs, with styling. I completely disagree with the trends and look forward to see designers working with the love of their job, to make from our world a better place to live, and not design product only to sell more."

Cynicism with today's design constraints aside, Bach's Audi motorcycle design is clean and teutonic, befitting that of an Audi. This sport bike is minimalist in its design, with just the basic bodywork needed to complete the task.

Bach cited the Audi TT as an inspiration for the work, utilizing a similar approach to clean and strong design that also carries an emotional element due, as he explains, "to the balance of the volumes." He also tops this off with another characteristic element of the TT – that of beautifully detailed design elements.

Note the winglets on the sides of the fuel tank – a perfect place for the Audi brand logo of four interlocking rings, while on top of the tank a TT-inspired alloy filler cap is displayed.

It's important to note that Bach doesn't work for Audi and Audi is not, at least publicly, hatching any plans for motorcycle development. That said, Bach's striking design surely exhibits the potential of the Audi brand and its design in a market where marques like Ducati and BMW Motorrad play, even if the design is a bit aggressive for actual production. One needn't dip deeply into one's own imagination to see just where Audi could go in building transportation of the motorized two-wheeled variety.