Aurora Hellfire OZ26 V8 by Vincent Messina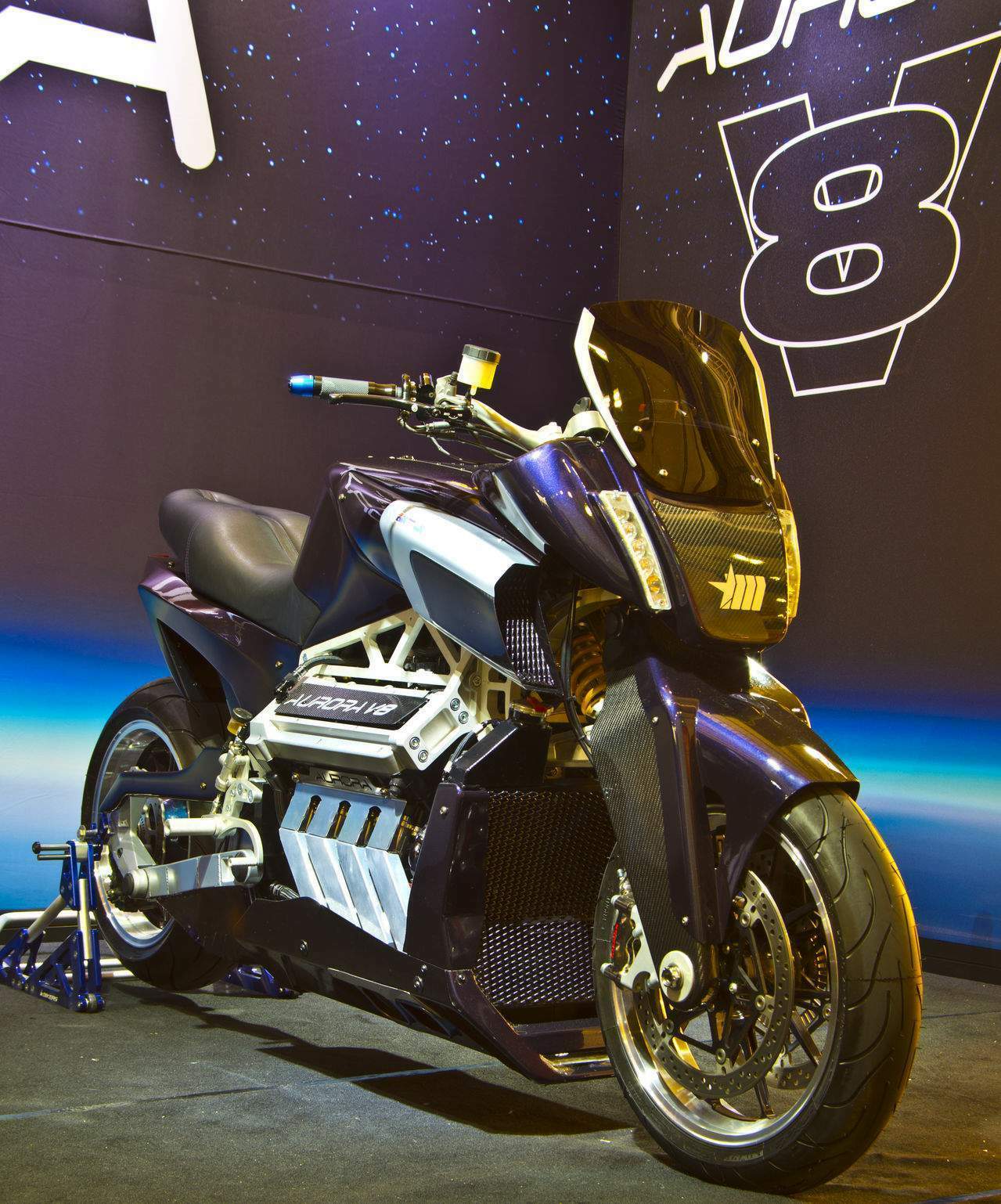 Vincent Messina, an Australian engineer and former superbikes and sidecars racer, who's currently based in Thailand, has gone ahead and built a brand-new custom-designed motorcycle - the Aurora Hellfire OZ26 - which is powered by a 2,575cc liquid-cooled DOHC 4-valves-per-cylinder V8 engine. Vincent hopes to produce the Hellfire V8 in limited numbers at a state-of-the-art production facility in Thailand in 2016.
You can find more information at the Aurora Motorcycles
THE ULTRABIKE
The new Aurora Hellfire V8 is high performance motorcycling redefined.
The concept is unique.
The design and component specification are state-of-the-art.
The performance is absolutely stunning.
STYLING & ERGONOMICS
Frameless chassis design utilising carbon fibre and billet aluminium components.
Lighter and more manoeuvrable than many existing large capacity production motorcycles.
Relaxed riding position and seat height with low centre of gravity.
Excellent handling and incredible stopping power due to advanced suspension design and component spec..
Styling by renowned motorcycle designer Tim Cameron.
THE ENGINE
2.6 Litre quad-cam V8.
Developed Power-417 Brake Horsepower (311 kW)
Torque-235 ft-lbs (319 Nm)
Longitudinal configuration for perfect integration with shaft drive.
TRANSMISSION
Nova 5 speed constant mesh gearbox.
Sigma counter-rotating multi-plate hydraulic slipper clutch.
Dual Universal Shaft Drive.
FRONT SUSPENSION
Carbon fibre and billet aluminium multi-ilink system based on original design by Norman Hossack.
Adjustable Geometry with 120mm Travel.
Fully adjustable Ohlins TTX electronic suspension unit.
REAR SUSPENSION
Anti-squat long instantaneous centre multi-lever geometry with 160mm travel.
Fully adjustable Ohlins TTX electronic suspension unit.
STOPPING POWER
Brembo GP4 RX Radial callipers and master cylinders with switchable / optional ABS.
ENGINE MANAGEMENT & INSTRUMENTATION
Motec M1 Series engine control module.
Wet, City, Touring, Sport and custom ride modes.
Programmable traction control up to ten customisable settings or off.
Motec C127 Instrument display and data logger.
Tefzel MIL-Spec Wiring.
550W 3 Phase alternator.
Shorai LFX Lithium battery.