BMW R80RT White Phantom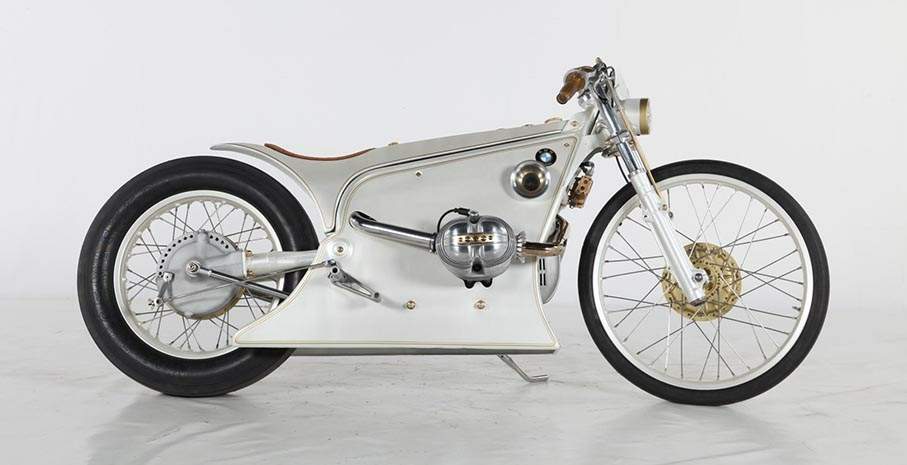 This very, very special custom R80RT - dubbed the "White Phantom" was created by Dirk Oehlerking of Kingston Customs in Germany. This is what he had to say about his creation:
"After the worldwide success of the red BMW R75/6 Bobber and the blue BMW R100/7 Café Racer I was looking for something new. It should be reduced, light and very stylish. I wanted to take the light, slim shape of the former Kingston bikes to a new level."

"When I sit relaxed in front of the bike on the workshop, new forms appear and I suddenly see a completely different bike. I experimented old school like with cardboard, I created stencils, reject them and tried again. Suddenly, a very elegant lineage emerged, which touched and totally carried me away."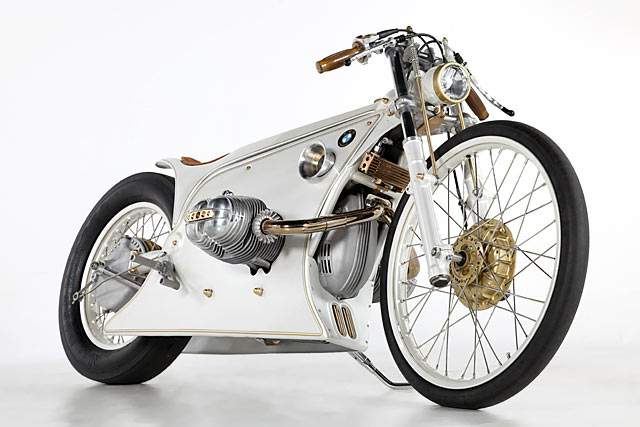 The design made extensive use of flat metal body parts and brass or brass coloured components.
The engine is enclosed with only the cylinder heads protruding resulting in a very slim design appearance. However access to the engine is not restricted as the top section flips up to reveal the engine. The top section also serves as a base for the single seat and multiple dials.
The engine is a rebuilt of the well known BMW 800 cc boxer twin. A unique feature is the addition of a trubo pushing the power to more than 100bhp (roughly doubling the power of the original bike). The air intake for the turbo is trumpet-shaped and protrudes through the right hand side of the body just below the BMW logo.