We are Marcus Walz fans, just like his wealthy clients: actors Brad Pitt, George Clooney and Keanu Reeves as well as F1 stars Kimi Raikkonen and Sebastian Vettel just to name a few.
The German specialist and his own Walz Hardcore Cycles have quickly become household names in the custom scene, and one of the trademark elements of the company is the notorious Drag Style range, named after that particular frame, that was firstly introduced in 1998. In a way, this particular family of products represents Walz Hardcore Cycles's 'core business', and the latest addition to this range is the humbly named 'Benchmark', a model that is bound to change the drag bike concept as we know it.
Although at first glance it may appear similar to the other memebers of the Drag Style fam, 90% of this Benchmark is actually brand new. The frame itself to start with, which has a less inclined steering column and an overall lighter desing; also the new is its single-sided swing arm with pneumatic cushioning, while the wheel base is 6 cm shorter than usual.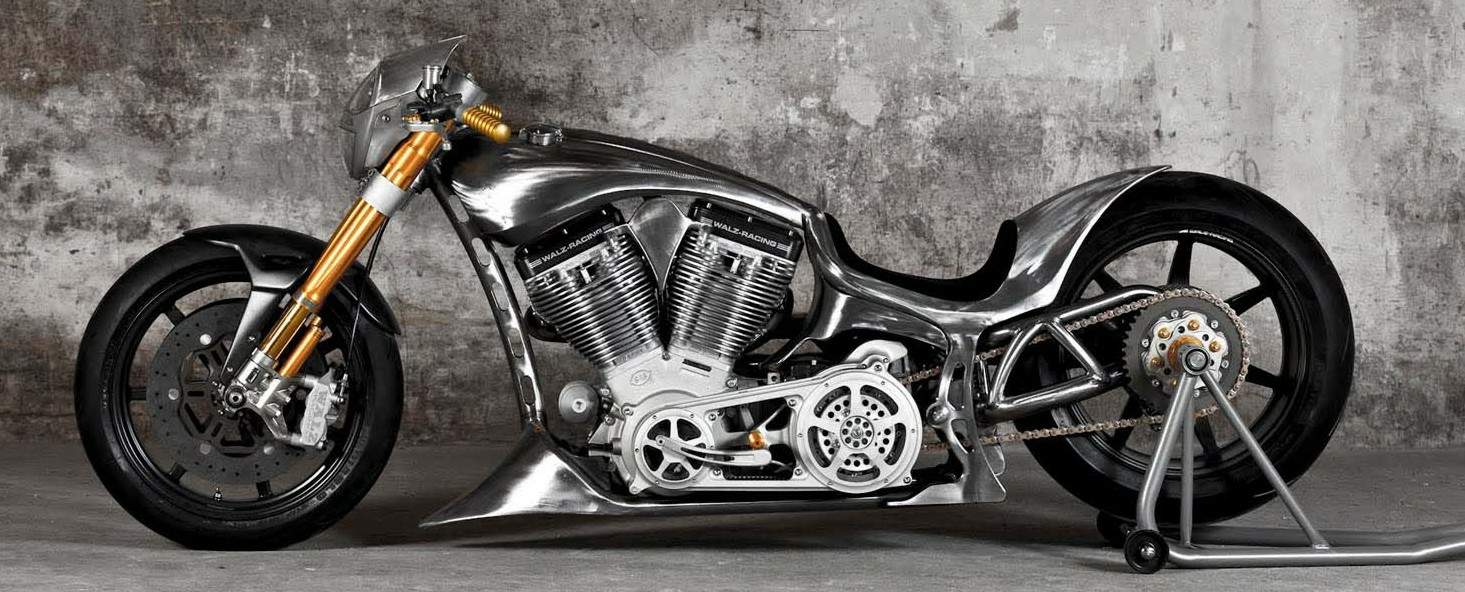 Many of its components come from the racing world: Öhlins FG 900 fork, 17-inch carbon rims from Blackstone Tek fitted with 120/70-ZR17″ and 200/55-ZR17 tyres (same as the Ducati 1199 Panigale or the Aprilia RSV4). With this kind of components, the weight goes down considerably compared to the 270 kg of models like Walz's own Avalanche or Rampage: the Benchmark weighs in at just 220 kg, almost the same as most sporty naked bikes such as the Honda CB1000R, the Kawasaki Z1000 or the Yamaha FZ1.
The low weight allows the rider to get the best out of its S&S Twin Cam Style engine, which boasts a displacement of 124 c.i. (over 2000 cc), electronic fuel injection, head covers made ​​of carbon fiber and and is mated to a five-speed gearbox and a classy titanium exhaust courtesy of Akrapovic (talking about racing parts…).
With so much power available, the final transmission couldn't really be belt driven, so enter the DID 525 racing chain. Almost needless to say, the braking system is superfine too: with carbon-ceramic fiber discs and titanium alloy calipers courtesy of Brembo.